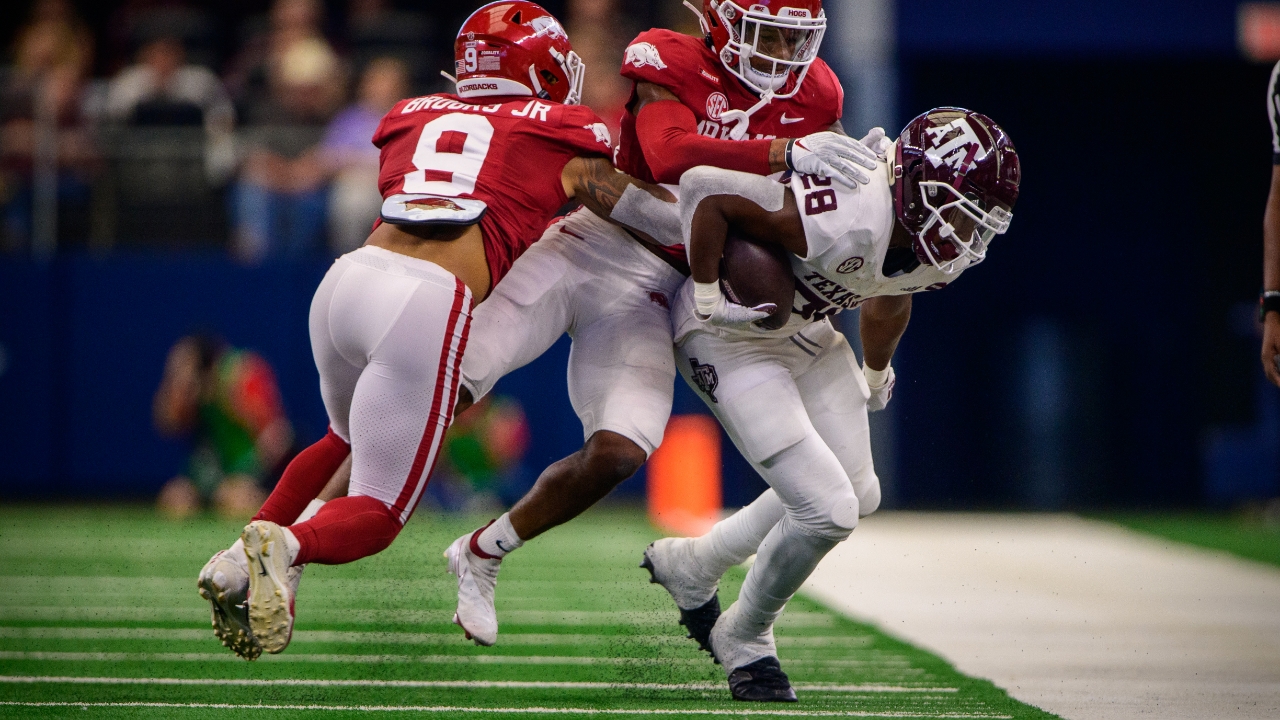 Photo by Jerome Miron-USA TODAY Sports
Texas A&M Football
Post Game Review: No. 16 Arkansas 20, No. 7 Texas A&M 10
---
For the first time since Texas A&M joined the SEC, the Aggies have lost to Arkansas in football.
No. 7 A&M stumbled out of the gate, fell behind 17-0 and never recovered, dropping their first game of the year to No. 16 Arkansas, 20-10. With big plays and 443 yards of offense, Arkansas put an end to what was a nine-game losing streak to the Aggies.
The first half was dominated by the Razorbacks as the A&M offense struggled to find any running room or momentum whatsoever. Arkansas rolled up 307 yards of offense while holding A&M to 134.
On Arkansas' first drive of the day, Trelon Smith ran wild, running for gains of 16 and 12 on his first two carries. KJ Jefferson's first pass of the day found Treylon Burks for 23 yards to the A&M 30. On second-and-6, a false start pushed the Razorbacks back, and on third-and-9, Jefferson's pass to tight end Blake Kern was dropped as Cam Little nailed a 46-yard field goal to open the scoring.
A&M's offense stalled near midfield, and following a touchback on Nik Constantinou's second punt of the day, Jefferson connected hit Burks for an 85-yard touchdown as the All-SEC wideout ran right by Myles Jones to give Arkansas a 10-0 advantage.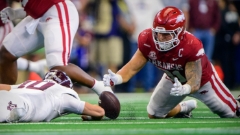 USA Today
Again A&M's offense had no answer.
The opening 15 minutes closed on a trick play as wide receiver Warren Thompson connected with Burks on a 27-yard pass to the Arkansas 45. A six-yard carry by Trelon Smith moved the Hogs into A&M territory, and on third-and-3, Jefferson hit AJ Green on a wheel route for a 48-yard score.
A&M's struggles continued as undisciplined play hampered the ensuing drive with three offensive penalties pushing the Maroon & White backward. Unable to convert on third-and-25, Constantinou flipped the field with a 54-yard punt to the Arkansas 21.
Mike Elko's defense finally showed up, forcing a three-and-out with 10 minutes to play in the half.
On third-and-10, a flag for defensive pass interference on Bumper Pool bailed the Aggies out. Unfortunately, A&M failed to capitalize on the miscue and punted for the fifth time of the first half.
Beginning at their 8 after a false start, Jefferson rolled for 19 yards on a quarterback keeper. Micheal Clemons then got to Jefferson on a strip-sack, but Ricky Stromberg fell on the loose ball. Facing second-and-15, Arkansas found another chunk play as Jefferson connected with Tyson Morris for 21 yards to the Arkansas 43. On third-and-10, Tyreek Chappell was flagged for pass interference on Burks, moving the Hogs into Aggie territory. On third-and-22, Jefferson floated a 21-yard pass to Burks. Electing to go for it on fourth-and-1, Aaron Hansford stuffed Trelon Smith as Arkansas turned the ball over on downs.
Immediately following the defensive stand, Zach Calzada found Devon Achane out of the backfield for 14 yards. A pass interference moved the Aggies to their 39. A&M avoided disaster as Calzada couldn't handle a high snap, but Achane jumped on the ball to maintain possession. Calzada then hit Jalen Preston and Ainias Smith on back-to-back plays for 11 and 12 yards, respectively, as A&M moved into field goal range. With 21 seconds remaining in the half, Seth Small hit a 49-yard field goal to put A&M on the board.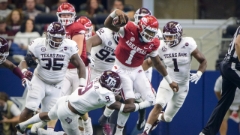 Jerome Miron-USA TODAY Sports
KJ Jefferson ran for nine yards on the first play of the third and came up hobbling. Three plays later, Jayden Peevy blew up the Razorback offensive front, stopping AJ Green for a loss of five as Arkansas ultimately punted.
Taking over at their 22, Texas A&M's offensive woes continued as they failed to move the chains, but Elko's defense forced a three-and-out of their own.
Isaiah Spiller provided a jolt on third-and-2, breaking loose for a 67-yard touchdown to cut Arkansas' lead to one possession.
On Arkansas' next possession, backup quarterback Malik Hornsby took over for the banged-up Jefferson and promptly ran for 16 yards on his first play under center. An offsides penalty against Peevy wiped out what would've been a huge loss on a botched handoff. After picking up a first down on second-and-5, Trelon Smith ran into a wall for a loss of four. On third-and-13, Hornsby was dropped for an eight-yard loss, and the Aggies set up at their 18 following a punt.
A&M easily picked up a first down, but an ineligible man downfield penalty and a sack forced the Ags into second-and-25. A strike to Jalen Wydermyer for 18 yards gave Calzada third-and-manageable, but the Ags failed to convert.
Constantinou boomed a 53-yard punt, and Arkansas began at their own 15. On second down, Trelon Smith ripped off a 19-yard gain to the 36 as the third quarter came to a close. The big play was all the Hogs mustered as four plays later, Reid Bauer punted it away. A hold against A&M gave the Aggies the ball at their 10-yard line.
Needing a score and starting deep in their own territory, Calzada connected with Ainias Smith for 23 yards on the drive's first play. On the very next play, Calzada's pass skipped off Bryce Foster's helmet, was tipped by Pool and ultimately intercepted by a diving Montaric Brown at the A&M 48-yard line with 12 minutes to play.
Treylon Burks lived up to the hype on Saturday. The All-SEC wideout hauled in six catches for 167 yards receiving and a touchdown. Burks also added 14 yards as a rusher.
Dominique Johnson gashed the A&M defense for 16 yards to open the drive. On third-and-2, Johnson fell forward for three to move the sticks. Burks then ran for 14 yards, setting up first-and-goal at the 7. The Hogs ultimately settled for a 24-yard field goal and a two-score lead.
A&M failed to answer, going three-and-out and punting for the eighth time.
After Constantinou's 57-yard boot to the Arkansas 11, Jefferson returned to the game. Facing third-and-9, Jefferson connected with Thompson for 10 yards and a huge first down. Arkansas punted with 3:25 to play. A&M couldn't pick up a first down, turning it over on downs with under two minutes to play.
Likely to drop outside the top ten, Texas A&M returns to Kyle Field next Saturday to face Mississippi State.
RUMBLED: Treylon Burks lived up to the hype on Saturday. The All-SEC wideout hauled in six catches for 167 yards receiving and a touchdown. Burks also added 14 yards as a rusher.
STUMBLED: Texas A&M's offensive line play was abysmal as Zach Calzada faced pressure all day and the Aggies struggled to find any room to run between the tackles. Even when rushing three, the Razorbacks were still able to hurry Calzada.
UNSUNG HERO: N/A
TURNING POINT: With the Aggies looking to complete a comeback, Zach Calzada's interception early in the fourth quarter swung the momentum. The Hogs kicked a field goal and took a two-score lead immediately following the turnover.
KEY STAT: Arkansas opened the game by scoring 17 unanswered points, which was too many for the Aggies to overcome.
Scoring Summary
First-quarter
ARK: 8:20 - Cam Little 46-yard field goal. Drive: 8 plays, 57 yards. TOP: 3:17. Arkansas 3, Texas A&M 0
ARK: 2:27 - KJ Jefferson 85-yard touchdown pass to Treylon Burks. Drive: 1 play, 85 yards. TOP: 0:11. Arkansas 10, Texas A&M 0
Second-quarter
ARK: 13:55 - KJ Jefferson 48-yard touchdown pass to AJ Green. Drive: 4 plays, 82 yards. TOP: 1:22. Arkansas 17, Texas A&M 0
A&M: 0:21 - Seth Small 49-yard field goal. Drive: 9 plays, 46 yards. TOP: 2:08. Arkansas 17, Texas A&M 3
Third-quarter
A&M: 7:51 - Isaiah Spiller 67-yard touchdown run. Drive: 3 plays, 75 yards. TOP: 1:16. Arkansas 17, Texas A&M 10
Fourth-quarter
ARK: 8:39 - Cam Little 24-yard field goal. Drive: 9 plays, 42 yards. TOP: 3:21. Arkansas 20, Texas A&M 10
Never miss the latest news from TexAgs!
Join our free email list