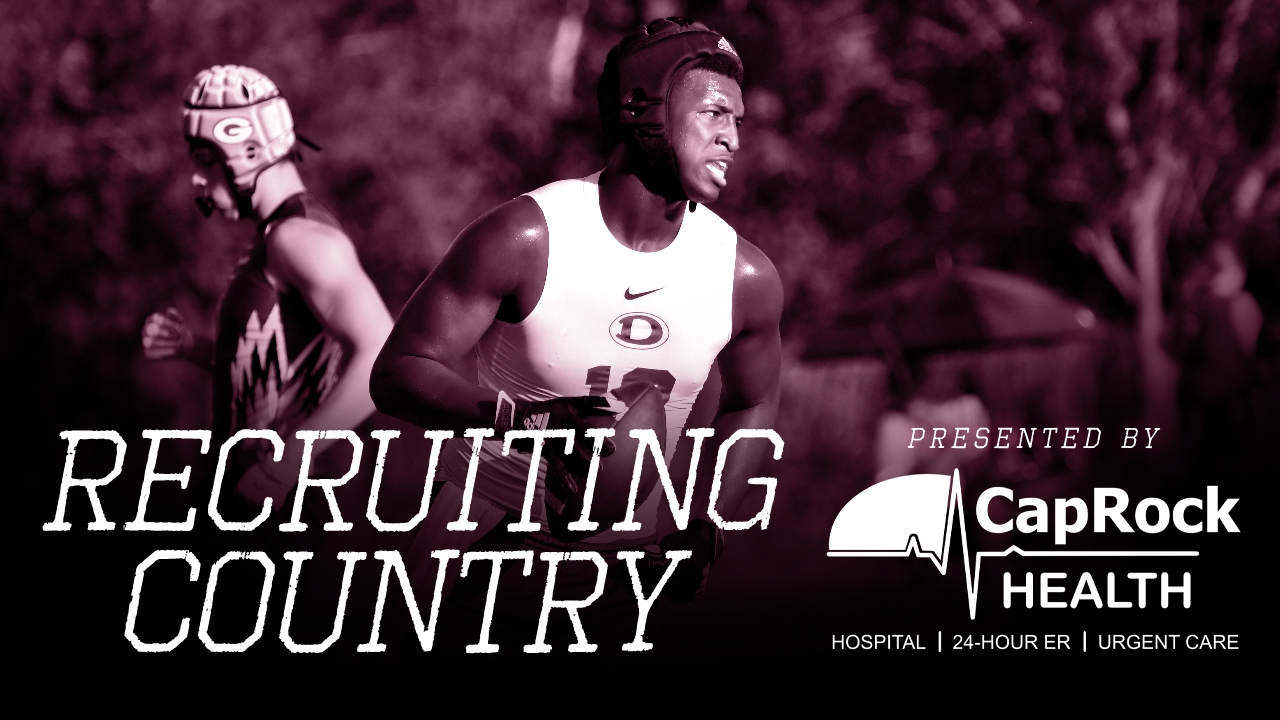 Photo by Jamie Maury, TexAgs
Texas A&M Football Recruiting
Recruiting Country: The latest recruiting news surrounding the Maroon & White
September 22, 2021
11,643
---
Key notes from Recruiting Country
There was a good group of commits that came in and a good group of underclassmen. I thought it was a solid visitor list. There will never be a weekend where the A&M recruiting and coaching staff throws it away. They will use the atmosphere at Kyle Field as often as they can. The more that you can get kids in to see it, whether in the state or out of state, is always beneficial.

Getting Conner Weigman‍ in for an 11 a.m. kick was huge. His presence helped the recruiting vibe and atmosphere this weekend.

Harold Perkins‍ was scheduled to come this weekend, but his game got moved from Friday to Saturday. We had talked about that leading up to it, and he told me the only reason he'd miss the A&M-New Mexico game was if his game got moved. He went to Austin for the night kickoff. It's nothing more than a time conflict. He still feels like he wants to be playing at a high level in the SEC. Nothing had changed in A&M's pursuit of Harold, and they're still at the top of the mix. He will be back to see a game before the end of the season, maybe a couple of games.

Some schools will play Friday night and have a mandatory film session the next morning, so that can hinder kids from going to college games. Recruits will look at the A&M calendar and pick which game they'll want to go to. Like that Alabama game's visitor list is going to be crazy.

Weigman and Bridgeland have Langham Creek this weekend, and that should be a good game. Langham Creek has a couple of good players in Tanner Murray‍ and Jaquaize Pettaway‍. It sounds like that will be another shootout for Weigman.

Last weekend, I got to see Dickinson play. Coach Snelson is a fantastic coach who does a great job with that program. Some of the stuff he says about PJ Williams‍ and Donovan Green‍ is amazing. They scheduled a tough non-district slate, so they were sitting at 1-2. They played a 3-0 Pasadena Dobie team. Dickinson won by three scores.

Green had two catches for 90 yards and a touchdown. They flex Green out and play him in-line. At this point in his development, he's further along in his blocking than Jalen Wydermyer was. Donovan checks every single box in a high-level tight end.

Moving the Arkansas game back to campus wouldn't make too much of an impact on recruiting other than just having another home game every other year. Remember that you can have recruits in Dallas when you're the home team, so Arkansas can invite recruits this week. I do think college football should be played on campus.

I'm always cautious of pulling a kid out of Louisiana that LSU really, really wants. There is a tremendous pressure on those kids on signing day. The only school that has been able to consistently rip kids away is Alabama, and A&M has done it some. Jacoby Mathews‍ would qualify as one of those.

With Brenen Thompson‍, people are flipping those crystal balls just for the clips. It's the same with Kam Dewberry‍'s trip to Arkansas. Those kids aren't close to decisions, and both will be back at Texas A&M. Brenen will be here for the Alabama game. Understand that these kids will say great things after an official visit but can still be in no hurry to decide. That's where a lot of people miss in this industry.

Le'Veon Moss is still one of the primary running back targets. That's going to be interesting. Moss is a priority. Rueben Owens‍ is a legit option in 2023. Marquise Collins‍ at College Station High is a stud. That's a position that is going to be really good in the class of 2023. Running back is interesting because A&M could take one or go to the transfer portal in the class of 2022.
Never miss the latest news from TexAgs!
Join our free email list
PRESENTED BY