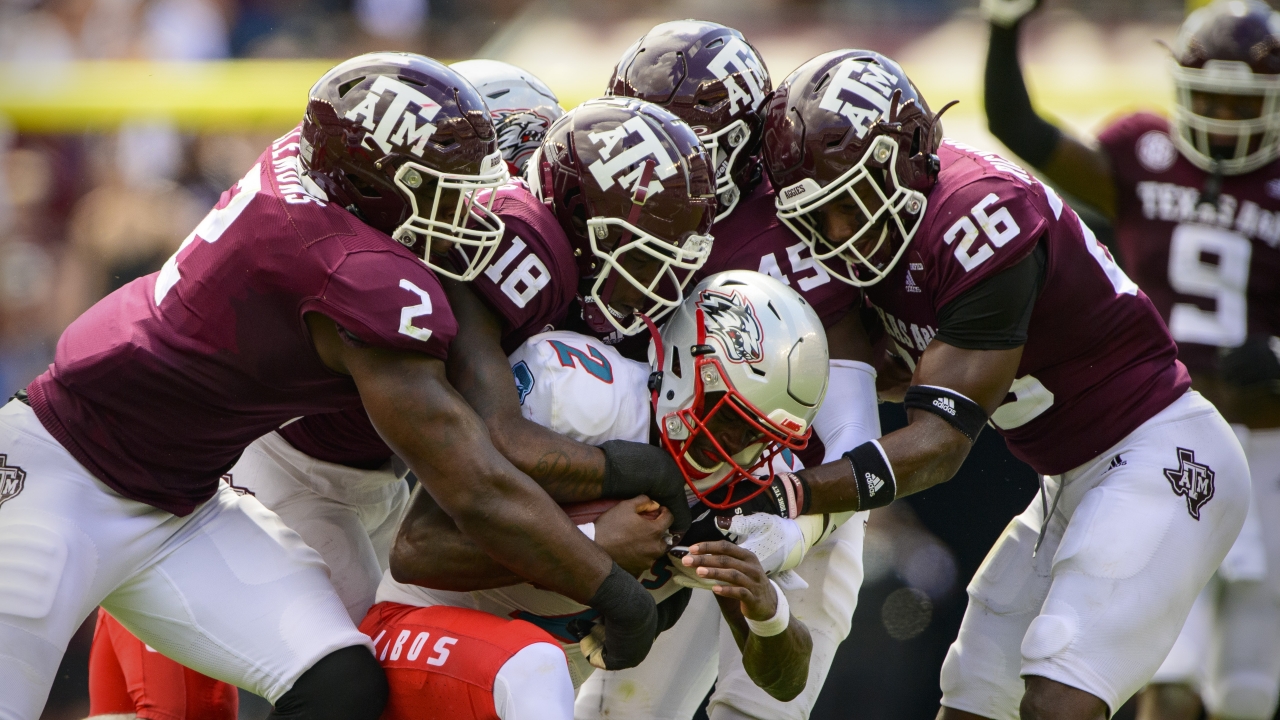 Photo by Jerome Miron-USA TODAY Sports
Texas A&M Football
Post Game Review: No. 7 Texas A&M 34, New Mexico 0
---
Dominance from start to finish.
No. 7 Texas A&M shut out New Mexico, 34-0, to improve to 3-0 on the season. The Aggie defense held the Lobos to just 122 yards of total offense.
In place of the injured Haynes King, Zach Calzada dazzled in his first career start, passing for 275 yards and three touchdowns before Blake Bost took over late in the fourth. Conversely, New Mexico's Terry Wilson was just 10-of-23 passing as the Aggies limited the Lobos to just 33 yards through the air.
A&M's dominance started early and continued for the full 60 minutes as Jimbo Fisher's team rolled to victory.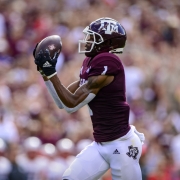 Jerome Miron-USA TODAY Sports
The first quarter was headlined by stout defense and explosive passing by the Aggies. After the Aggie defense pitched a three-and-out on the game's opening series, Ainias Smith provided an early jolt with a 39-yard punt return to the New Mexico's 43-yard line. On the third play of A&M's first drive, Calzada connected with Devon Achane out of the backfield as the speedster took it 26-yards for a quick touchdown.
UNM's second punt of the day set up the Aggies at their own 30. The 12th Man then got what they had been waiting for: a 70-yard strike to a wide-open Demond Demas for a touchdown on the first play of the drive.
Mike Elko's defense forced Aaron Rodriguez to punt four times in the opening frame as the Aggies held the Lobos to just 60 yards of offense in the first 15 minutes.
New Mexico started to exploit A&M's inexperienced offensive line, pressuring Calzada and stopping the run. However, on the Aggies' second possession of the second stanza, A&M marched 60 yards downfield for another score as Isaiah Spiller punched in a five-yard touchdown run.
The Aggie defense then forced yet another three-and-out, highlighted by a combo sack by Micheal Clemons and DeMarvin Leal. Calzada and the offense took over at their own 38. On the second play of the series, Muhsin Muhammad III made his first career grab for 14 yards and a first down. Facing pressure, Calzada stood in and delivered a strike to Jalen Wydermyer for 21 yards. However, the Aggies ultimately settled for a 35-yard field goal courtesy of Seth Small with 65 seconds left in the half.
Demas continued to contribute in the second half, catching a 30-yard pass on the Aggies' first play of the third. Despite moving into Lobo territory, A&M stalled at the 26 and Small tacked on a 44-yard field goal.
A&M's defense stayed hot in the second half, forcing four total three-and-outs and holding the Lobos to just four first downs in the final 30 minutes. In total, New Mexico punted 11 times.
Calzada threw an interception on third-and-20 as New Mexico took over at their own 49-yard line. On third-and-9, Wilson found Mannie Logan-Greene for 11 yards and a first down as the Lobos moved into A&M territory for the first time. Unfortunately for the visitors, the offensive success was short-lived, and the Lobos punted from A&M's 44-yard line.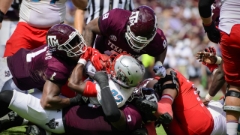 Jerome Miron-USA TODAY Sports
Texas A&M's rushing attack finally found some traction as Spiller and Achane moved the Aggies into the red zone. On first-and-goal at the seven, Calzada floated a pass towards the corner of the end zone where Muhammad made a mind-blowing over-the-shoulder grab for his first career touchdown to cap off a 90-yard match.
Heavy rain descended on Kyle Field during the fourth. With under nine minutes to play, Wilson threw to Kyle Jarvis, who was blanketed by Leon O'Neal Jr. Off a deflection, Edgerrin Cooper came up with an interception for A&M's lone takeaway of the day as the Aggies took over at their own 20. However, the offense went three-and-out and a bad snap threw off Caden Davis' timing, forcing a missed 37-yard field goal attempt as A&M fail to cash in on the prime field position.
The Aggie defense provided one final stop after the Lobos crossed the 50 for just the second time, and Bost led the offense with just 2:21 remaining. True freshmen tailbacks LJ Johnson Jr. and Amari Daniels got their first career carries as the Aggies ran the ball and killed the clock to seal the victory.
Whether Saturday's game was a tune-up or not, the Aggies will take a 3-0 record, a top-ten ranking and momentum into their first SEC game of the season when they face Arkansas next weekend in Arlington.
RUMBLED: A week with the 1s paid dividends for Zach Calzada as he looked calm and collected under center in his first career start. The Sugar Hill, Georgia native was 19-of-33 for 275 yards, three scores and a rating of 151.5. Also, Mike Elko's defense is legit, holding UNM to 122 yards.
STUMBLED: Even against a Mountain West foe, an inexperienced Texas A&M offensive line struggled. The Aggies mustered just 34 rushing yards in the first half and 154 total in the game. Calzada was dropped three times.
TURNING POINT: The ballgame was over as soon as the Lobos' secondary let Demond Demas behind them on A&M's second offensive series. A 70-yard touchdown strike to the former five-star put A&M up 14-0 just 5:32 into the game.
UNSUNG HERO: Ainias Smith had a 72-yard punt return touchdown wiped out due to a penalty and another long return reversed upon review. Still, No. 0 provided plenty of excitement and is going to be a problem for coverage units moving forward.
KEY STAT: Points. If your opponent scores none of them, it's impossible to lose. It was Texas A&M's first shutout since 2016 when they beat Prairie View A&M, 67-0.
Scoring Summary
First-quarter
A&M: 11:44 - Zach Calzada 26-yard touchdown pass to Devon Achane. Drive: 3 plays, 43 yards. TOP: 1:10. Texas A&M 7, New Mexico 0
A&M: 9:28 - Zach Calzada 70-yard touchdown pass to Demond Demas. Drive: 1 play, 70 yards. TOP: 0:10. Texas A&M 14, New Mexico 0
Second-quarter
A&M: 6:14 - Isaiah Spiller 5-yard touchdown run. Drive: 12 plays, 60 yards. TOP: 5:51. Texas A&M 21, New Mexico 0
A&M: 1:05 - Seth Small 35-yard field goal. Drive: 7 plays, 44 yards. TOP: 3:04. Texas A&M 24, New Mexico 0
Third-quarter
A&M: 13:07 - Seth Small 44-yard field goal. Drive: 5 plays, 36 yards. TOP: 1:45. Texas A&M 27, New Mexico 0
A&M: 2:20 - Zach Calzada -yard touchdown pass to Muhsin Muhammad III. Drive: 8 plays, 90 yards. TOP: 4:12. Texas A&M 34, New Mexico 0
Never miss the latest news from TexAgs!
Join our free email list