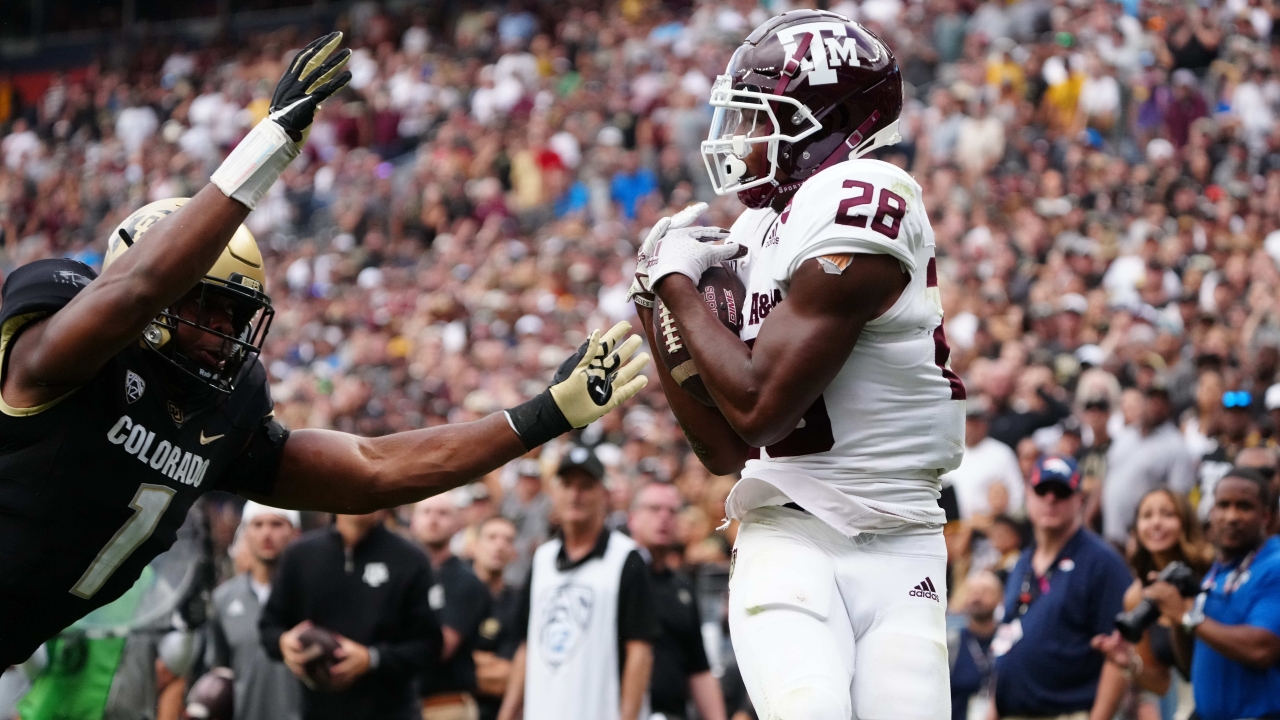 Photo by Ron Chenoy-USA TODAY Sports
Texas A&M Football
Post Game Review: No. 5 Texas A&M 10, Colorado 7
September 11, 2021
18,671
---
Whether it be altitude or attitude, No. 5 Texas A&M showed serious ineptitude in a 10-7 win over Colorado at Empower Field in Denver.
Midway through the fourth quarter, the Aggies trailed 7-3 and were threatening for the first time all game at the Colorado 13.
On third-and-3, Zach Calzada scrambled for the first down and more. As he reached for the goal line, Calzada fumbled inches before putting A&M in front. Colorado recovered the ball in the endzone. Fortunately, A&M's defense never wavered, forcing another three-and-out to get the ball back to Calzada at the A&M 23 with 7:50 to play.
With passes to Isaiah Spiller and Devon Achane for 12 and 25 yards, respectively, Calzada again moved the Aggies into Buffalo territory. Achane then took an 11-yard carry to the Colorado 29. On yet another third-down opportunity, Calzada delivered a strike to a diving Spiller for eight yards and a first down at the 19.
After a delay of game penalty, Calzada rolled to his left and floated a pass to Spiller in the end zone to put the Aggies on top with under three minutes remaining.
Constant pressure on three consecutive plays and a coverage sack on third down forced Brendon Lewis and the Buffaloes into a crucial fourth-and-13. An 11-yard completion to Dimitri Stanley wasn't enough for Colorado as the Aggies took over with 1:40 to play.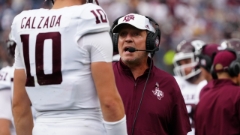 Ron Chenoy-USA TODAY Sports
A&M closed the game in victory formation as the Maroon & White avoided the catastrophic upset.
The defensive struggle started early as the Aggies went three and out to begin the contest. Colorado's first series ended on their third play thanks to a Jayden Peevy interception after Aaron Hansford pressured Brendon Lewis. However, A&M could not capitalize with Seth Small missing a 53-yard field goal attempt following a three-and-out.
Fortunately for A&M, the defense held firm, forcing the Buffs off the field quickly. Unfortunately for A&M, an injury to Haynes King forced Zach Calzada into the game. The offensive struggles continued as Colorado's defense pitched their third consecutive three-and-out.
Colorado finally found an offensive rhythm on their third series, aided by some shoddy tackling from the Aggies. On third-and-5, Lewis scrambled to escape pressure, but Antonio Johnson couldn't bring him down short of the line. Two plays later, Lewis kept for 30 yards down to the A&M 19. Even a false start didn't slow down the Buffs as Jarek Broussard found the end zone on a two-yard carry to open the scoring.
After yet another Texas A&M three-and-out, a 65-yard boot from Constantinou flipped the field as Colorado took over inside their own 20. The Buffs drove into A&M territory, but early in the second stanza, Cole Becker pushed a 46-yard field goal attempt wide right. However, the Ags responded with another three-and-out.
The Buffaloes took over at midfield and drove deep into A&M territory before running into a Maroon & White wall. After failing to convert on second and third-and-short, Colorado elected to go for it on fourth down, but the Aggies stopped a QB sneak and took over on downs at the 5.
After trading three-and-outs, A&M finally picked up its initial first down of the contest with 1:44 to play in the second quarter on a 15-yard run by Devon Achane. A&M moved into Colorado territory, but despite showing their first signs of life, the Aggies settled for a 41-yard field goal from Small with 25 seconds before the break.
The punt-fest continued in the third as Constantinou and Colorado's Josh Watts each booted the ball three times in the frame. The teams combined for just four first downs in the entire quarter.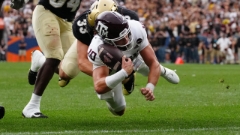 Ron Chenoy-USA TODAY Sports
Watts opened the final stanza with a 46-yard boot aided by a block-in-the-back penalty against A&M, setting up Calzada and the Aggies at their own 13. For the first time all day, A&M's offense finally showed some serious tenacity, converting three third-down situations as the Aggies matriculated down the field. Calzada hit Jalen Wydermyer for 29 yards as the Maroon & White moved into the red zone.
Then came the heartbreaking fumble followed by another three-and-out courtesy of A&M's defense and a tremendous answer by Calzada and the Aggie offense.
Safe to say the Aggies won't be savoring the moment at Empower Field and will instead be looking to get out of Denver as quickly as possible with their championship dreams still intact. Exhale.
RUMBLED - Defense. Texas A&M's Mike Elko and Colorado's Chris Wilson dialed up great game plans as the defensive struggle continued for a full 60 minutes. Neither team surpassed 300 yards of total offense.
STUMBLED - Texas A&M's offense struggled to get anything going, and an early injury to Haynes King further impeded any Aggie offensive success. A&M didn't have a first down until the final two minutes of the second quarter and finished with 15 total. The Aggies mustered just 295 total yards (98 rushing, 191 passing) but did enough to escape with a W.
TURNING POINT - Trailing by four and facing third-and-9 at the 18, Zach Calzada floated a pass to Isaiah Spiller in the end zone to put A&M on top with just 2:41 to play.
UNSUNG HERO - After not being called upon in the opener, Nik Constantinou punted eight times for an average of 49 yards, including a long of 65. The Aussie aided the Aggie defense by keeping the Buffaloes' offense as far from the end zone as possible.
KEY STAT - Second-half third-down conversions. After going 1-for-8 in the first half, A&M was 7-for-12 on the crucial down in the second 30 minutes of action. Conversely, Colorado was 0-for-6 in the second half on third down. In the fourth quarter, A&M was 5-for-7 on third down.
Scoring Summary
First-quarter
CU: 2:24 - Jarek Broussard two-yard touchdown run. Drive: 9 plays, 69 yards. TOP: 4:43. Colorado 7, Texas A&M 0
Second-quarter
A&M: 0:25 - Seth Small 41-yard field goal. Drive: 9 plays, 57 yards. TOP: 1:25. Colorado 7, Texas A&M 3
Fourth-quarter
A&M: 2:41 - Zach Calzada 18-yard touchdown pass to Isaiah Spiller. Drive: 11 plays, 77 yards. TOP: 5:09. Texas A&M 10, Colorado 7
Never miss the latest news from TexAgs!
Join our free email list