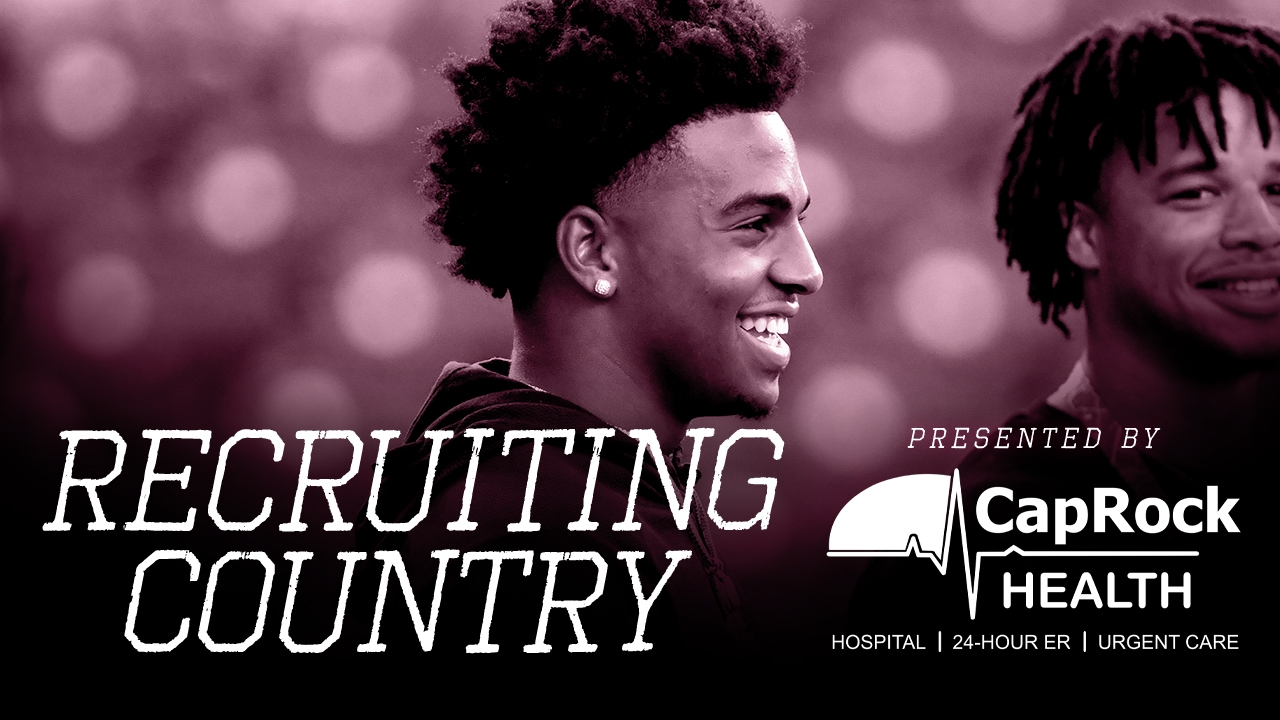 Photo by Jamie Maury, TexAgs
Texas A&M Football Recruiting
Recruiting Country: The latest recruiting news surrounding the Maroon & White
---
Key notes from Recruiting Country
Bobby Taylor‍ has a right-hand injury. I'm not sure how it's going to put him out, but it might be a season-ender. I haven't talked to Bobby about it, but it may require surgery. If that's the diagnosis, I'll let Bobby make that announcement. It will keep him out a while, at the very least.

Jarred Kerr‍ will be out a while as well with a cracked vertebra. He has not ruled out coming back to play, and some people bounce back quicker. I'm hoping he can come back and play if it's safe for him to do it because every kid deserves to play their senior year of high school football.

Both of those guys are candidates to be early enrollees. If they have to have surgery and go on rehabs, you'd like it to get started quickly so they can be ready for spring ball.

Conner Weigman‍ threw four interceptions, but they won. This Bridgeland team is not as talented as last year's, but they're still winning. Shadow Creek has some young ones on defense that are going to be top players like Zion Taylor‍ and Maurice Williams‍ in the class of 2024. It'll be tough every week for Conner, and they have Martrell Harris‍ and The Woodlands this week. If they pull off an undefeated season this year, it will be quite the feather in Conner's cap.

I saw Conner's stat line was like 240 with two touchdowns and four interceptions. At least one of them was a tipped ball. Conner is a gamer. He has some Haynes King in him where he's a gunslinger and believes in his arm talent. He's going to make the right decision with the football more often than not. Maybe he forced some throws last week.

Eli Holstein‍ is off to a good start. I was encouraged to hear they're in good standing after the hurricane. They rescheduled a game because of it, and he was very efficient, going like 12-for-20 with over 200 yards. He talked about how much he appreciates offensive balance. He understands what a running game can do to help a quarterback. When you talk to Eli, he's extremely mature, well-spoken, well-thought-out and measured with his responses. He's going to give 30 seconds to a minute with his responses, which is very rare. He's going to be back in College Station for the Alabama game and a few more games.

The high school schedule in greater Houston and Dallas makes it tough for kids to get to games every Saturday because some of them play on Saturdays. Each ISD is different. I know there are some scheduling conflicts with the Alabama game. I think Harold Perkins‍ and Conner Weigman play that day. On Saturdays, when the top prospects aren't playing, they'll be going to a college game.

Wins and losses affect the fans more than the recruits. For the recruits, it's more about the relationships they built. The fans get so emotional about highs and lows. The kids are not as affected by it.

I saw Martrell play last weekend, and he had a huge impact on the game. The Woodlands struggled on offense, but they were fantastic on defense. Harris had a forced fumble, a fumble recovery and a one-handed interception. He almost had another fumble recovery that the referees ruled went out of bounds before he got there. The A&M staff never wavered in their pursuit of Martrell Harris. He went into his junior season looking really good before a collar bone, shoulder injury that forced him out. Even with the lack of tape, A&M never waiver. Tyler Santucci and Mike Elko put a high priority on him and got him this summer. This kid keeps getting better and better. Harold Perkins is the most elite athlete in the country at linebacker. Martrell Harris isn't far behind him. He has to go up in our rankings. Extremely explosive and impressive athlete.

LSU's rough start might help A&M, but again, kids don't take wins and losses as fans do. I heard there were some buzzards circling that program in Baton Rouge before the loss to UCLA. If you want to know what's going on behind the scenes at LSU, I'd listen to Jordy Culotta's podcast. I think A&M is after Jacoby Mathews‍, and he was in town this weekend. The path of Hurricane Ida forced some people out of that area, and I know Jacoby has some family in southeast Houston, so that might've played into his decision to drive to College Station.

Atascocita made the drive up 45 to Allen and ended their streak of not being beaten in a regular season since 2011 and never losing a game in their new stadium. Coach Stump's team put it on them. Denton Guyer beat Denton Ryan to end a long winning streak as well. Those stuck out to me.

JaKoby Banks‍ was on campus this weekend, and he's an Ainias Smith type. Right now, he plays quarterback for one of the most explosive offenses in Houston but will play slot receiver, punt returner when he gets to college. Get him the ball however you can. Texas A&M is going to be tough to beat in that one.
Never miss the latest news from TexAgs!
Join our free email list
SPONSORED BY