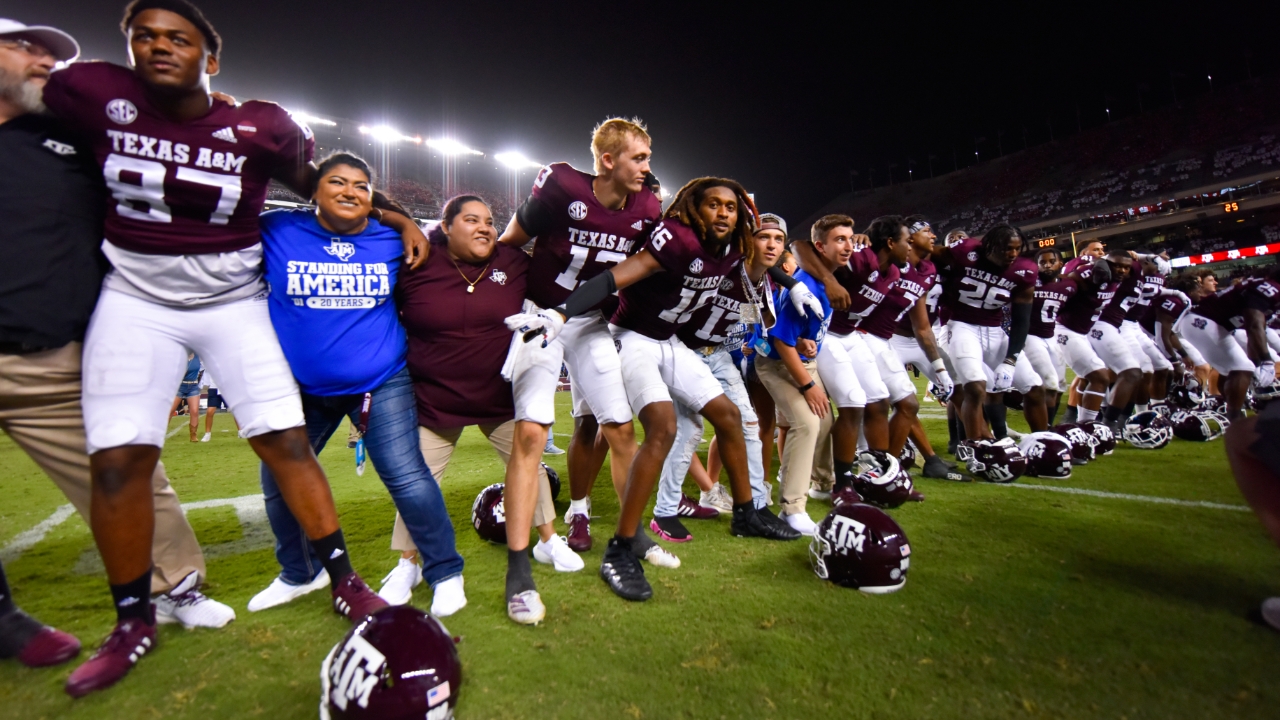 Photo by Jamie Maury, TexAgs
Texas A&M Football
Texas A&M moves up to No. 5 in Week One Coaches and AP Polls
---
Texas A&M opened 2021 with a comfortable win over Kent State on Saturday night at Kyle Field. On Tuesday, the Aggies rose in the rankings into the top five as a result.
Perhaps in part due to a 41-10 victory over Kent State and perhaps partly because No. 3 Clemson lost to Georgia, the Aggies moved up one spot in both the Coaches Poll and the Associated Press Poll from No. 6 to No. 5. Rankings fluctuation is common early in the season, and at least one week into the year, the Maroon & White were the benefactors of that movement.
A preseason ranking of No. 6 was the Aggies' highest such position since 1995. Keeping with the 1995 theme, A&M plays Colorado this weekend in Denver, the program that upended the Ags' championship aspirations 26 years ago.
The Southeastern Conference now boasts three top-five teams (No. 1 Alabama, No. 2 Georgia and No. 5 Texas A&M) with two more in the Coaches Poll top 25 and three in the AP top 25. Florida is ranked ninth in the Coaches Poll and 13th by the AP while Ole Miss is 20th in both polls. Auburn slips in at No. 25 in the AP Poll. Around the league, only two teams stumbled in their respective openers with Vanderbilt losing to ETSU, 23-3, and previously-ranked No. 16 LSU faltering to the sissy blue shirts of UCLA, 38-27 (but, of course, not just anybody walks into the Rose Bowl on Labor Day weekend and wins).
---
Coaches Poll Top 25
1. Alabama
2. Georgia
3. Ohio State
4. Oklahoma
5. Texas A&M
6. Clemson
7. Notre Dame
8. Cincinnati
9. Florida
10. Iowa State
11. Oregon
12. Iowa
13. Penn State
14. Southern California
15. Texas
16. UCLA
17. Wisconsin
18. Utah
19. Coastal Carolina
20. Mississippi
21. Virginia Tech
22. North Carolina
23. Oklahoma State
24. Miami
25. Arizona State
AP Poll Top 25
1. Alabama
2. Georgia
3. Ohio State
4. Oklahoma
5. Texas A&M
6. Clemson
7. Cincinnati
8. Notre Dame
9. Iowa State
10. Iowa
11. Penn State
12. Oregon
13. Florida
14. USC
15. Texas
16. UCLA
17. Coastal Carolina
18. Wisconsin Utah
19. Virginia Tech
20. Ole Miss
21. Utah
22. Miami
23. Arizona State
24. North Carolina
25. Auburn
Never miss the latest news from TexAgs!
Join our free email list