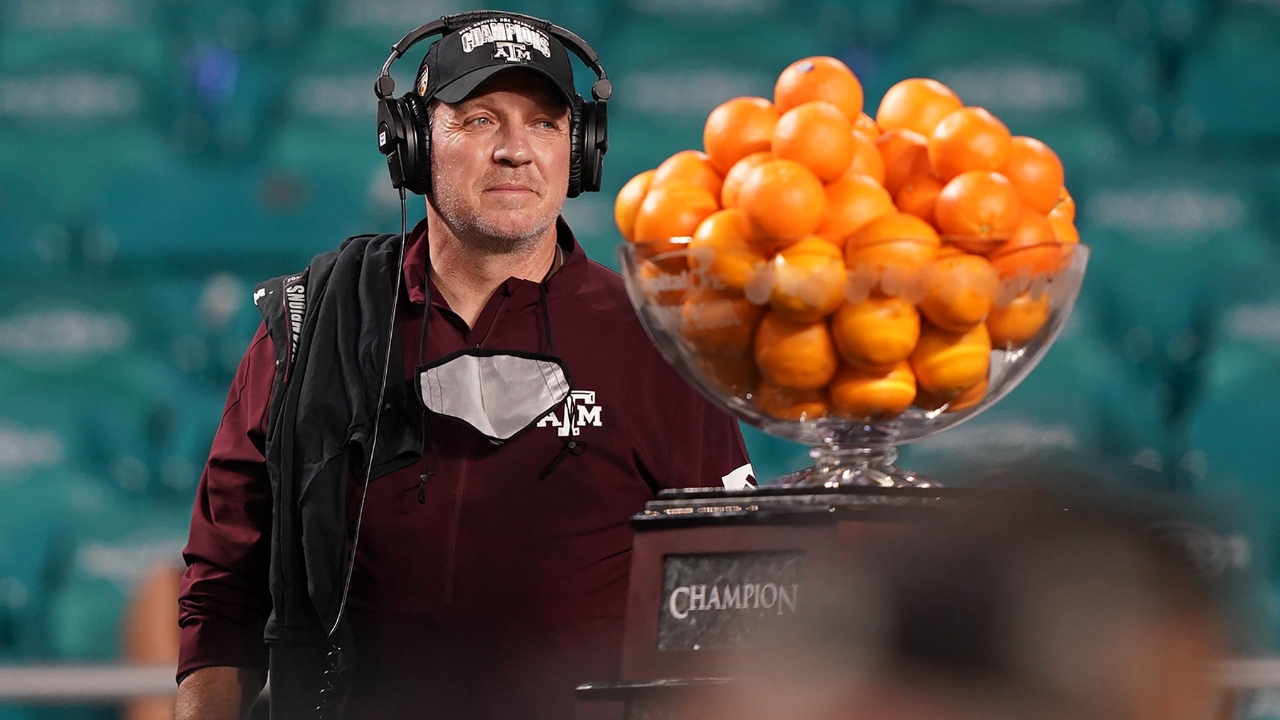 Photo by Jasen Vinlove/USA Today Sports
Texas A&M Football
A&M Regents green-light Jimbo Fisher extension to 2031, raise to $9M annually
---
Pleased with the past, excited in the present and looking ahead to the future, Texas A&M made official on Wednesday an increased investment in football coach Jimbo Fisher. A&M's Board of Regents empowered Texas A&M President Kathy Banks to finalize an amended contract with Fisher that TexAgs' Billy Liucci has reported will add four years and raise the coach's average annual compensation to $9 million.
That ensures Fisher, 55, will be under contract with Texas A&M through 2031. It also makes him the second-highest paid college head coach behind only Alabama's Nick Saban, who is under contract through 2028 at an average of $10.6 million per year.
Fisher begins his fourth season as A&M's head coach on Saturday. The Aggies open the season against Kent State at Kyle Field at 7 p.m.
Minutes after the Regents meeting adjourned, Texas A&M announced the extension in a release. Fisher's compensation will bump to $9 million on January 1, 2022, move to $9,150,000 on January 1, 2023, and then will increase by $100,000 each subsequent January 1.
"I have great respect for Coach Fisher and his success with our student athletes," said Banks in the release. "His ability to bring out the best in each of them is inspirational. I am confident that he will continue to raise Texas A&M University's football program to new heights."
A&M gave Fisher a guaranteed 10-year, $75 million deal in December of 2017 to coax him away from Florida State where he won the national championship in 2013.
Athletic Director Ross Bjork said the move underscores Texas A&M's commitment to Fisher and winning at the highest level of college football.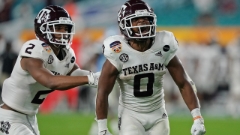 Jasen Vinlove/USA Today Sports
"It's really, really important to get this done before we start playing games," Bjork said. "It further shows our commitment not only to Coach Fisher but to Aggie football. We're on the right track to building towards championship-level success. Our momentum at Texas A&M has never been greater. We need to capture that and show we're committed to the highest level of football success.
"Stability is important. We wanted to lock this up and get it done before kickoff (against Kent State)."
Fisher echoed Bjork's sentiments about stability.
"The investment Texas A&M University is making in our program, coaching staff, and facilities speaks to the vision of our leadership and their commitment to long-term success," Fisher stated in the release.
"I am thankful for the unwavering support of the administration, the faculty and staff, our 12th Man Foundation donors, the Aggie Network, and the 12th Man — the largest and loudest student section in the country. It is an honor to be the Head Football Coach at Texas A&M, and although I am proud of the strides we've made, we ain't done yet!"
The Aggies begin the season ranked sixth in the national polls. Last season they finished No. 4 — A&M's highest postseason ranking since winning the 1939 national championship.
Fisher, who replaced Bobby Bowden at Florida State in 2010, is 109-33 in 12 seasons as a head coach. In three seasons under Fisher, A&M has a 26-10 record against some of the most challenging schedules in college football history.
The Aggies were 9-4 and finished ranked No. 16 in 2018 — Fisher's first season at the helm. That year they defeated LSU, which finished No. 6, and Kentucky, which finished No. 12.
In 2019 the Aggies played a record four No. 1 ranked opponents. A&M finished 8-5 that season.
Then last year, A&M broke out for a 9-1 campaign, which featured a victory over then-No. 4 Florida and an Orange Bowl triumph over No. 13 North Carolina.
The Aggies are definitely trending upward under Fisher. His recruiting success indicates he is establishing a foundation to make A&M a fixture in the Top Ten and national championship contender for several years to come.
National recruiting services have ranked Fisher's last three classes fourth, sixth and eighth. His 2022 class is currently ranked ninth and is expected to climb higher by the early national signing period in December.
Fisher was originally hired by former athletic director Scott Woodward, but a close relationship has developed between him and Bjork, who joined A&M in 2019.
"What's unique about Jimbo and my relationship is we both played small college football," Bjork said. "We're similar. We had to work for everything and grind it out.
"In all the time I've been in athletics I haven't been around a guy that works as hard as he does in the film room, with players, game planning, making sure he cares doubt every little detail. All the details make the big things happen."
Never miss the latest news from TexAgs!
Join our free email list