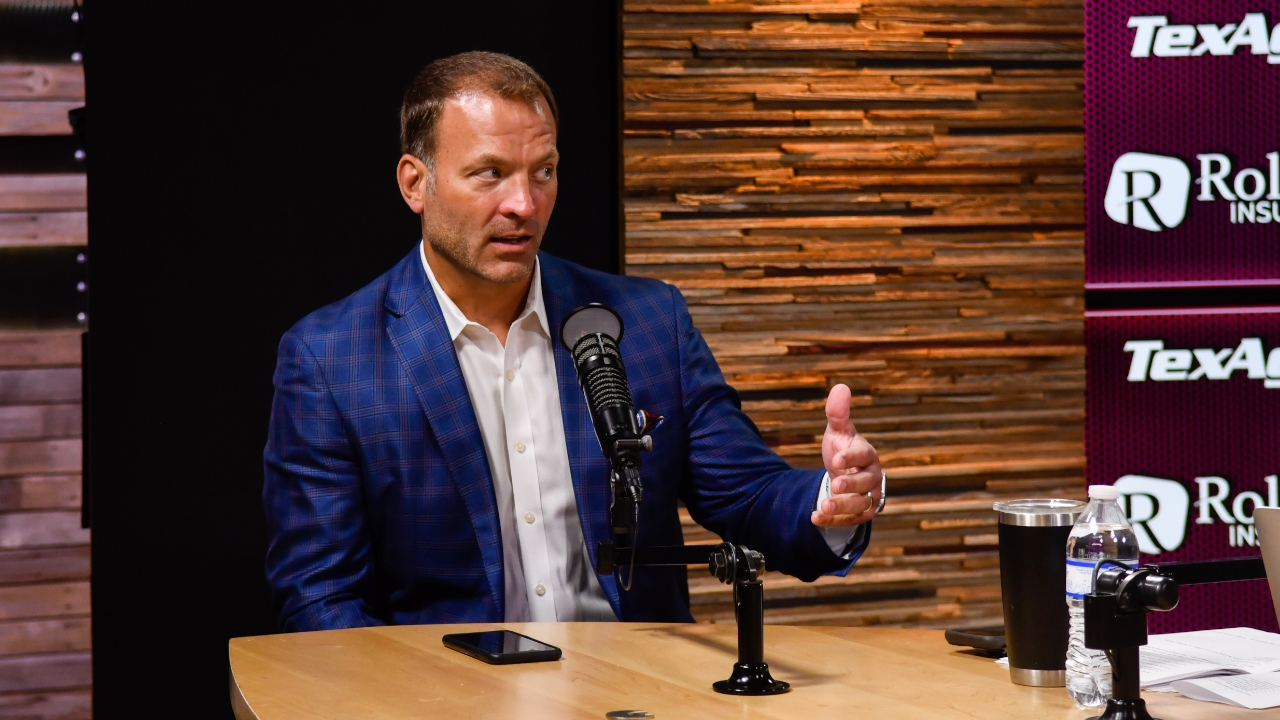 Photo by Jamie Maury, TexAgs
Texas A&M Football
A&M AD Ross Bjork says more investments to come for Aggie Athletics
---
Key notes from Ross Bjork interview
Howdy! It's game week. It's the first day of class. The traffic outside is crazy, but it's good to have everybody back.

We were doing the math, and since the South Carolina game of 2019, it has been 650-something days since we have played in front of a full Kyle Field. The line this morning for ticket pull went across Joe Routt and down by the MSC. It's exciting, and we're ready.

There is a lot of pent-up energy. People are ready to get back to whatever "normal" is even though we still have to deal with COVID. Look at our soccer match on Saturday night. 4,400 people. Standing room only. People are excited.

You can see the momentum building with the football program. I spoke to the team when they checked in back in August. They're staying disciplined and remaining focused. All things are clicking. When the players are leading the way, it leads to some terrific things. If you look at the attitude of these players and how hungry they are with the momentum coming from this coaching staff, it shows that Jimbo Fisher was hired for a reason. He's on pace. He's building, and we're ready for the gauntlet of this season.

Everyone paid attention when Fisher was hired in December of 2017. People realized Texas A&M was making an investment. He and I see this thing the exact same way. We have to continue that investment. Continuity and stability are great. I like to be proactive. We're looking at how to stabilize things for the future, and there are things in the works, whether that is facilities or commitments to our coaching staff.

Coach Fisher knows how to do it at the highest level, and we have to invest in that and make sure that stability is here for the coming years.

People are paying attention to A&M nationally. They've seen what has been built facility-wise. They see our brand. We're on the right side of the changing landscape of college athletics. People recognize that A&M is here to stay, and I hear that from my colleagues. People are going to notice even more when we announce these upcoming investments. A&M is the best combination athletically and academically in the country.

I've spent ten years in the SEC. In every single athletic director meeting we've ever had, we've talked about football scheduling. Two years ago, we brought in a consultant to study where the game is going to be heading. I came up with some principles, one of which is that we should have more variety. There is no reason that Georgia shouldn't have played at Kyle Field yet. We want to look at getting into the College Football Playoff. We want the best for the fans, and we also want to reach TV audiences. We need to reach those households. Whatever gives us variety, playoff access, fan interest and TV eyeballs, that's the best option.

Now that Texas and Oklahoma are in the SEC and we're looking at 2025, we've laid out where the teams would go. Is it divisions or is it pods? We've just started looking at it, and I think next summer you'll have a better idea of what it looks like. There will be a lot to the scheduling piece across all of our sports, but I know A&M will be well-positioned and will have a seat at the table.

The college football playoff expansion is going to happen. There is no way that any conference at the FBS level would want to deny access. The SEC is not the league that wanted to expand it. I don't see other conferences denying it just because they're mad that the SEC expanded. Why would they deny access and revenue? Through our conversations this fall, we should have some answers. It's going to expand. It's just a matter of how and when.

I told Jim Schlossnagle last week that he was undefeated here and to keep riding the wave. Recruiting and the staff he has hired are fantastic. The energy around the program is different. This is why we hired him. We thought Texas A&M should be a top-flight baseball program, in the conversation every single year. He has brought that, and I think the sky is the limit. Schlossnagle is in the trenches in recruiting, and it has been fun to watch. During our research, we asked which coaches were out there watching the prospects, and it wasn't many. Schlossnagle was among the handful.

Schlossnagle and I talked about his relationship with Chris Del Conte when we were going through the hiring process. We decided not to tell Del Conte about our conversations, but as soon as we made the hire, he reached out to me, telling me it was a great hire and that I was going to love working with Schloss.

There are tons of things in the works. We're meeting with architects every week. I know some images have been released, and we're talking football and across sports and on the academic side. Everything is on the list. Reed Arena is something we need to address. Hopefully, we can release more information next summer.

Right now, there is a worker shortage. When we have gameday, we'll be back to full capacity. We will need people to have some patience. We're asking people to have that patience and take a breath. We're going to celebrate the 12th Man centennial, there will be a flyover and the Red, White & Blue Out, but we will need to take a breath because of that worker shortage.
Never miss the latest news from TexAgs!
Join our free email list