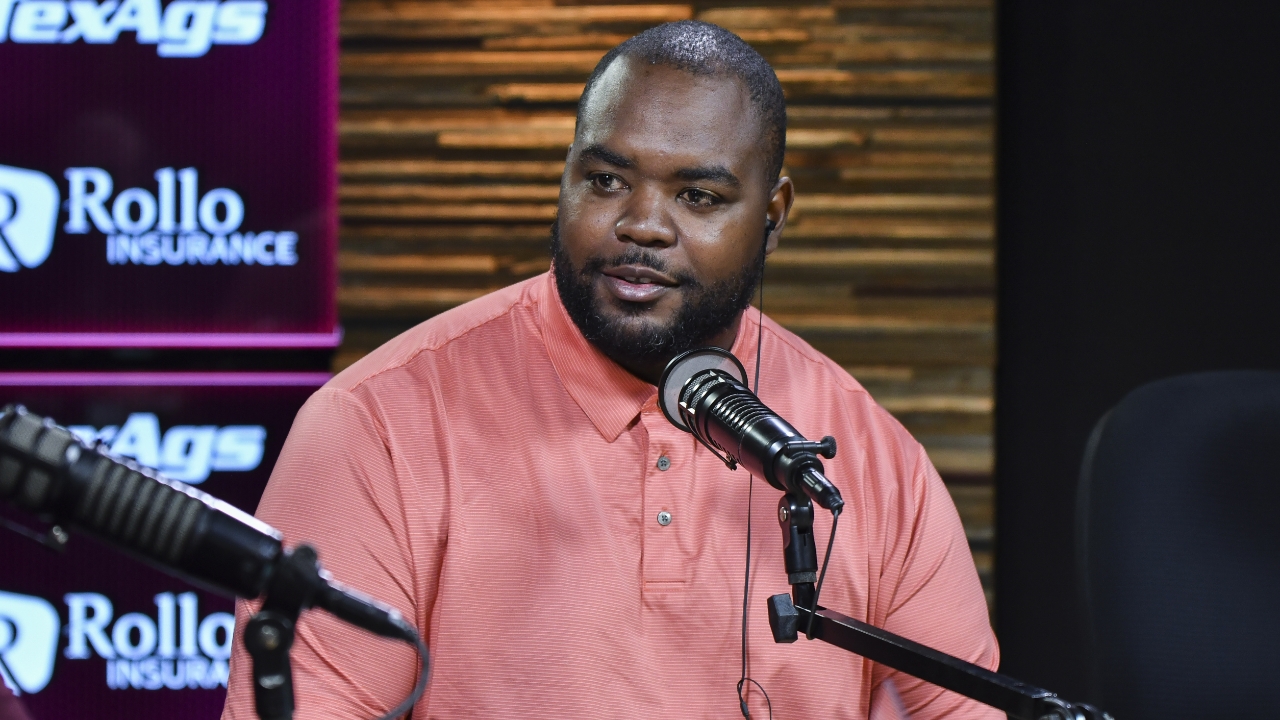 Photo by Jamie Maury, TexAgs
Texas A&M Football
Ty Warren discusses the 2021 Aggies, his future with Huffines Institute
---
Key notes from Ty Warren interview
I'm not as busy as I have been in the past, purposely. I'm just trying to raise my family with my wife. We have one daughter, Bre, who is playing softball at Texas A&M. We have another one who is about to go to Purdue to play volleyball. We have two other student-athletes coming up.

I'm getting ready to educate myself and go into a master's program at Texas A&M in data analytics. I'm just trying to sharpen iron and prepare myself for a future opportunity in a program even outside of coaching. That's something that my time in Detroit taught me. As much as it was a thrill to be around the business, I love to be around the game and want to do that in some capacity.

I will also be working with Dr. John Thornton at the coaching academy, and I'm looking forward to that. When it does become official, I'll let everyone know.

I am always going to challenge myself positively. I am aware that things are changing. The COVID-19 era has forced everyone in this world to accelerate how they operate. It has brought on some creative ideas.

In my opinion, I believe the eye test is a big part of the evaluation. Analytics tip you off on different tendencies and stuff like that. During my time with the Lions, some of the reports would tell us how many times the offensive lineman had their hand on the ground, so that might help with the pass rush. There is a use for analytics. When it comes to overall evaluation, eyeball test and understanding who they are as a person cannot be replaced.

I think 2021 will be exciting for Texas A&M from seeing the progression that our program has been on. I think Jimbo Fisher deserves credit. Minus the schedule and the win-loss column, the evolvement started a few coaches back. Regardless of record, I think Mike Sherman put together offensive linemen that set the foundation as well as Von Miller and other relevant names. He delivered us Johnny, which played a role in the Kevin Sumlin era. Fisher has come in and is knocking it out of the park in recruiting. Fisher has the Aggies on the assent.

We're on a different pathway than Texas. The recent news has highlighted that. My family knows as much as I tell them about the t.u. rivalry. I have a daughter at A&M, and Texas was one of the first softball programs to offer her a scholarship. I wasn't against it, but I let her know the history there. I educated her a little bit. There is no doubt that Texas A&M is standing head and shoulders over Texas at the present moment and has all of the pieces in place to stay there.

Bre is loving her time at A&M. It was an unusual year on campus, as it was for every freshman. She didn't get to bask in all of the traditions and had to do class virtually. It was just awkward for her and every other freshman. It took some adjusting.

There are so many great stories with Bill Belichick. Mike Vrabel was a very, very smart player, and he was an overachiever. He just wasn't blessed with the God-given ability like Von Miller. Some of my best years were playing next to Vrabel because we would study and call things out before they happen. He also provided some great laughs. Everyone asks how Belichick is, and he has a personality and is a funny guy. He operates under a system where he's very protective of his information and his organization.

One training camp, my family went back to Texas. As it was getting towards the end of camp, Bill was about to address the team. Bill came down the steps, and I tugged at his shirttail. It surprised him because I'm not much of a talker. He leaned over, and I said, "Hey Bill, my family is coming to town, and I haven't seen them in a couple of weeks. I know we have a curfew, but they fly in at this time." I asked for him to make way for that to happen, and he looked at me, smiled and goes," Yeah, I haven't seen my wife in a long time either." He's not just a machine.
Never miss the latest news from TexAgs!
Join our free email list