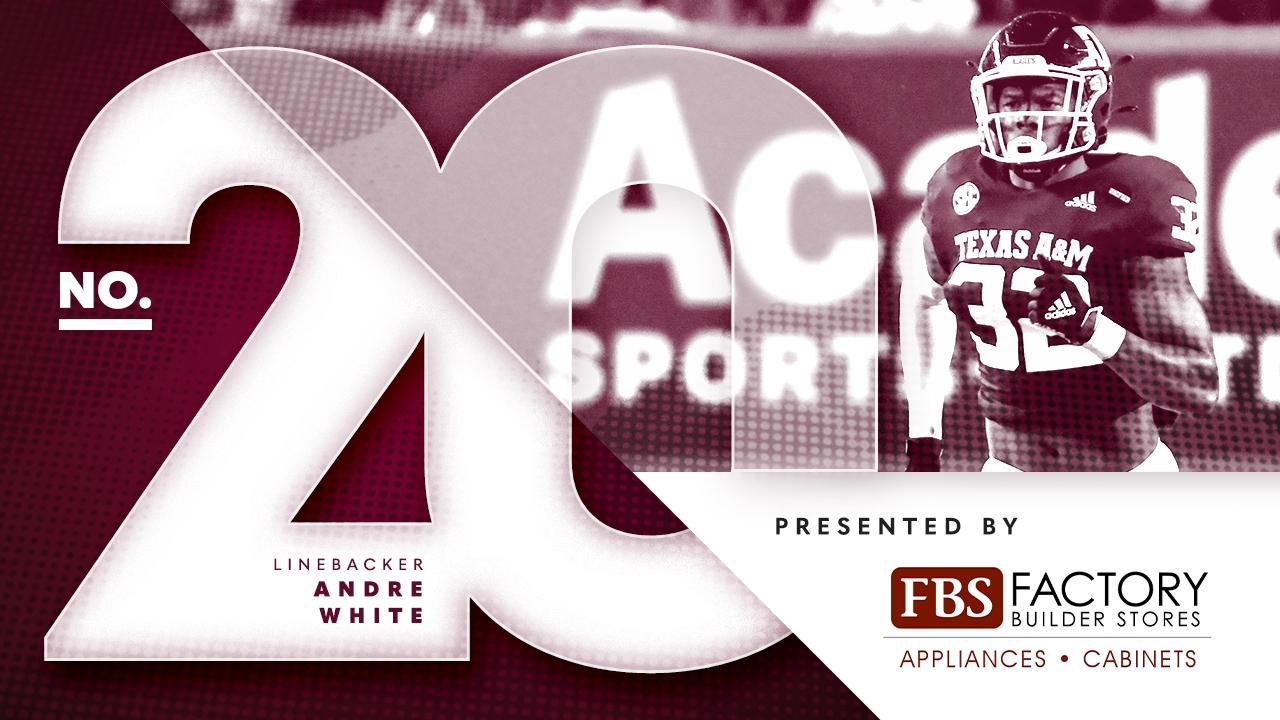 Texas A&M Football
21 Players in 21 Days: #20 Andre White
---
Position: Linebacker
Classification: Junior
Hometown: Harrisburg, PA
Listed Height: 6-3
Listed Weight: 225
Key notes from Billy's analysis on White
I go back to his freshman year, and I remember in a late, tight game with Ole Miss, the Rebels were driving down to cut it within one score. White got a really important sack, and that was a big moment. He had flashed greatness earlier that year too.

When White sees the football and sees that lane, he will fly through the crease and absolutely blow up a ball carrier. You saw it in the LSU game this season.

White got a start in the Orange Bowl this year with Aaron Hansford out. He got a big, early interception off Sam Howell, who is going to be an eventual top-five draft pick.

We saw him at camp when he was a recruit. He was already committed from Pennsylvania, and we saw then that it was a hell of an evaluation by that coaching staff.

Andre White stands out physically. He looks like he has been playing for the Texans for years. His name has come out a lot this summer. I'm not sure what they're going to do regarding media at Fall Camp, but if we're out there, people on our site are going to be surprised by pictures of Andre White. He looks NFL-ready.

This could be a year where White emerges. A year from now, we could be talking about him coming back as one of Texas A&M's best defenders. He is on a progression that is very similar to Buddy Johnson's. White is fast and physical. When he knows where he's going and sees the lane, he explodes through the block to the ball carrier.

In Mike Elko's defense, I don't think there is anything better than experience. You saw Tyrel Dodson and Otaro Alaka missing their gaps early in that first year, and then they were very good. Then with Buddy and Hines, you saw some breaks. Last year, with Buddy and Hansford, there were very few misses. I think at this position, experience is more important than any on this defense.

Andre White is a big part of this defense. You'll probably have two veteran linebackers starting. Edgerrin Cooper, Chris Russell, Antonio Doyle and Tarian Lee will have a say in it, but with White and Hansford, that's what you want at linebacker in this league.

I'm not sure who is the most physical guy, but with White and Hansford looks-wise, if you put them on an NFL roster today, you wouldn't think they were college football players. Andre White is probably around 6-3 and is a prototype for an NFL linebacker. Are they physical enough to be strong against the run in the SEC West? Hell yeah.

The fun part about this series is that a lot of the guys at the bottom of this list have a great chance to move up significantly. This is an NFL linebacker that is on the fringe of the top-20 players on this football team. The top of this list looks like it never has before. When you talk about guys who can shoot up, I think White, Antonio Johnson, Micheal Clemons and Tyree Johnson are the ones to watch.
Follow the entire 21 players in 21 days series here.
Never miss the latest news from TexAgs!
Join our free email list
PRESENTED BY