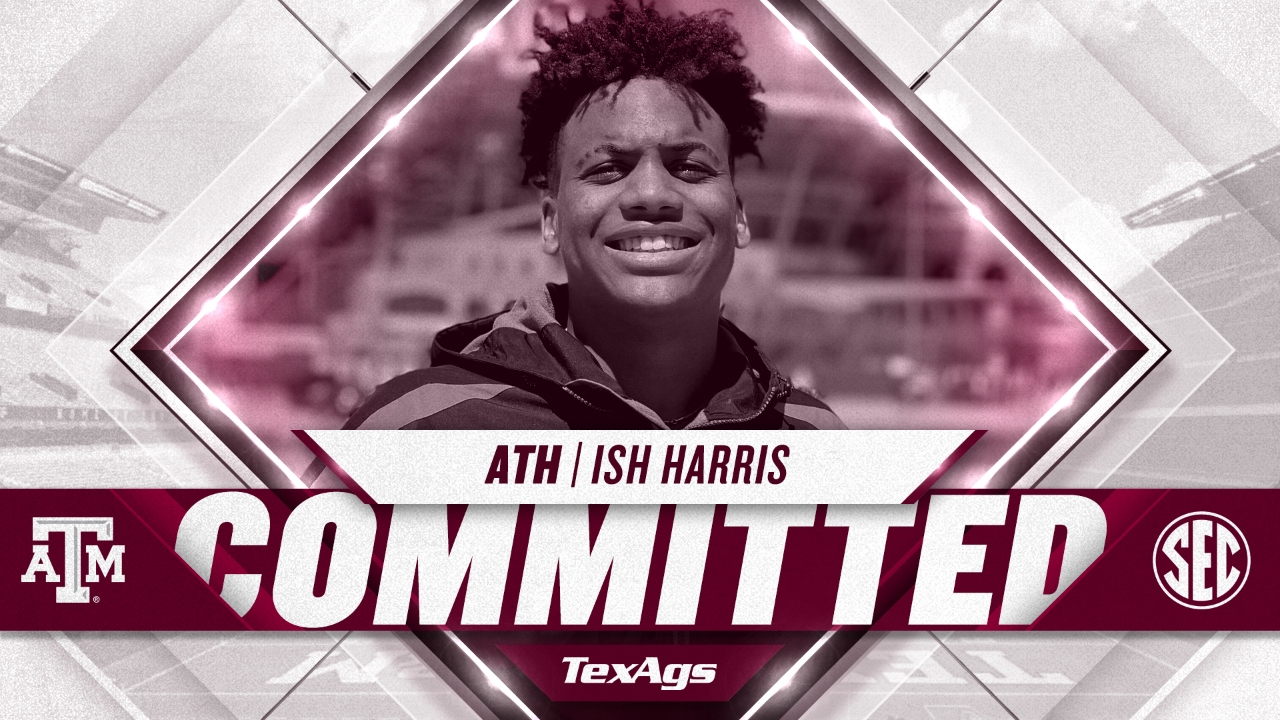 Texas A&M Football Recruiting
2022 Pilot Point linebacker Ish Harris commits to Texas A&M
---
Jimbo Fisher and the Aggies continue to add key pieces to the defensive puzzle as Pilot Point standout athlete Ish Harris‍ announced his decision.
At Pilot Point, the 6-foot-4, 200-pound playmaker has turned heads on both sides of the ball. He earned district offensive MVP honors after rushing for 1,788 yards and 18 touchdowns on 26 carries, and he also recorded 44 tackles seven interceptions on defense.
At Texas A&M, Harris will focus on defense. It is not hard to envision Harris adding weight to his frame while maintaining his versatility, lateral quickness and change of direction. Harris has also proven to be strong in coverage with natural ball skills.
Harris becomes commit number 10 in Texas A&M's 2022 recruiting class and the second linebacker, joining Martrell Harris‍ of The Woodlands.
The Aggies became a key player in Harris' recruiting process shortly after offering in January. Defensive line coach Terry Price and linebackers coach Tyler Santucci led the Aggies recruiting efforts and quickly established a strong bond with Harris and his family.
In addition to Texas A&M, Harris also received offers from Baylor, Boston College, Kansas, Kansas State, Miami, Michigan, Minnesota, Oklahoma, Oklahoma State, Ole Miss, Purdue, SMU, TCU, Texas, Texas Tech and Utah.
In March he narrowed his list to Baylor, Oklahoma, Oklahoma State, Texas, Texas A&M and Utah. He reshuffled his list in May and named a top-five of Miami, Michigan, Oklahoma, Texas and Texas A&M. Over the course of the process Oklahoma, Texas, and Texas A&M emerged as his leaders, and in June, he took official visits to Texas A&M and Oklahoma. He also took two unofficial visits to Texas A&M in June.
He will graduate in December.
We will have more for our TexAgs Premium subscribers soon.
---
More coverage
Jason Howell spoke with Harris about his decision to commit to Texas A&M.
C4 7-on-7 coach and director Sean Cooper discussed his relationship with Harris and his decision.
Pilot Point High School recruiting coordinator Travis Marsh talked about Harris' character and commitment.
Never miss the latest news from TexAgs!
Join our free email list