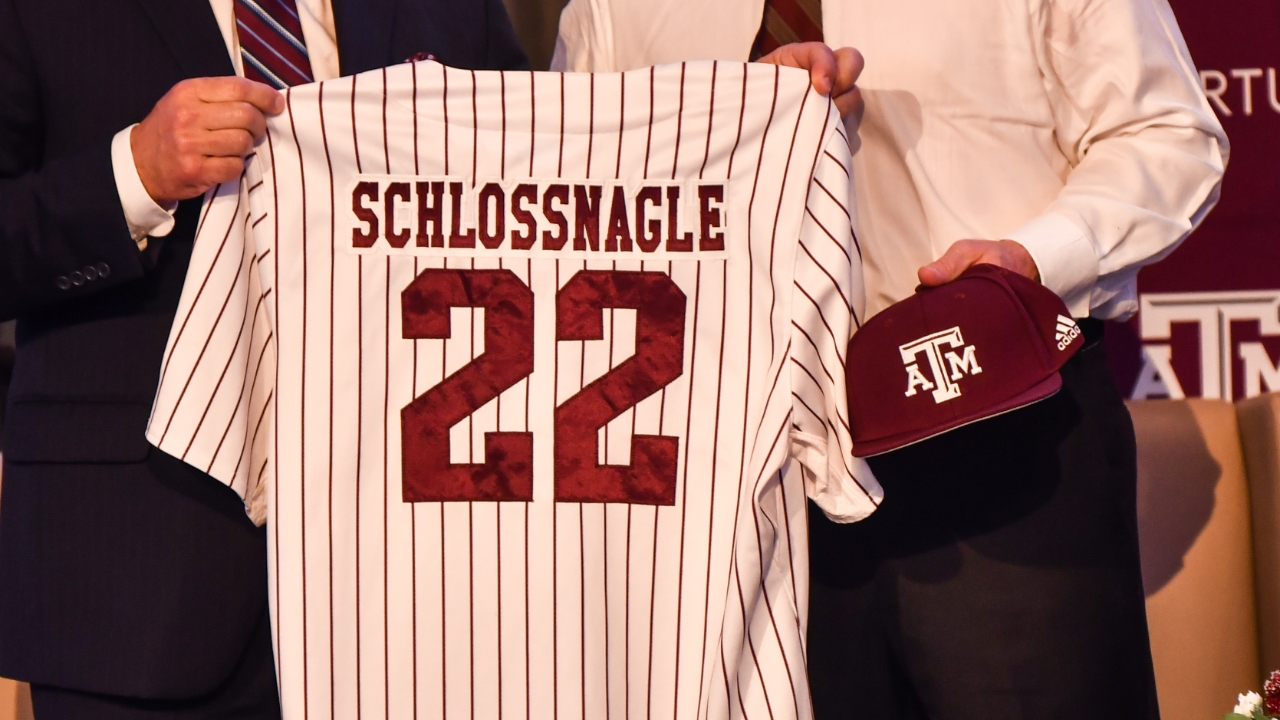 Photo by Jamie Maury, TexAgs
Texas A&M Baseball
Jim Schlossnagle hits ground running during first weeks in Aggieland
---
Key notes from Jim Schlossnagle interview
It's like drinking out of a firehose right now, but we'll get there. I'm super excited to be in Aggieland.

Hiring a staff is the most important thing right now. In the first 24 hours, I tried to talk to every guy on the team, incoming player and committed player that we're allowed to contact to try and keep them secure. Now, we're trying to put together a staff. The athletic administration has been awesome in giving us every resource to hire the best. It's not easy to hire guys with roots away from established programs. We're getting closer, and hopefully, by the end of next week, we'll have 90 percent of it complete. It takes a while, and I'm not patient.

Reception on the recruiting trail has been awesome. No disrespect to anywhere I've coached before, but Texas A&M can draw students from anywhere. When we're bouncing around the state of Texas, this logo has so much weight and cache to it. People get excited when they hear from you. Right now, it's about getting out there and seeing them play. In college baseball today, we're recruiting four and five classes at once. Right now, my focus is affecting next year's team. We need to build on this momentum.

Things have changed over the last 20 years, especially when you're building a program in the SEC West vs. the Mountain West or Conference USA. You're competing with so many other programs in this region, both on the field and for players. We need upgrades to the facility, which is weird to say. I can remember coming here for the 2012 regional and thinking how amazing this stadium was. Just in nine years, it still has great bones and great crowds, but we need to catch up on some things.

How do you eat an elephant? One bite at a time. I'm trying to knock out one thing down at a time. Once I get the coaches here, we can start focusing on the team and other aspects. We have a season to play coming up, and the roster is a little disheveled. Guys are unsure, and some the transfer portal. It's also a unique time, with the MLB Draft being in July. We don't know who will be drafted vs. not drafted, and we have to issue scholarships before then. The NCAA will need to make some changes, and July is going to be very interesting. Roster management and managing the salary cap of 11.7 is so very hard, and the draft dictates that. We must know the draft situation before issuing a scholarship, so it'll be a weird two or three-week period.

The recruiting meetings have been great. My job is to introduce myself and help them get to know me. I want them to know that the program they committed to is not the program they show up and play for. No disrespect to the other coaching staff, but the personalities are going to be different. I want them to know about the player development aspects and our coaching staff. They're excited. My job is to sell college baseball, and the fastest route to get to the big leagues is playing college baseball.

Meeting Jimbo Fisher on the day of the press conference was awesome. He's very similar to coach Patterson at TCU, who I am dear friends with. We're all fans of other coaches. I'm not a hobby-filled guy, but when I get free time, I try to go to practices of other sports to see how they operate. Jimbo told me he's a big baseball fan. I'm a huge college sports fan, so I won't miss a football game. I grew up in ACC and Big East country, so I'm a big basketball fan and will follow Buzz Williams as well. I'm fired up for college football to get here and for that whole experience of being at a huge state university.

There are too many positives for us not to have success here. It might take us a bit to get this roster right, but we'll get there.
Never miss the latest news from TexAgs!
Join our free email list