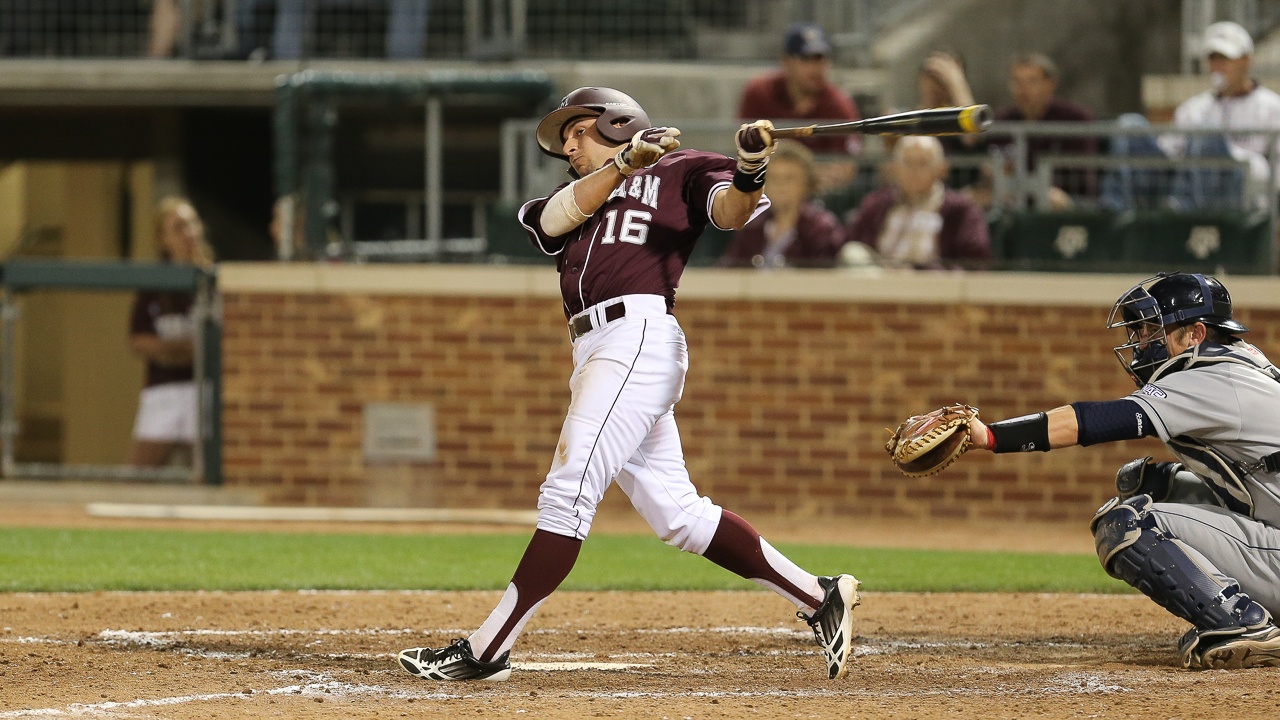 Photo by Matt Sachs, TexAgs
Texas A&M Baseball
Catching up with former Texas A&M Shortstop Mikey Reynolds
---
Key notes from Mikey Reynolds interview
It's exciting to be back in a Major League organization, and it's with my hometown Arizona Diamondbacks. I gave myself until 30 years old to get back into baseball, and I'm 30 now. I'm glad they called me before I turned 31.

I spent some time in Aggieland working out, getting my swing fixed up with Matt Juengel. Then I was playing with the Milwaukee Milkmen and was on the bus when Arizona called me, told me they were interested and to stay prepared. About five minutes later, they called my head coach and wanted to sign me. It was unreal. I called my parents, and it was just a dream come true.

I'm just so happy to be playing the game for a living. They always say that the grass is always greener on the other side, and I've gone to the other side to see that's not always true. I was happy to get that call, but it's not the same as getting the call to the big leagues. I'm not satisfied until I get that call, and that's my goal.

In 2016, I was with the Cardinals after playing in independent ball. They sent me from AA to High-A, and I just retired. I told the coaches I wasn't having fun playing the game and wanted to take a different route. I got into medical sales, but there is no pressure like being in the OR when a doctor asks you what you want to do.

A coach up in Fargo asked me if I had been playing, and I lied and said I had. I drove up to St. Paul, played three games and went 0-for-16 with three errors. He cut me after three games. That was probably the lowest point of my career, but I made a pact to get back. It gave me a different perspective. I went home and did a bunch of different odd jobs to make enough money so I could go to the gym, work out and go to the field. I got a spot in independent ball 2018 and almost won a hitting title. I went to Australia and won the batting title that winter. 2018 was my comeback year.

I played last summer during the COVID season with St. Paul and almost won the MVP. I've been playing well and having fun. I'm doing everything I can do to have people keep their eyes on me.

Last year, I went to a workout that I wasn't invited to. It was invite-only. I showed up with my baseball pants on, and surprisingly, they let me in. I tore it up that day, and eyes were on me. This small guy who wasn't invited was ripping balls off the fence. When the opportunity came a week ago, the Diamondbacks picked me up.

This weekend was rough. You could not have had a better coach. The guy for the job was Rob Childress. We all look up to him and don't want to let him down because he's such a good example of what a good guy was. To hear that news was tough. He's Chief. He wants to make us better as players and as men. If you're not playing, be a good guy off the field. Pursue excellence in everything.

When I got drafted after my sophomore year, my biggest goal was to get to Major League Baseball. That was an opportunity to go to The Show. He flew to Arizona and knocked on my door to talk to me about why he wanted me at Texas A&M. He sat down to talk to my family and me about this school and what it would mean to get that degree and that ring on my finger. The way he explained it to me showed me Rob's character. That's the kind of guy I wanted to play for. It was a no-doubt decision after that meeting that I was going to school there.
Never miss the latest news from TexAgs!
Join our free email list