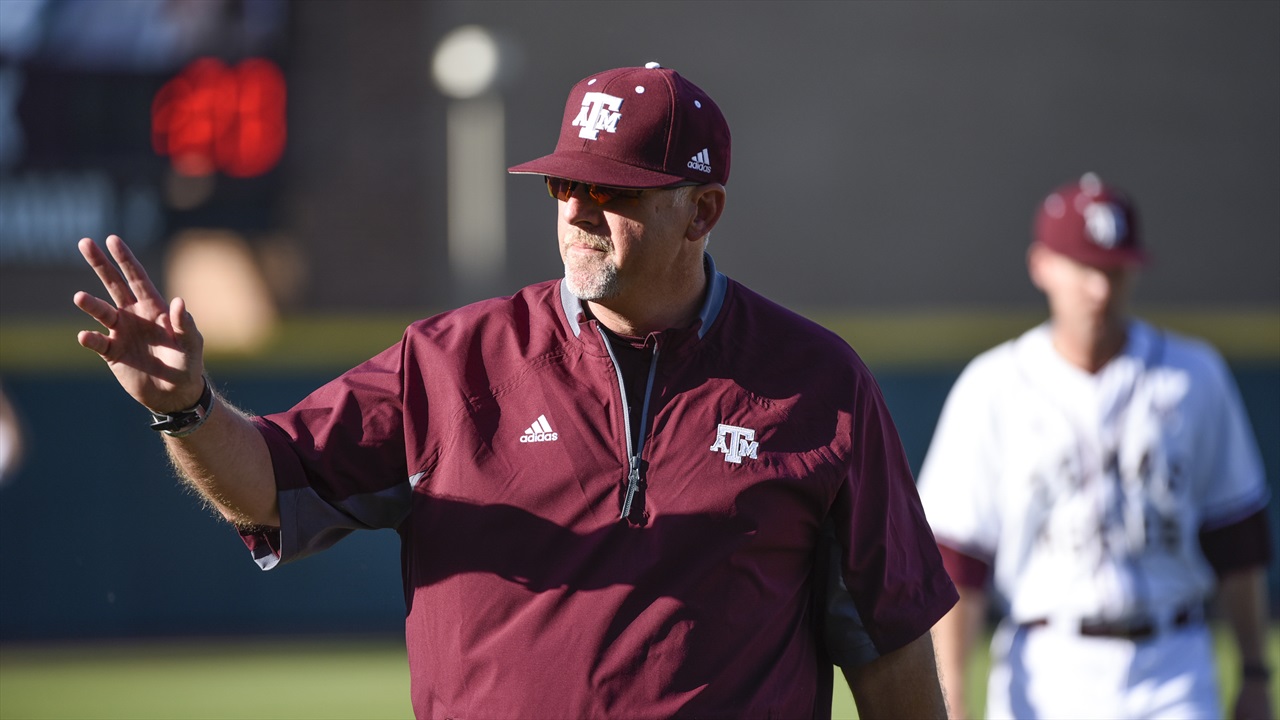 Photo by Christina DeRuyter, TexAgs
Texas A&M Baseball
Reaction: Rob Childress era at Texas A&M comes to a close
---
The writing was on the wall for Texas A&M baseball head coach Rob Childress when he entered the 2021 season without a contract: Win BIG in 2021 or a change will be made.
Earlier today, A&M athletic director Ross Bjork relieved Childress of his duties following a year in which his club finished in 13th place in the SEC with an overall record of 29-27 and a league mark of 9-21, missing the SEC Tournament for the first time since entering the league in 2013.
Winning was never a problem for Coach Childress. His teams won a bunch of baseball games and gave us some truly great memories and moments. In 15 full seasons as the head coach of the Aggies, Childress's teams won 40 or more games nine times, reached the NCAA Tournament in 13 consecutive seasons, won two conference regular season championships and four conference tournament titles and reached the College World Series twice.
Childress was consistently very good at getting his teams into the postseason, at graduating his student-athletes, at getting his players drafted at a high rate and at mentoring his players and helping them mature into men during their time in the program. Just look on social media after the loss to LSU on Saturday in the season finale. Senior Hunter Coleman had trouble keeping his composure when talking about his head coach, and many former players responded to the Coleman video with praise of their own toward Childress.

Rob is very good guy who cares deeply about his players and who has always been there for them long after they leave Texas A&M. I will not unveil any players' names but I know of at least one occasion where Childress offered to personally and discretely pay for a former player to return to school after their pro career ended and to help them complete their undergrad degree. That's just one example of the kind of relationship that the man the players call "Chief" consistently builds with his players and continues to build long after they leave the program.
Winning games and leading men were never a problem for Coach Childress. Winning BIG, however, was an issue and is what eventually led to Childress's exit. You think about the back-to-back Super Regional losses at Rice in 2007 and '08, or losing in a home Regional in 2012 with five Big Leaguers on the roster (Michael Wacha, Ross Stripling, Daniel Mengden, Kyle Martin and Tyler Naquin) in the first year of Blue Bell Park.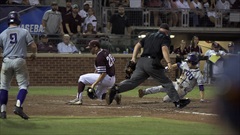 Alex Parker, TexAgs
Of course, the most painful stretch came in 2015 and '16, when a pair of game 3 defeats against TCU kept the Aggies from reaching Omaha with a couple of rosters as capable of making a deep run in the College World Series as any of Childress's A&M squads. And while Texas A&M did find a way to grind through the Houston Regional and got a lucky break in hosting Davidson in the Supers en route to an Omaha trip in '17, that was not a team capable of winning a bunch of games in the CWS.
Childress got to Omaha twice but never reached the CWS with his best teams, and he went a combined 0-4 on the grand stage in Middle America. You could argue that the 2012 roster was better than the CWS team in '11, and we all know that the '15 and '16 teams were much more complete than the CWS team in '17.
And then there's the notion of, "What have you done for me lately?" Since the miracle run to Omaha in '17, A&M has dropped a pair of road Regionals to Big 12 teams (Texas in '18 with Mitchell Kilkenny, John Doxakis, Asa Lacy and Nolan Hoffman and West Virginia in '19 with Doxakis, Lacy and Christian Roa) and then this year failed to even make it to Hoover for the league tournament, finishing as a bottom dweller in the SEC.
I have thoroughly enjoyed every encounter I've had with Rob Childress and each member of his coaching staff. He's been consistently good to me and to TexAgs. You hate to see anyone lose their job, but this is a results-oriented business and the baseball program has not fully reached its incredible potential under Childress's watch, and program momentum is trending in the wrong direction with no obvious sign of bouncing back. The time is now for a change in leadership and for Bjork to find the head coach that will take this program to new heights.
Rob Childress has done a fine job as A&M's coach. But this program is a potential behemoth in college baseball and one of the very best jobs in the entire country, with the combination of proximity to elite talent in Houston, Dallas and the Brazos Valley, a commitment to excellence from the administration and donor base, 100-percent buy-in and support from the fan base, outstanding facilities (with incredible improvements on the horizon to an already very good ballpark) and the type of job security that allows any coach to come in and build the program the way he sees fit.
You hate to see anyone lose their job, but this is a results-oriented business and the baseball program has not fully reached its incredible potential under Childress's watch, and program momentum is trending in the wrong direction with no real sign of bouncing back.
A&M has had three coaches since 1959. Tom Chandler was hired as a high school coach following the 1958 season and held the position for 26 years, winning five Southwest Conference titles and reaching the College World Series twice. Mark Johnson was hired from within as Chandler's assistant in 1985. He spent 21 seasons as head coach of the Aggies, winning five conference titles and making two trips to the CWS.
And then there's Childress, who came to A&M after a successful stint as pitching coach at Nebraska and has had a very solid run for the Aggies — including two trips to Omaha — over the last 16 years. But when you really look back at three highly successful coaching tenures that have encompassed the last 63 baseball seasons, the program has had so many unforgettable moments and times in which it looked like it was about to erupt and become the best baseball program in the country. And for short stints here and there, maybe it was the best team going. But it has never gotten to that point and stayed there long-term. This program has never had a deep run in the College World Series. In fact, A&M is 2-12 all-time in Omaha and has one CWS win since 1951 and no CWS wins since '93.
The time is now. Not to go make a bargain deal to get a young up-and-comer to take over the program in hopes that he'll be the one to finally get Texas A&M to reach its limitless potential. It's time to invest in Texas A&M Baseball — a la football with Jimbo Fisher and men's basketball with Buzz Williams — and do what it takes to get a proven winner as a sitting head coach in college baseball.
The interest is there. The elite-level college baseball coaches are fully aware of how attractive this job is and what this program is capable of under the right leadership. Ross Bjork will have many great options. He doesn't have to get the absolute biggest name out there but it has to be the right fit ... the combination of a great coach who is a great fit for this program and this university.
We'll keep you informed as news develops on the search for the next baseball coach of the A&M program.
But as for right here, right now ... we salute Rob Childress on a very, very good 16 years with the Aggies. I wish nothing but the absolute best to him, his family and all of his assistants and their families. The fallout is severe anytime you make a coaching change, and that can be really hard on wives, kids, etc. We're lucky that A&M has a bunch of really, really good guys over there on the corner of George Bush and Olsen, and I'm hopeful and confident that each of them will land on their feet in coaching moving forward.
Never miss the latest news from TexAgs!
Join our free email list