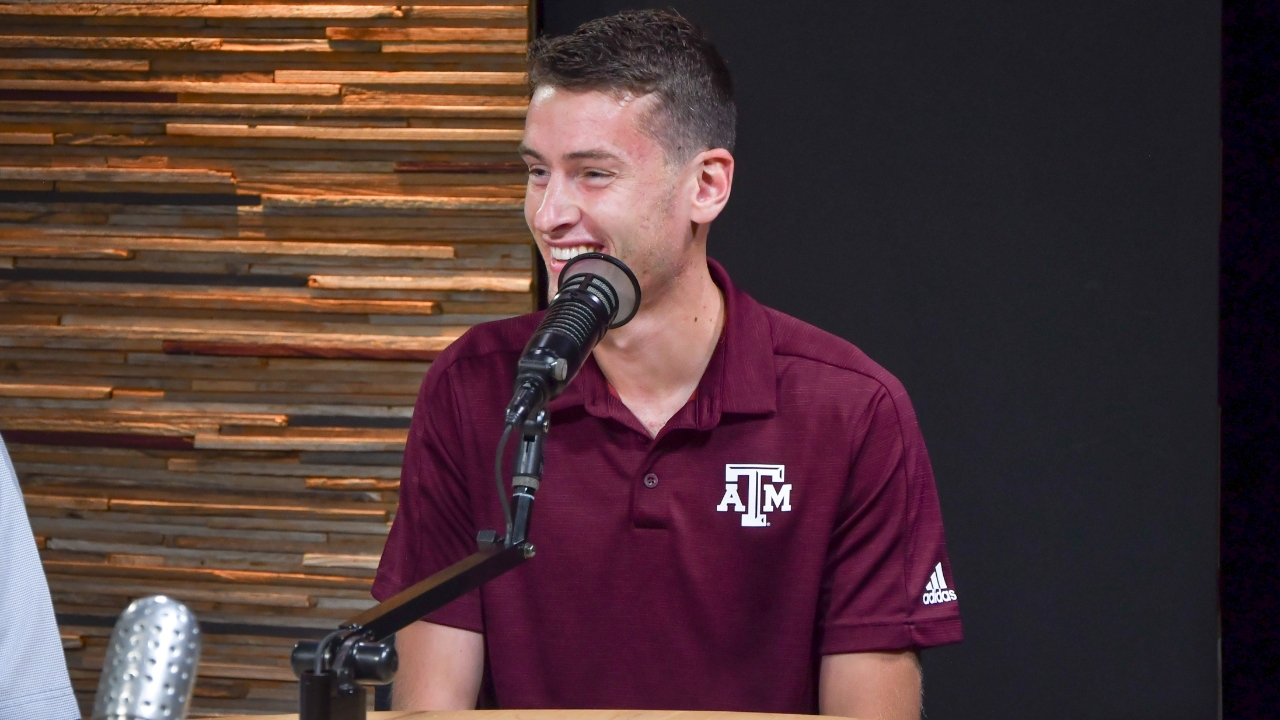 Pat Henry Q&A
Jon Bishop Q&A
Texas A&M Track & Field
T&F Report: Jon Bishop amazed to win SEC's Scholar-Athlete of the Year award
---
After running in the SEC Outdoor Championships this weekend, Pat Henry joined TexAgs Radio to discuss his team's showing and preparation for the NCAA Prelims. Distance runner and Scholar-Athlete of the Year John Bishop also joined for the Athlete Spotlight.
---

Key notes from Pat Henry interview
We had good weather for three days last weekend. Besides the breeze, it was warm and made for a good track meet.

I was not pleased with our team's finish. As always, we're going to try and be in there every year. You can't do it every year because it's a tough league. We want to be in the top two or three. Arkansas won both of them, but there are reasons for certain situations. Our ladies and guys had good performances, and we're situated well for the NCAA meets. We're trying to win the national championship. You can finish sixth in the SECs and win the national championship.

We're a better team going forward than we were this weekend. It's hard to understand that. If you're a good athlete, you can score at the conference meet but not the national meet. You have to be a great athlete. We have our fair share of great athletes.

For a freshman Brandon Miller to step in and win the SEC title is impressive. He's one of those guys that beats the competition. To do that this weekend, he had to run as fast as he did. Next week, there will be more people running around 1:45. It's a tough task, but this is a guy who steps up to the competition.

Moitalel Mpoke met the Olympic standard for Kenya. He's one of our international athletes. That's a race he doesn't want to lose. It was the best time run in the United States this year. Anybody who saw the celebration knows how much it meant to him. He's having fun, and he's a good young man.

Bryce Deadmon was a 47-plus high school athlete, but he was one I thought would be very good in time. He got a little bit hurt as a freshman and sophomore, so his junior year was the first time he came around for us. He ran his best, but he knows there is more in the tank. The guys on the inside beat him, but he still has a chance to run a little bit faster. We put him in a little bit of a hole in the 4x400m, and he started a little bit late. If it was 401m, we might have won the race. That was the first time we've been beaten in several years in the relay, and it was by two one-hundredths of a second.

Athing Mu is the class of the field. To run 49.8 right now is a huge run, ever. Combined with 1:57.7, those are two tremendous times for a freshman in the history of the NCAA. We also ran her on the relay, and we lead in that event as well.

Besides Mu's 400m run, Tyra Gittens was the class of the field. She scored more points than Jackie Joyner-Kersee did in college. It's a tremendous accomplishment. No female ever has jumped 22 feet, six inches and cleared six feet in the high jump. Not just in college, but in any meet, ever. She's an entertainer. It's all genuine. She loves the sport and loves competing. When she doesn't do it well, you'll see the display as well.

Deborah Acquah jumped 46-4 in the triple jump. She got beat by one of the best jumps ever. Then she went and won the long jump. She jumps far enough to win. She's a great competitor for us.
---

Key notes from Jon Bishop interview
I have to imagine that at all of these SEC schools, there have to be a ton of great candidates, so when I was picked, I was amazed. I have to thank all my coaches and all my academic advisors for helping me.

I was nominated by Texas A&M and then had to fill out an application — paperwork and an essay. I submitted that in January, and of course, the announcement came this week.

At times, there were tougher times. Ebs and flows. When I was younger, a freshman in college, and this year, I had to adjust to academics in college. It's about handling stress and really wanting it.

My initial instinct was that I'd leave College Station, but then Texas A&M started recruiting me. The more I learned about what this school and program were about, I knew it was the place for me.

Last summer, I was doing software development, and that integrates math into the computer side of things. There are so many paths in my field of study.

I'm an Aggie fan and a Minnesota Vikings fan, so with Kellen Mond getting drafted by them, it was like my worlds colliding. I was hyped with that. I'm also a Kirk Cousins fan, so either way, I can't lose.
Never miss the latest news from TexAgs!
Join our free email list