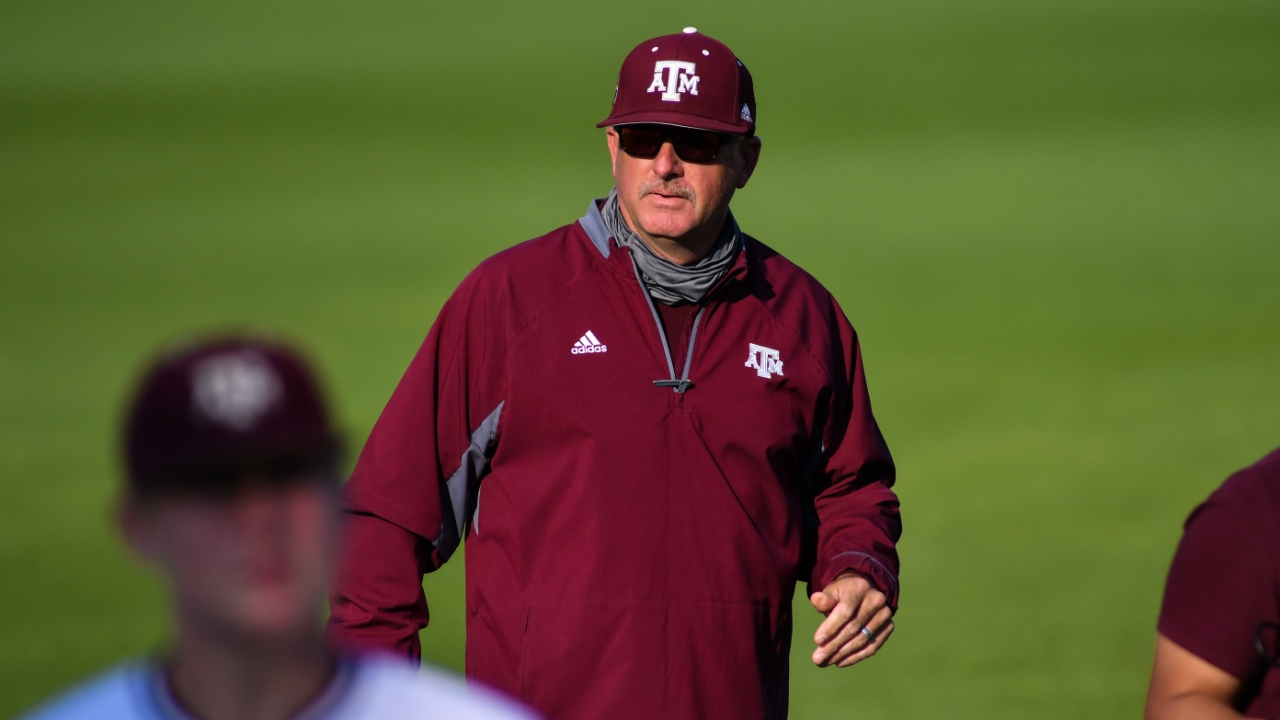 Photo by Jamie Maury, TexAgs
Texas A&M Baseball
Childress, Aggies face do-or-die series against LSU this weekend
---
Key notes from Rob Childress interview
The MVP of the weekend is going to be the weather giving us opportunities to play. The rivalry with LSU has been great since we moved to the SEC. This weekend should be no different. It's one day, one game at a time. We have to do everything we can to win the series. We need some help, and if not, we can go sweep LSU. We have an opportunity this weekend.

The overall takeaway from this weekend at Auburn is that we weren't good enough on the mound. We built a 3-1 lead in game one, and Dustin Saenz minimized mistakes, but all of those mistakes were very good. It was tied in the seventh, and Chandler Jozwiak gave up a flare, and we ended up walking a guy in to score in the eighth. We gave up three runs late.

On Saturday, we started with a bang, but we had to go to the bullpen early. It was a back-and-forth offensive day. We went to Joseph Menefee, and he gave us a lot. We pulled away with three runs late.

We started Mason Ornelas on Sunday, wanting him to get us off and running. He walked two guys, and we made an error. We gave up six runs in the first two innings — five of them unearned. We made it close, but we couldn't hold them and overcome the 6-1 deficit.

Menefee could become a starter for us down the road, but he's most needed in the bullpen right now. He's extremely talented, and he was as good as I've seen him on Saturday. He's the reason we won that game. We had to go to Bryce Miller early in that game, and he struggled with command. We went to Moo, and he stopped it in its tracks.

Logan Sartori, Jordan Thompson and Taylor Smith have been part of our offensive resurgence. Smith has the swing-and-miss aspect, but when he puts the ball in play, it's going for extra bases. These guys have all had success on the front end, and that's why they're getting chances now.

Austin Bost has an incredibly important weekend coming up. He hasn't been great recently, but nobody is more competitive than him. I know he'll be locked in and prepared for this weekend.

Teams play for each other, not for their coaches. You can feel that in the dugout, at practices and when the bell rings. That's something that makes you proud as a coach.

LSU is very young offensively. We have to control the top of their lineup and keep those guys off the bases. They've had issues on the mound just like we have. We need to force them to go to the bullpen early on. The recipe is the same.
Never miss the latest news from TexAgs!
Join our free email list