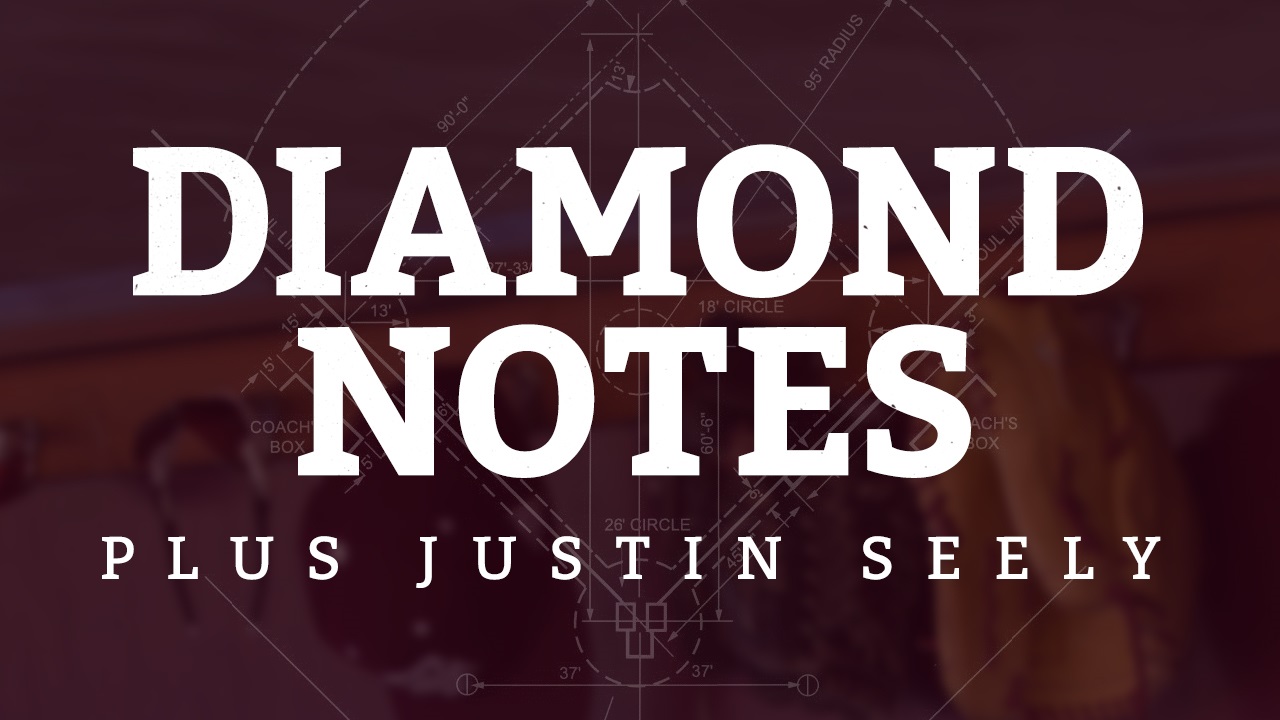 Texas A&M Baseball
Diamond Notes: Aggies rebound in hard-fought series win over No. 12 Ole Miss
---
Well, I think there is just one appropriate way to start this column:
Will Frizzell.
Period.
Seriously, it's Big Frizz's baseball world and we're all just living in it. Simply put, the hitting display that we witnessed this weekend from Will Frizzell at Olsen Field at Blue Bell Park in a series win over Ole Miss was the most impressive weekend of hitting I've ever seen from a member of the A&M program. I remember Nick Banks going 10-for-19 with a grand slam in a series sweep at Mississippi State in '16, and that was incredible. I remember Boomer White that same year having a weekend when he hit about .800. I remember Caleb Shofner hitting about .900 on opening weekend around '09. Of course, the John Byington doubleheader against Texas — featuring a walk-off grand slam and a walk-off three-run homer against Texas on the same day — is stuff of legend. But if we limit it to just the Rob Childress era (2006-present), you would be hard-pressed to find a series display that matches what Frizzell was able to do the last three days.
Game one: 2-for-4, 2 home runs (one to left and a walk-off HR to right-center), 3 RBI, 3 runs
Game two: 3-for-4, 1 double, 1 home run, 2 RBI, 2 runs
Game three: 2-for-4, 2 home runs, 6 RBI, 2 runs
In total, that's 7-for-12 (.583) with 5 homers, 6 extra-base hits, 11 RBI, 7 runs.
Just ridiculous. The guy willed A&M to two wins and ignited a team that entered the weekend on life support in its quest to even make it to Hoover for the SEC Tournament. Frizzell put the entire program on his burly shoulders and carried them to a series victory, doing so with a big ol' smile and exuberance mixed with the attitude of a villain, sent to destroy the hopes and dreams of an Ole Miss team that is slowly watching its hosting chances slip through the cracks.
Frizz had sidekicks. Namely, Bryce Miller and Chandler Jozwiak, who each pitched in the two victories out of the pen and combined to give up just one earned run on 7 hits in 11 innings. It was a total team effort spearheaded by one giant star and a roster full of fighters. That fight. Boy, we've seen the fight from this down-and-out team for weeks now. A&M has stood toe-to-toe against top 15 teams in Arkansas, Tennessee, MSU and Ole Miss, and they finally broke through and have something to show for their effort, grit and determination.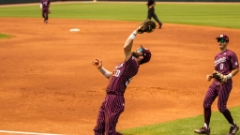 Angelina Alcantar, TexAgs
Who knows if anything will come of it? There's still work to do to even make it to Hoover. A&M would need to win out and make a big run in Hoover to even sniff consideration for a 14th consecutive trip to the NCAA Tournament. I would put the likelihood of A&M making the Dance at about 1.5%. But a not-so-wise idiot once said, "So you're telling me there's a chance."
For now, I'm going to keep watching Frizzell and the Fightin' Texas Aggies to see how they close this thing out. Can Frizz become the fourth Aggie ever to hit 20 homers in one season and the first to do so since 1999? Can A&M close out the regular season (and most likely the Rob Childress era) with three straight series wins and a little run in Hoover?
Judging by what we've seen over the last few weeks and certainly the last few days on the corner of Bush and Olsen, I wouldn't be surprised to see the Aggies muster up the courage to close this out on a high note and streak to the finish line.
Each week, we look back on the week that was with a "Good, Bad and Ugly" spin-off and breaking it down in four categories: Good Average Bad Excellent
Here is this week's G.A.B.E. looking specifically at the three-game series against the Rebels this week...
Good
Chris Weber. Baseball is a funny game. The Aggies won the two games where they didn't get even close to adequate starting pitching but lost the game where the starter looked strong. Weber started game two and allowed 2 runs (both earned) on 2 hits over 5 frames, walking 2 and striking out 2. He sat 88-91 with the fastball but did a great job of utilizing his mix and locating his pitches well. Outside of Jozwiak, Weber has been A&M's best pitcher over the last month or so, and I wouldn't be surprised at all to see him get the ball in game one of the Auburn series this weekend on the road.
The Bullpen. There were certainly some rough moments in relief, particularly in the Saturday defeat. Mason Ornelas, Alex Magers and Jonathan Childress combined to allow 9 runs on 8 hits in just 1.1 frames, turning a competitive game into a blowout in the later innings. But all-in-all, the bullpen performance has to be considered "Good" because of what Jozwiak and Miller were able to do in the two wins. Jozwiak worked 2.1 scoreless innings with just one hit allowed in the win on Friday. Bryce Miller got a couple of big strikeouts in the top of the 9th on Friday to lead to A&M's walk-off home run in the bottom of the frame off the bat of Frizzell. Miller then came on in the 2nd inning on Sunday and gave up one earned run on 4 hits over 5.1 innings after taking over for Nathan Dettmer, handing the ball to Jozwiak with one out in the 7th. Joz rolled through the final 2.2 frames of scoreless relief, allowing just one hit to get the pitching win. There was also Chris Farrell's late-game effort on Saturday, allowing just one run on 2 hits over 2.2 innings late in the 12-7 loss to the Rebels on Saturday. All in all, the move of Miller into the bullpen allows him to impact multiple games on a weekend and bolsters the stable of relievers in a big way while also giving the Aggies some much-needed lefty-righty balance out of the pen. But you're going to need big outs down the stretch from Ornelas and Magers and even Childress along the way in order to win enough SEC games to sneak into Hoover at the end of the month. But while we're on the subject, all credit to the Miller-Joz duo because they were as good together as we've ever seen them as a bullpen combo. If we had pulled them out as individuals, they would absolutely fall into the "Excellent" category. Great work by Rob Childress to push the right buttons to get the absolute most out of both veteran arms throughout the weekend.
Logan Sartori. The fourth-year junior enjoyed a 5-for-12 (.417) weekend against the Rebs while hitting in the two-hole immediately ahead of Frizzell. He also walked twice. Sartori's production was huge because it constantly put guys on base and raised the blood pressure of that guy on the mound for Ole Miss, while also forcing them to pitch to him in critical spots. And of course, he made them pay. But the hidden gem in all of that is Sartori's production. If he doesn't have the success he did all weekend, I imagine Mike Bianco would have put Will on first base and made someone else beat them. Instead, they were forced to pitch to him, and as they say, the rest is history.
Average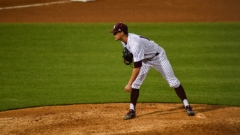 Jamie Maury, TexAgs
The Defense. Actually, the defense made a ton of big plays throughout the weekend and made just 2 errors on the dirt (3 total but one was on an errant pickoff attempt by Miller). The reason why I'm downgrading the defense from "Good" to "Average" is that both defensive errors in the series came from Sartori. And it is clear that Logan's bat needs to be in the lineup moving forward. I would be shocked if he didn't hit in the two-hole for all three games at Auburn this weekend, but with that, you have a downgrade with the glove and especially as a thrower at second base. So that's something worth keeping an eye on heading to Auburn this week. But all in all, a very good weekend on the dirt for the Aggies.
Bad
Dustin Saenz. The fourth-year lefty got rocked pretty good against a very dangerous Ole Miss lineup, allowing 7 runs (6 earned) on 10 hits over 5.2 frames in a no decision. He didn't walk anyone but did hit 2 batters and fanned 5, but he just got hit hard and was particularly ineffective early in his outing, allowing a 3-spot to open up the game on Friday night. Saenz has struggled mightily in most of his starts in SEC play and is nowhere close to looking like a bonafide Friday night starter in the SEC. Fortunately, the Aggies were still able to win the game despite another rough outing, but I think it's time that Rob Childress takes a long look at moving Saenz out of his game one role. It's vital that A&M win the series against Auburn this weekend in a battle to see who makes it to Hoover for the SEC Tournament, and my opinion is that the red hot Chris Weber gives you a better shot to start 1-0 in any series than anyone else the Aggies could throw out there right now.
Ray Alejo. The sixth-year senior has had a great season, but it wasn't a weekend to write home about while facing the college he first attended way back in what felt like the mid-80s. Alejo went 1-for-13 (.077) with just one walk (that big one in the 7th inning on Sunday). If Sartori and Austin Bost continue to prove to be capable sandwich pieces around Frizzell in the three-hole, you really need Alejo to quickly return to form down the stretch after just one rough weekend. If so, A&M will have finally found a solution in what has been a total turnstile in the top half of the lineup. I like A&M's 1-4 right now but Ray has to be really good, as he has been for pretty much every series outside of Florida (his home state) and Ole Miss (his former team).
Austin Bost. I say that about 1-4 in the lineup, but really, Bost wasn't much better than Alejo against the Rebels. The third-year sophomore went 2-for-13 (.154) with 0 RBI and just one run scored. It wasn't a good weekend, but Bost was on the barrel a few times and was the victim of some very good plays defensively by the Ole Miss defense. And he's such an advanced hitter, I have nothing but confidence that the hits will start falling for him against next week.
Excellent
Will Frizzell. A&M's best player by a country mile delivered in a big way over the weekend, going 7-for-12 (.583) with 5 home runs, 11 RBI and 7 runs scored, including a walk-off bomb to deep right center on Friday night to beat the Rebels, 9-8, and a grand slam in the 7th inning on Sunday to turn a three-run deficit into a one-run lead en route to a 7-6 win. Frizzell was all over the barrel throughout the series and pole-to-pole on a line and with power. His first homer of the weekend was over the left field wall and his last was a shot to the railroad tracks in straight-away right. Big #50 is heading down the stretch run of an incredible season, slashing .349 / .438 / .699 with 18 homers and 47 RBI. He's just 2 home runs away from the elusive 20-HR mark, which has happened only three times in A&M history and hasn't happened since Daylan Holt hit 34 jacks in '99. In fact, Holt is the last A&M hitter to belt 18-plus homers until Frizzell this season. He now sits at 29 career home runs, which is tied with my cousin (by marriage) Brodie Green for 9th all-time at A&M. The team's lack of success might preclude Frizzell from being a first-team All-American at first base (or DH), but the lack of production around him in the lineup actually makes his individual success at the plate this season even more impressive. Without much help in the lineup, Frizz has continued to produce in a big way, and I have to believe his draft stock has skyrocketed along the way, as he's finally put together a fully healthy season and an individual season to remember in maroon and white. The guy should be an All-American, and I believe he's the best all-around first baseman in college baseball this season. His glove is underrated, and he consistently makes big plays over there that don't often get the acclaim that they deserve. He's the total package and is absolutely on a tear right now.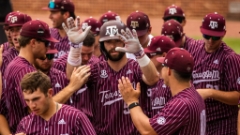 Angelina Alcantar, TexAgs
Two-out run production. You can see all of the numbers below in the "Five Factors" section, but this offense, which produced 22 runs against Ole Miss pitching, drove in a whopping 18 runs with two outs. The lineup has not typically had a weekend with more than 5-6 two-out RBI this season but blew up in that department and delivered in a big way. A&M hit .324 with two outs against the Rebels and that included a 1-for-9 showing on Sunday with two outs. That one hit, of course, was the Frizzell grand slam that gave the Aggies the lead for good. And what you can't see on the stat sheet, particularly in what set up the Frizz granny, is the toughness to grind out at bats to even put Frizzell in that spot. With a man on second and two outs, Alejo worked a walk after getting down 1-2 in the count, and Logan Sartori followed that with an 8-pitch walk to load the bases for Frizz. Just some elite level hitting with two outs all weekend long, which is a far cry from what we've seen from this team for most of the '21 campaign.
The Five Factors: Offense
Here's a look at what the Aggie bats did in five critical situational areas in the win over UTA:
Two-outs: .385 (5-for-13)
Runners on: .500 (6-for-12)
Runners in scoring position: .571 (4-for-7)
Leadoff OBP: .100 (1-for-10)
Two-out RBI: 3
Here are the five key split stats in the series win over Ole Miss:
Two-outs: .324 (12-for-37)
Runners on: .304 (14-for-46)
Runners in scoring position: .333 (9-for-27)
Leadoff OBP: .269 (7-for-26)
Two-out RBI: 6.0 PG (18 total)
Here are A&M's updated season totals to this point in all five areas:
Two-outs: .257 (143-for-556)
Runners on: .279 (227-for-813)
Runners in scoring position: .285 (145-for-509)
Leadoff OBP: .350 (153-for-437)
Two-out RBI: 2.4 PG (118 total)
The Five Factors: Pitching
Here are the raw numbers from what the Aggie pitching staff did in five critical situational areas vs. UTA:
Two outs: .250 (3-for-12)
Runners on: .250 (4-for-16)
Runners in scoring position: .375 (3-for-8)
Leadoff OBP: .444 (4-for-9)
Two-out RBI: 4
Here are the five key split stats vs. Ole Miss:
Two-outs: .235 (8-for-34)
Runners on: .305 (18-for-59)
Runners in scoring position: .361 (13-for-36)
Leadoff OBP: .519 (14-for-27)
Two-out RBI: 2.0 PG (6 total)
Here are the updated season totals for Aggie pitching to this point in all five areas:
Two outs: .242 (137-for-566)
Runners on: .253 (210-for-831)
Runners in scoring position: .248 (126-for-508)
Leadoff OBP: .412 (183-for-444)
Two-out RBI: 1.8 PG (90 total)
Parting Shots
What would you do with the rotation this weekend at Auburn? The Tigers are struggling on the mound but they have a pretty dynamic group of bats and can get hot and score runs in bunches when they're going well. I think I would roll with Weber on Friday night and ride the hot hand to try to get out to a 1-0 series lead. Something like this:
Friday: Weber
Saturday: Saenz
Sunday: TBA (maybe go with an opener to get you an inning or two and then maybe get Miller or Joz into the game)
Here's what I would do with the lineup this week:
1. Alejo - CF (R)
2. Sartori - 2B (R)
3. Frizzell - 1B (L)
4. Bost - DH (R)
5. Minnich - LF (L)
6. Thompson - RF (R)
7. Hoehner - C (R)
8. Blaum - 2B (R)
9. Harrison - SS (L)
I like Jordan Thompson getting a fair shot in the lineup. He does a lot of little things well and moves the baseball and keeps the line moving. Plus, he's an elite defender in the outfield and runs the bases exceptionally well. And A&M is 3-1 since Thompson got a real look.
I think that'll just about do it from this one. What a weekend, and it's great to see a team without much to play for go out there and give it everything they have for the love of the game of baseball and the love of their school, team and fellow comrades inside that clubhouse. I have no doubt that same Aggie fight and toughness will carry into this weekend at Auburn.
---

Key notes from Justin Seely interview on TexAgs Radio
I thought our guys did a good job. They fought, and we had some pretty big-time performances individually. We've got one, but we've never gotten two or three. Obviously, Will Frizzell was great. Then I thought Bryce Miller and Chandler Jozwiak were spectacular. We showed the same fight we have in previous weekends, but we finished the fight off and finished the games.

Logan Sartori and Jordan Thompson gave us great performances. Thompson helped us turn the lineup over and give guys opportunities with men on. Logan is a supremely talented and confident kid. I'm glad he's starting to swing the bat the way he's capable. He was being competitive and getting on base regardless. He could've done more damage than he did. Jordan gave us that spark plug.

Every time Frizzell walks to the plate, I feel like something like that is going to happen. Am I surprised he did that? Not really. I think he can get to 20. The guy can hit, and he has power. The home runs show up. He has a hitter's mind. I don't think anybody thought Taylor Broadway was going to throw a fastball except for Broadway, Mike Bianco and Will Frizzell. He was self-aware enough to know he was late on the one before and they were trying to get him with another. He sold out to it with almost full certainty. He was the one guy in the ballpark that was sure of what he was getting, and he got it.

Being a coach, you're kicking yourself more than you're telling yourself how smart you are. Thompson did some things we could've done without, including those base running mistakes. He was good defensively and almost threw a guy out at the plate. He was on base and competitive. Thompson and Bryan Sturges gave us a spark on Tuesday, and Thompson has carried it over. Now that he has gotten his opportunity, he has taken it and run.

I still think a lot of Frizzell's success has to do with his health. He is now at a point where he is comfortable and healthy. I've been asked by a number of people where this has come from. It has always been there. He has hit 14 home runs in SEC play. He's an advanced hitter who happens to be this big. The ball happens to go out of the ballpark because he has that physical stature and leverage. I've always felt he was going to be this way. Now that he's completely healthy, he is the player we thought he would be from the get-go.

Ray Alejo finishes off the at-bat, but he gets an assist from Mikey Hoehner, who is giving the illusion that he's going to run to Broadway. We were not going to run, but being a smart, older player, Hoehner made Broadway miss. Then Sartori took some very, very tough pitches that were not easy to take. He fouled off some pitches and took good, convicted swings at pitches that came over the plate. It makes you more apprehensive when you come again. He missed again and set the stage for Frizzell. He swung and missed at two fastballs. He was right on the third one. Competitive at-bats. Complete at-bats. Team offense.

There was so much going on in the eighth. Jozwiak was going to stay in the game. Ole Miss pinch-hit for Van Cleve. Tim Elko was standing on the steps, so I knew he was going to come in. When they pulled Leatherwood, the thought was they were going to bunt. Depending on who came up, we were either going to walk or pitch to him. Bringing Elko up played right into our hand. We got him completely out of the game. During that process, we were thinking about turning a double play, got our best combination with Ty Coleman out there. With that one, it looked like we knew what we were doing. That's very rare.

These last two weekends are big for us to continue playing. We have to replicate what we did this weekend with the intensity, toughness and grit. We cannot count on Frizzell hitting five home runs, so we'll have to chip in.
Never miss the latest news from TexAgs!
Join our free email list