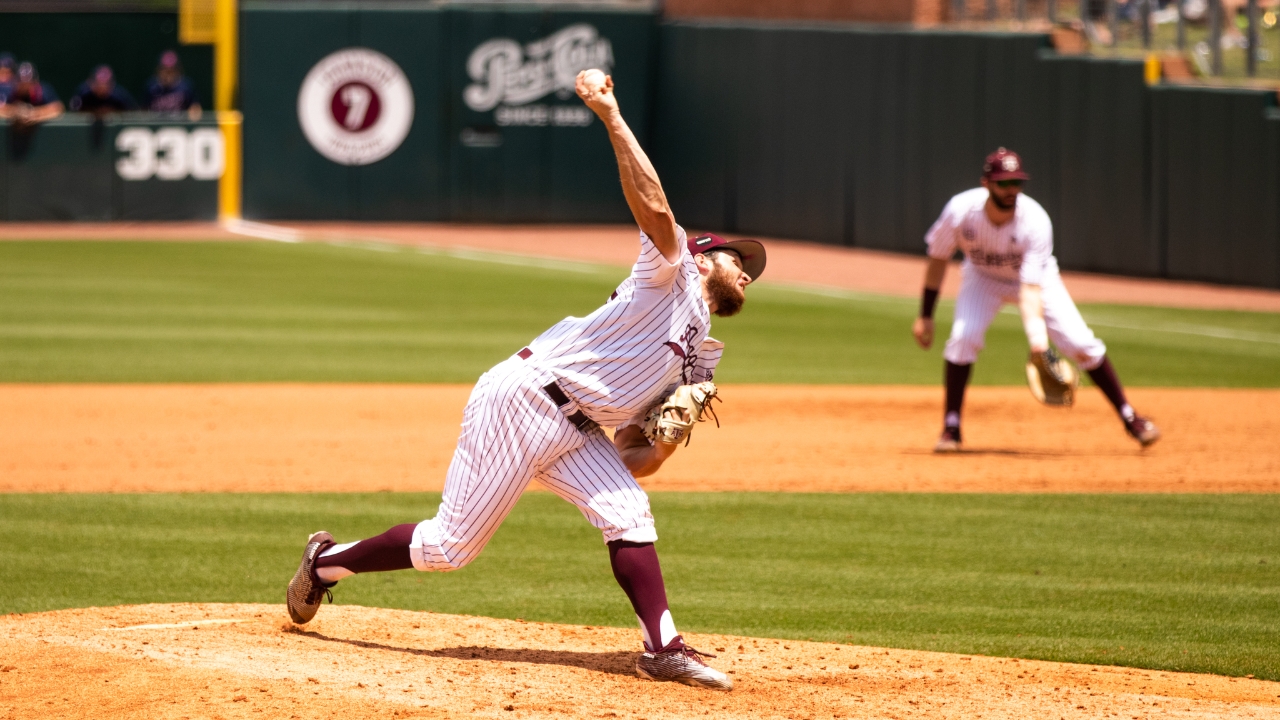 Rob Childress
Logan Sartori
Chris Weber
Texas A&M Baseball
Aggies give up 12 straight runs, fall to No. 12 Rebels, 12-7
---
Game #49: No. 12 Ole Miss 12, Texas A&M 7
Records: Texas A&M (26-23, 6-17), Ole Miss (33-13, 14-9)
WP: Doug Nikhazy (6-2)
LP: Mason Ornelas (3-1)
Box score
---
The bullpen collapsed. Again.
An early Texas A&M advantage vanished as No. 12 Ole Miss scored 12 unanswered runs in the mid-to-late innings to win, 12-7. The Aggie bullpen failed to slow the Rebels' potent offense.
"It wasn't good at all today," said Texas A&M head coach Rob Childress of his bullpen. "It was certainly a disappointment."
Tied 2-2, Ole Miss scored three runs in the sixth and seven in the seventh as the Rebels took a stranglehold on the ballgame and carried a 12-2 lead into the last of the seventh.
"You have to be able to land secondary pitches in hitter's counts," Rob Childress said. "If you can't do that, [Ole Miss] is going to eat you alive, and we proved that today in the sixth and seventh innings."
"It shows a lot of good fight out of us that we could finish strong. We're ready for tomorrow."
Mason Ornelas allowed three runs in the sixth. Alex Magers coughed up one in the seventh. Jonathan Childress surrendered five. Chris Farrell allowed just one run across the final 2.2 innings.
"We couldn't get a stop from [Ornelas, Magers or Jonathan Childress]," Rob Childress said. "I thought Chris Farrell got it back together for the last two innings and was pretty good, but it was too late. The game was over at that point."
After a double and a single to lead off the third, Ole Miss starting pitch Doug Nikhazy found his groove, retiring 13 consecutive batters until Kalae Harrison's one-out single in the seventh.
"Once they came and scored a couple of runs for [Nikhazy] and tied the game, you could see his competitive spirit come out a little bit in those later innings," Rob Childress said.
Logan Sartori hammered Nikhazy's 112th pitch to left-center for a two-run homer, but the game was well out of reach.
The Ole Miss lefty departed after 6.1 innings of work with a 12-4 lead having punched out nine Aggies.
"I didn't think [Nikhazy] was very good early in the game, but he is one of the best pitchers in the Southeastern Conference," Rob Childress said.
Also in the seventh, Will Frizzell hit a no-doubter to right for his 16th home run of the campaign, bringing the score to 12-5. The Aggies eventually tacked on two in the ninth.
"It shows a lot of good fight out of us that we could finish strong," Sartori said. "We're ready for tomorrow."
A&M jumped out to an early lead as a Ray Alejo infield single scored Jordan Thompson in the second. The Aggies added an insurance run in the third to go up 2-0.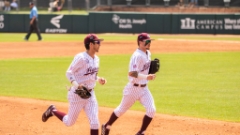 Angelina Alcantar, TexAgs
However, the Rebels' bats broke through against starting pitcher Chris Weber in the fifth. Ben Van Cleve tripled, scoring Justin Bench, to the visitors on the scoreboard. Then, Hayden Leatherwood's sacrifice fly scored Van Cleve to tie the game, 2-2.
"That inning turned out to be the difference of the outing I guess," Weber said.
Weber was removed after the fifth having allowed just two runs on two hits while walking two and striking out a pair. With Weber out of the game, the rout began.
"A great start from Chris Weber was wasted," Rob Childress said.
Texas A&M must find a way to rebound tomorrow as the rubber match of this three-game set is set for Sunday at 1:00 p.m. CT.
Never miss the latest news from TexAgs!
Join our free email list