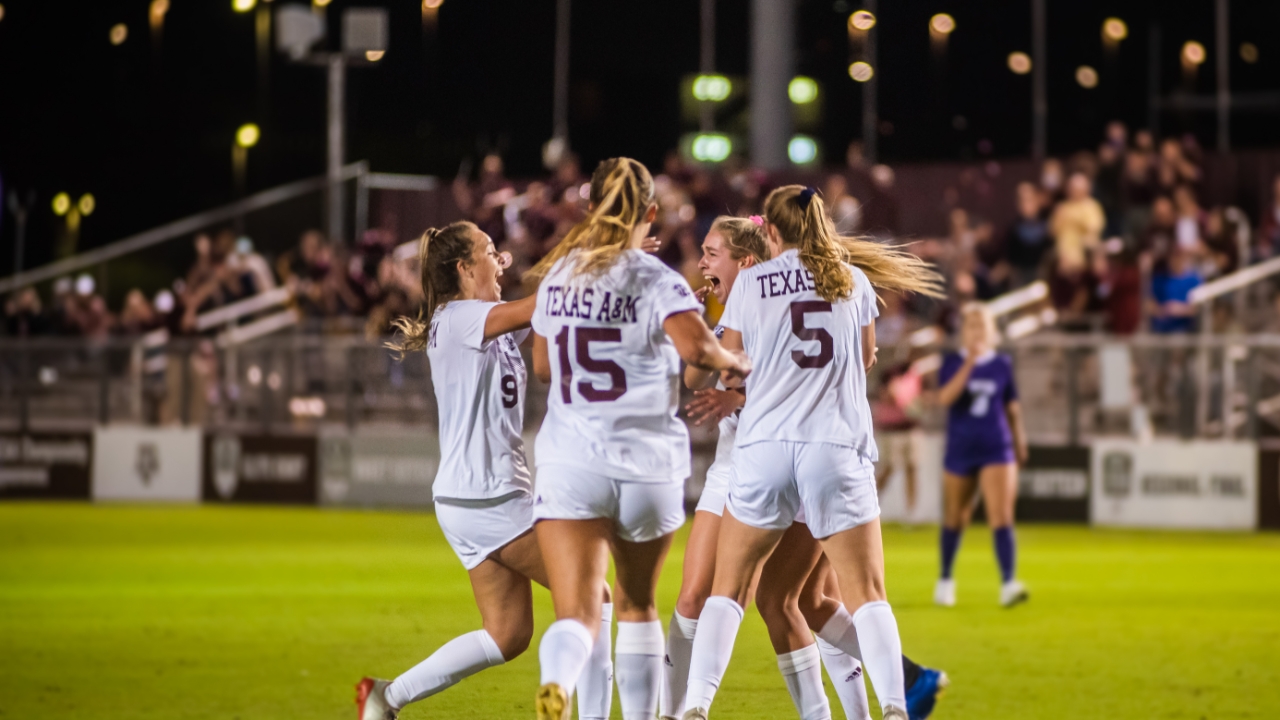 G Guerrieri
Taylor Ziemer
Laney Carroll
Texas A&M Soccer
Aggies defeat Oklahoma State on penalty kicks to advance to Elite Eight
---
Soccer is about capitalizing on chances and chaos, and #7 Texas A&M's Sweet 16 match was certainly chaotic.
In a showdown with #10 Oklahoma State, both the Aggies and Cowgirls had their opportunities. After three ties, two overtime periods and a penalty shootout, the Aggies finally prevailed on PKs, 4-3.
Texas A&M head coach G Guerrieri said he relishes in his job.
"I'm the luckiest guy you know," Guerrieri said. "This is just a part of that, that I get to be a part of a coaching staff that does such an amazing job… but to be around these girls is so much fun.
"The cool thing with college sports, every year is a different team. Well, this team just proved that they are very elite."
The game started with a bang, neither team wasting any time.
"Obviously, it's awesome to win a game like that and to move on to the elite eight. We knew it was coming. We knew we were going to win that game."
Oklahoma State struck first in the 14th minute on a left-footed goal by forward Gabrielle Coleman off of a counter-attack. However, the Cowgirls led for just two short minutes.
A&M's equalizer came off a Kendall Bates free kick. Following a series of deflections, Taylor Ziemer found the net as goalkeeper Emily Plotz was out of position.
Ziemer said the Aggies are over the moon.
"We're so proud," Ziemer said. "Obviously, it's awesome to win a game like that and to move on to the elite eight. We knew it was coming. We knew we were going to win that game."
Fouls were prevalent throughout as each team committed 13. A red card was issued to OSU's Charmé Morgan in the first overtime period.
"It was an epic game," Guerrieri said. "It's one of those all-time greats in NCAA soccer history."
Kenna Caldwell got the start in goal for A&M and made a pair of saves.
Just before halftime, Ali Russel posted the second goal of her career off of a beautiful Jai Smith cross to five A&M a 2-1 edge at the break. The assist was Smith's first point of her career.
Early in the second half, the Cowgirls knotted the match at 2-2, and Oklahoma State regained the lead on Coleman's second goal of the match.
However, the Aggies responded quickly once again as Taylor Pounds unassisted to pull even in the 80th minute.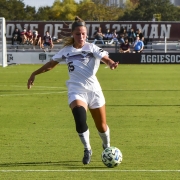 Jamie Maury, TexAgs
Tied at the end of 90 minutes, the match moved into overtime, but two 10 minute frames still could not decide a winner, moving the game into a penalty shootout.
"I'm glad I took my blood pressure medicine this morning," Guerrieri said.
For the shootout, the Aggies switch to Jordan Burbank in goal while Ziemer, Barbara Olivieri, Daria Britton, Lauren Geczik and Laney Carroll took the penalties for the Aggies.
The Aggies and Cowgirls each made their first three shots before Olivia Dowell and Geczik missed.
In the fifth round, Hannah Webb's shot rang off the right post and stayed out, allowing Carroll to seal the victory.
"I think we really created, and I think it's exciting to see moving forward we can put those away," Carroll said. "And that's what's coming in our next game."
With the win, Texas A&M moves on to the Elite Eight of the NCAA Tournament for the first time since 2015, where they'll face #2 North Carolina.
A&M's quarterfinal match is set for Sunday, May 9, with kickoff scheduled for 12 p.m. CT.
Never miss the latest news from TexAgs!
Join our free email list