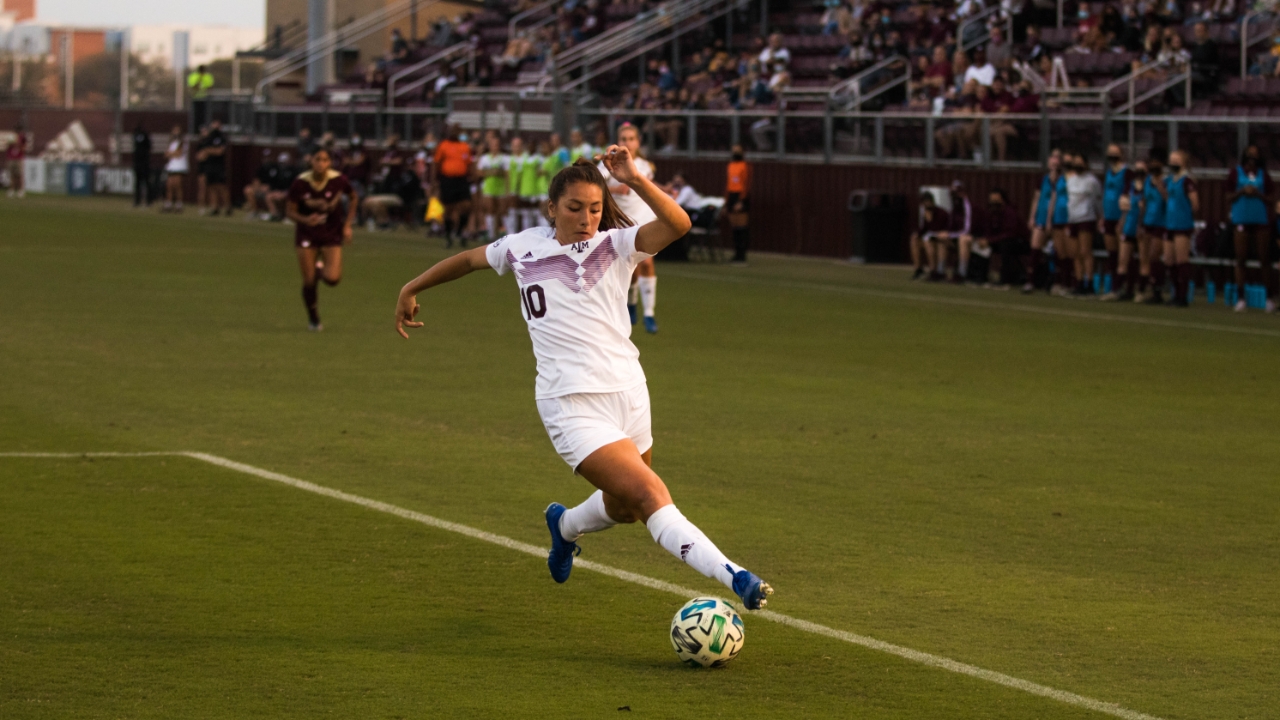 Photo by Angelina Alcantar, TexAgs
Texas A&M Soccer
Olivieri scores twice in 2-0 win over USF to send #7 A&M to Sweet 16
---
#7 Texas A&M soccer is one step closer to holding up the national championship trophy.
On Friday, April 30, the Aggies played their first match of the NCAA Tournament, defeating the University of South Florida, 2-0, in a second-round contest. A highlight of the match was freshman midfielder Barbara Olivieri, scoring both of A&M's goals.
Texas A&M head coach G Guerrieri said the advancement to the Sweet Sixteen is attributed to hard work.
"It's a great reward for these young women," Guerrieri said. "They work hard. They work for each other. They are very unselfish... and they keep their eyes on the prize."
"It's important to keep going and keep getting those wins, and that's exactly what we did."
It was the first time A&M has faced South Florida, with the stakes raised in the NCAA Tournament.
The A&M backline showed its defensive strength, shutting out the Bulls.
"The defense did great today," Olivieri said. "Especially when they did get behind us, just getting players, like three players, getting around that to cut out that in-line cross. I think we did great defensively."
Neither team managed to score in the first half. However, A&M still outshot the Bulls, 9-4.
The Aggies logged nine shots in the first half and four in the second.
Sophomore goalkeeper Kenna Caldwell recorded five saves, with two of them taking place in the first half.
The second half was where things kicked up.
With 41 minutes left in the match, Olivieri scored on a penalty kick in the top left corner of the goal, following a foul on freshman forward Lauren Geczik in the goalbox.
"Barb is special," Guerrier said. "She's special on a team of special players."
This was Olivieri's first made penalty kick with the Aggies.
However, Olivieri was not done yet.
Freshman forward Laney Carroll, who is regarded as the fastest Aggie on the team, crossed a beautiful ball into the goalbox in the 65th minute. Olivieri then put the ball into the net for her second goal of the day.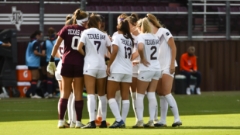 Jamie Maury, TexAgs
"I'd like to say [Laney Carrol] was slow and dumpy when she got here and that I taught her how to be fast, but that would be a bit of a lie," Guerrieri said. "Her biggest thing is she has an incredible change of speed. She's like 0-to-30 in .2 seconds. That change of direction is what got her past that player. She's very coordinated."
Olivieri, who played for Katy Tompkins High School, now has eight goals on the year.
A&M's record is now 12-3 overall, and they are headed to their sixteenth Sweet Sixteen appearance.
"It's important to keep going and keep getting those wins, and that's exactly what we did," Oliveri said.
The Aggies will take on either #10 Oklahoma State or South Alabama on Wednesday, May 5. The third-round match is scheduled to kick off at 11:00 p.m. CT.
Never miss the latest news from TexAgs!
Join our free email list