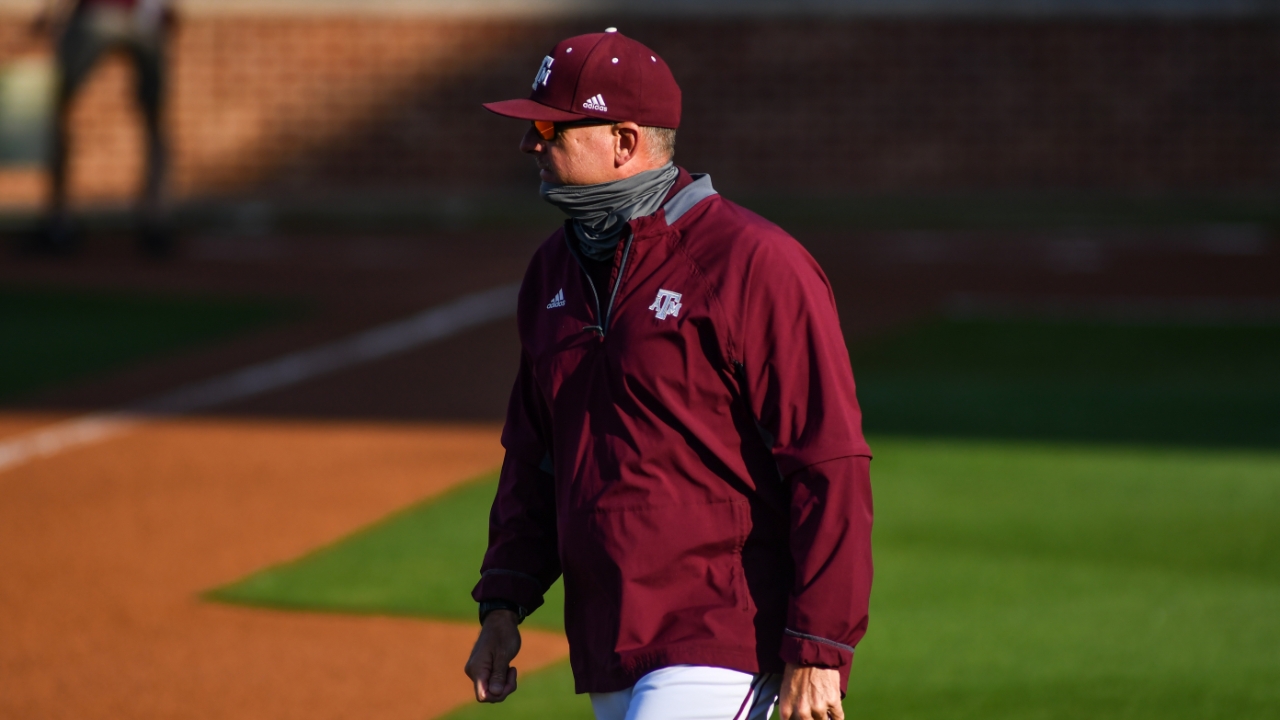 Photo by Jamie Maury, TexAgs
Texas A&M Baseball
Rob Childress discusses importance of Chandler Jozwiak to 2021 A&M team
---
Key notes from Rob Childress interview
The team is giving each other everything they've got. It was disappointing on Sunday. It was one of those situations where I wish we could've played yesterday, but we're getting back out there tonight. All the would've-could've-should'ves cost us this weekend.

This past weekend, we had better performances out of the bullpen, save the last three innings on Sunday. Chris Weber, Chandler Jozwiak and Jospeh Menefee were great, and that's a big takeaway. We need those kinds of performances if we're going to have a chance moving forward.

Weber gave us a chance on Sunday with three no-hit innings. It had been a while since he had the change. He could not have been any better. He'll pitch out of the bullpen again tonight.

The starting rotation this weekend is up in the air. When you're only getting 13 innings out of the starters, that's a lot to ask of your bullpen. We need something to change.

Austin Bost was great this weekend, coming off being sick last week with a stomach bug. He didn't play much at Arkansas because of it. For him to bounce back this weekend was great. Will Frizzell was on the barrel all weekend but didn't have much to show for it. Hunter Coleman has been better as well. Kalae Harrison continues to get better and better in the nine-spot.

For me, I see Harrison hitting in the two-hole as a sophomore next year. He can move the offense. I feel very comfortable with what he gives us day in and day out.

In hindsight, I would've done what we did with going to Alex Magers for the double play. The first swing of his outing went out of the yard for a three-run homer, and just like that, we were running uphill. Hindsight is 20/20, but with what we asked of Chandler Jozwiak the day before, I felt that we could've only gotten four outs max from him.

Jozwiak has been the MVP of our pitching staff. Whether it's a long stint or short, he has been great. He wants the ball in every leverage spot that we have.

It's all still in front of us. One good weekend in this conference, and we're back in the middle of the pack.

Texas State is coming off a series at home with Arkansas State. We saw them a couple of weeks ago, and Jonathan Childress will get the start tonight.

We go to Mississippi State, and they just lost to Vanderbilt this weekend. We're going to a great baseball environment, and we're looking forward to the opportunity we have in front of us this weekend.
Never miss the latest news from TexAgs!
Join our free email list