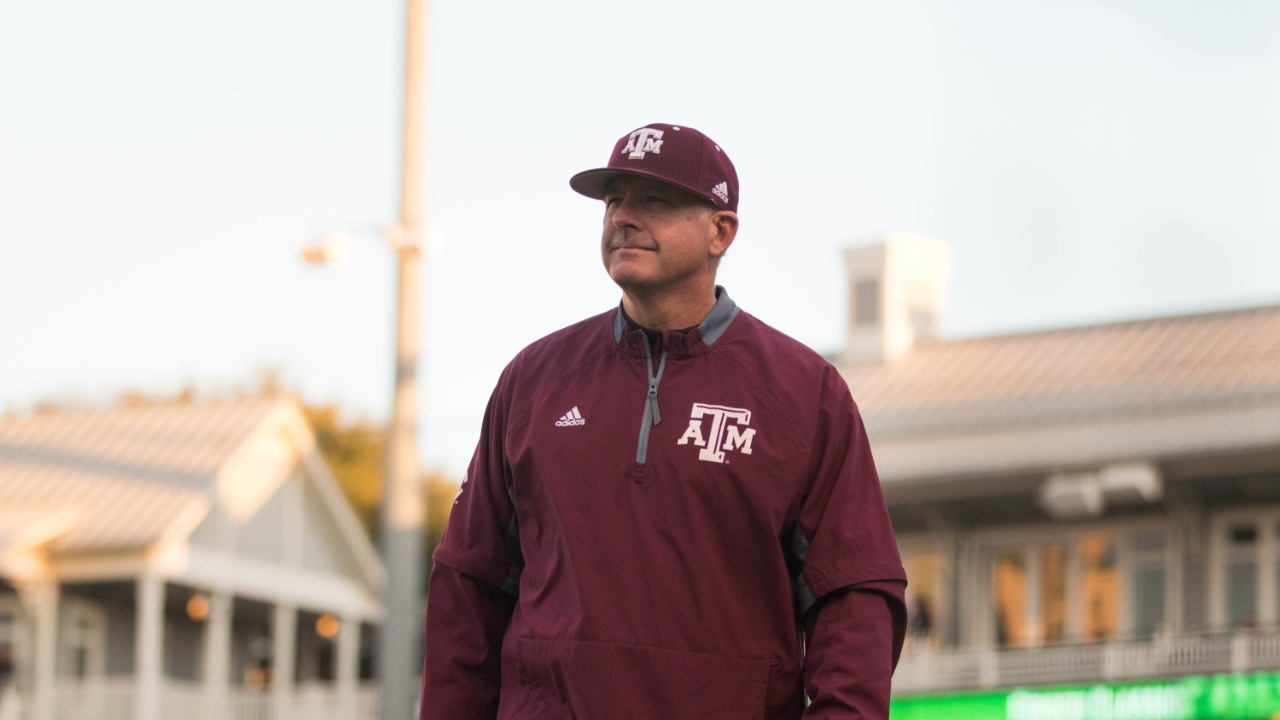 Photo by Angelina Alcantar, TexAgs
Texas A&M Baseball
Rob Childress, Aggies looking to galvanize following winless week
---
Key notes from Rob Childress interview
New week, new opportunity. We leave today for San Marcos at 1:00 p.m. for a 6:00 p.m. first-pitch with Texas State, a team playing with some confidence. Road trips are good for struggling teams. I'm looking forward to the bus trip, and I know our players are excited to get the week started on the right foot.

We're the same team that beat Georgia in two of three, beat Texas and beat Missouri 16-2. It's just about getting back to playing Aggie baseball. Sometimes this game is cruel and unforgiving. We didn't string enough hits together to have big innings this weekend, and when that happens, everything else is magnified.

Our team will remain steadfast because I am steadfast. We're about staying together and playing together within our program. When things go like this, you're either going to galvanize or splinter. I know that our program is going to stick together and find a way to ride this out.

If this were easy, everybody would do it. That's what this league is about: Weathering the storms that come along week to week. It's all about minimizing that.

The offensive side of things and when you're able to score runs, you can cover up a lot of blemishes. We have not done that over the last six games. We need to pitch, hit and manage better. Personally, I was not very good on Sunday, but of course, hindsight is 20/20.

With Bryce Miller, the time off is going to mean it'll be a while until he's back to 100 percent, physically. He lost some command of his fastball, and we have to correct that this week. When he's on, he's tough to handle.

Nathan Dettmer got back together after the third inning got away from him on Sunday. We should have made a change after the fifth, but we tried to squeeze one more inning out of him. I was very proud of him in his first SEC start.

Will Frizzell is a hitter first and foremost and a power guy second. Being on the field every day is a true miracle after the surgery he went through. We need the supporting cast around him to really step up now.

Austin Bost has done a nice job for us and had a nice day on Sunday with four hits. He's a professional hitter and certainly a guy that's going to be in there every day for us.

There are two guys we need to get more out of in Ryan Targac and Brett Minnich. Those left-handed bats need to play an integral part for us from a lineup standpoint.

Texas State is coming off of a midweek win and beat Troy two out of three. They're playing confident baseball but are under .500. It's an offensive ballpark, so it will come down to the stingier pitching staff tonight. I want to see Jonathan Childress get his confidence back.

Arkansas lost some key pieces to the draft but plugged some pieces back in and are off and running. One of their strengths is their bullpen. The stuff is a tick better. Casey Opitz is a guy you have to control. Same with Christian Franklin. We're going to have to do a great job of slowing them down, and that starts with our rotation. It'll be the same rotation we used last weekend against Alabama.
Never miss the latest news from TexAgs!
Join our free email list