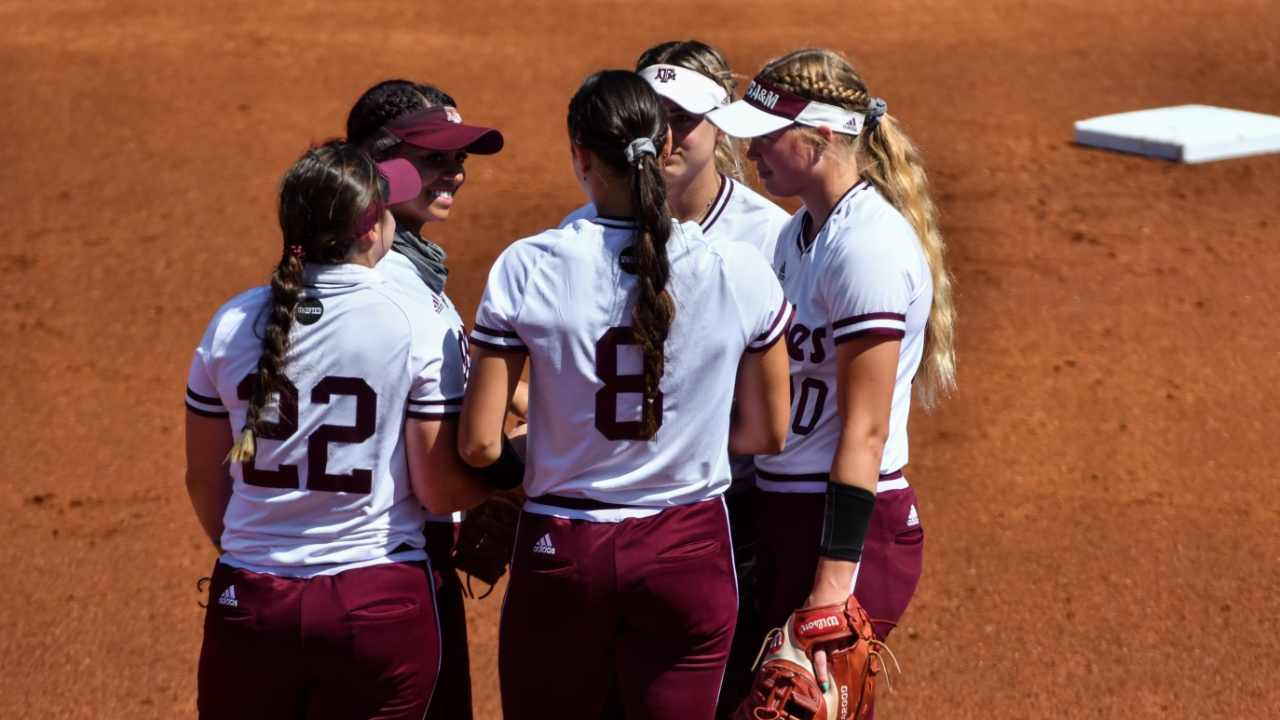 Photo by Jamie Maury, TexAgs
Texas A&M Softball
Aggie bats stall out in series finale loss to Auburn, 3-1
---
No. 25 Texas A&M softball lost the final game of a three-game series against Auburn, a team that prior to coming to College Station only had one win in conference. However, the Aggies saw a positive out of junior catcher/utility player Haley Lee.
Head coach Jo Evans said she was perturbed by the lack of hitting against the Tigers.
"Disappointing loss for us today," Evans said. "We came into this weekend and felt like we could win this series and really just offensively could not get it together today against [Auburn freshman pitcher Shelby] Lowe."
The first hit of the ballgame came in the bottom of the first from Lee. The Kingwood native launched a home run over the fence, putting the Aggies up 1-0.
It was her 15th home run of the season, and she now sits in second place in the SEC for home runs.
Evans said Lee has a high and intelligent work ethic.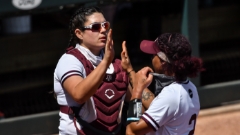 Jamie Maury, TexAgs
"I'm really excited for Haley," Evans said. "There are teams that don't have 15 home runs right now. She's earned every one of those. There wasn't one of them that just snuck out, she got every one of them. There's working hard and there's working smart… she really thinks about her at-bats."
Despite the smashing start, Auburn was able to put up a home run of its own in the top of the second, and single runs in the top of the fifth and sixth inning.
After the home run in the first, the Aggies were unable to score again, managing just four total hits on the day.
The Aggies utilized four pitchers in the circle during the contest. Freshman Grace Uribe made the start and punched out three Tigers. She was relieved by senior Kayla Poynter, who was then relieved for junior Makinzy Herzog. Junior Hannah Mayo closed out the game. Auburn logged seven hits against the four Aggie pitchers.
Evans said she paid special attention to Poynter's performance in the circle.
"I thought [Uribe] pitched well," Evans said. "I thought Kayla Poynter came in and pitched really well too. You look at the runs they scored against Poynter, they hit the ball against her hard maybe twice."
A&M hopes to recover from the loss during a midweek game against Sam Houston State at Davis Diamond. First pitch is set for 6:00 p.m. on Wednesday, April 14.
Never miss the latest news from TexAgs!
Join our free email list