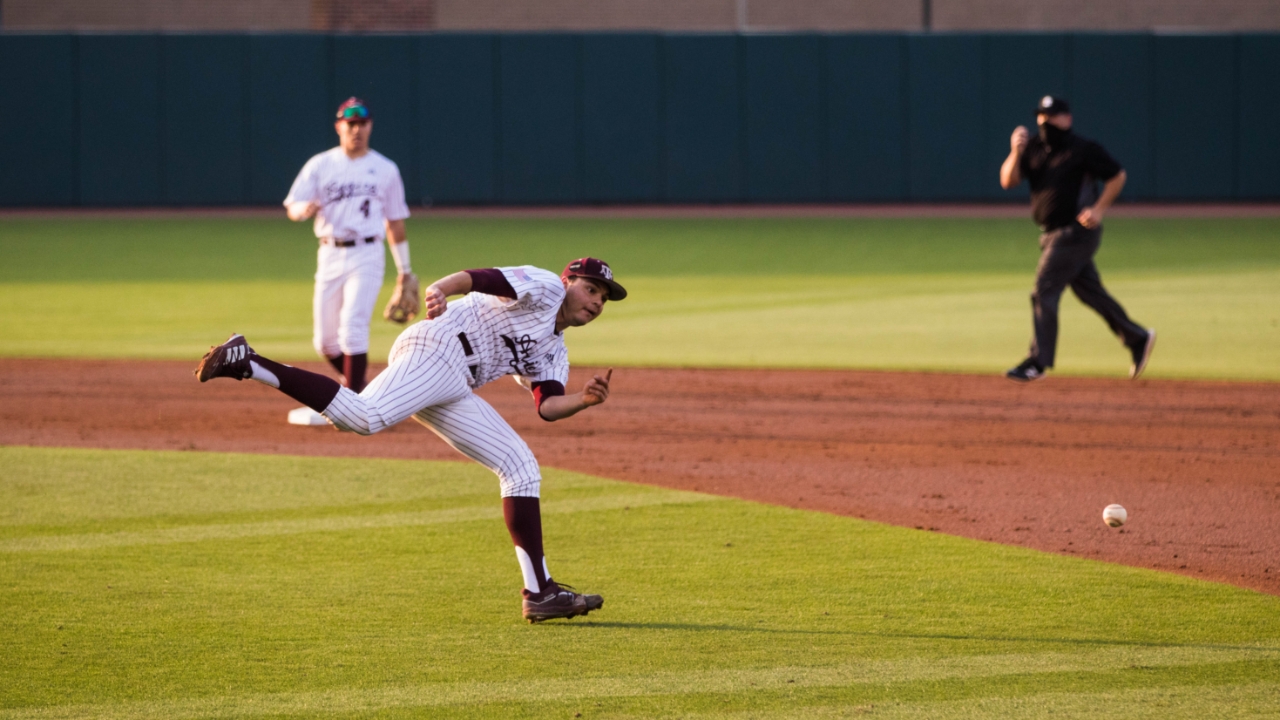 Rob Childress
Will Frizzell
Dustin Saenz
Texas A&M Baseball
Losing streak reaches four as Aggies drop series opener to Alabama, 5-3
---
Game #32: Alabama 5, Texas A&M 3
Records: Texas A&M (19-13, 3-7), Alabama (17-12, 3-7)
WP: Tyler Ras (5-1)
LP: Dustin Saenz (5-3)
Save: Chase Lee (3)
Box score
---
Texas A&M dropped the series opener to Alabama, 5-3, on Friday night at Olsen Field. The Aggies' losing streak has now reached four-in-a-row.
"I felt like we responded to adversity quite well tonight," said Texas A&M head coach Rob Childress. "They got a couple of key hits late, and we didn't."
Trailing 5-3 in the final stanza, A&M made it interesting as the tying-run reached with just one out. However, a groundout to second and a pop-up on the infield stymied the comeback-minded Aggies as Chase Lee nailed down the save.
"We're going to keep on pushing, and we're going to break through that barrier. Once we do that, we're going to be on a roll."
"We made a run at them in the ninth, but it just didn't happen against their closer," Childress said.
For much of the contest, Alabama starting pitcher Tyler Ras held the Aggie bats at bay. After beginning his night by allowing a leadoff double to Ray Alejo and a two-run home run to Will Frizzell, Ras settled in and kept the Maroon & White off the board until the eighth.
"For us, it was all about attacking the fastball from an offensive standpoint," Childress said. "We just didn't attack enough of them."
In the eighth, Frizzell launched his second home run of the night, chasing Ras in the process. The big left-handed bat now has 11 homers on the season.
"When you hit a ball well, it's a reward of everything you've put in before that," Frizzell said. "There's nobody behind the fence, so it's a great feeling when it goes over."
A&M was not without their chances throughout the ballgame as a runner reached in every inning. The Maroon & White finished with ten hits but failed to record multiple hits in a single frame after the first. A&M's middle-third of the order was a combined 2-for-12.
"That's the test of this game," Childress said. "For us to have 10 hits tonight, we just didn't string enough of them together to get ourselves the opportunity to win."
Dustin Saenz was solid on the mound for the Aggies but allowed four runs on seven hits in the losing effort. The left-hander struck out nine and walked one.
"He gave us a shot to win," Childress said of Saenz's performance. "I'm super proud of him."
Peyton Wilson was nearly unstoppable in the leadoff spot for Alabama, going 4-for-5 with a quartet of singles and an RBI. Wilson scored the Tide's fifth and final run via a Chandler Jozwiak wild pitch in the ninth.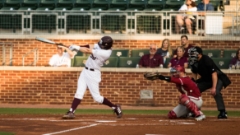 Angelina Alcantar, TexAgs
"That leadoff is a tough out; I'll give him that," Saenz said of Wilson. "He's definitely one of the better hitters I've faced this season. Hats off to him. He played well tonight, offensively and defensively."
As the skid continues, the Aggies are hoping for a quick change in momentum, but they're not giving up hope.
"This loss doesn't really define who we are," Saenz said. "We're going to keep on pushing, and we're going to break through that barrier. Once we do that, we're going to be on a roll."
The Aggies and Crimson Tide resume this three-game set on Saturday afternoon. First pitch is scheduled for 2:02 p.m. CT, and Bryce Miller will take the ball after missing his last two starts due to COVID-19 protocol.
Never miss the latest news from TexAgs!
Join our free email list