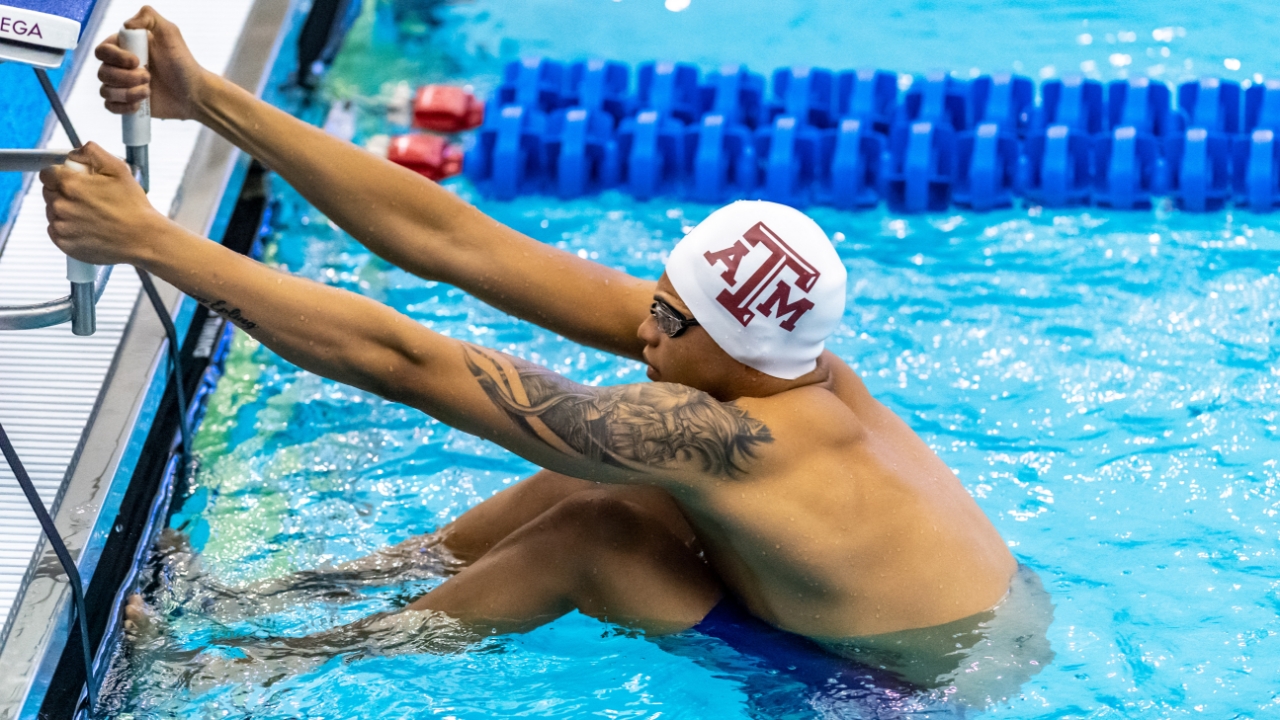 Photo by Texas A&M Athletics
Texas A&M Men's Swimming & Diving
Three-time national champion Shaine Casas looks back at NCAA meet
---
Key notes from Shaine Casas interview
It was the coaches, my teammates, my family and friends helping me reach those achievements. It has been cool to reach these goals not only for myself but for the team as well.

It's incredible to be named the swimmer of the year. I set that goal for myself before the year started. I'm happy about it, but that meet is already in the past. I've got some exciting things coming up soon.

The nerves in Greensboro were incredible. It was the first time I had that opportunity, so the nerves were weighing on me a little bit. After I won, I was relieved and could focus on the events themselves.

I love the nerves and the adrenaline. It makes me go numb, and when I dive in, I sometimes feel like I cannot be stopped.

It was satisfying to win that first event, but then it became about how many I could win. It was more like a challenge after the first national championship. One is good, but two and three are impressive. I wanted to prove myself and this program to everyone else.

I've been working all year for this, so I wasn't going to fail physically. It was about being locked in mentally at the moment when everybody else was ready to go. I was able to do that.

I didn't post my best time, but it was an excellent race. It's exciting to race people who can push me. I think that first performance helped me in the last race, the 200m back, and I posted the best time. There was a freshman from Cal that was really with me the entire time and pushed me. We had a tremendous finish. It's tough to say I would've swum that way if he hadn't been right there with me, but it was one of my favorite races of the season. I pulled ahead in the final 25. I'm thankful he was there and pushed me to my limits.

My sheer willpower and determination helped me pull through. I told myself there was no way in hell I was going to lose. It was my race. I kept pushing it. I guess I just wanted it more than he did.

The fact that I've won three national titles hasn't digested just yet about what this means because of the urgency with trials and hopefully the Olympics coming up shortly. Maybe I can look back soon and truly appreciate those national championships.

I remember it was a week or two away from going to the NCAA Championships last year when the meet got canceled. It was a huge blow to the confidence and started all of the 'what ifs.' To go out and win this year was huge, especially coming off of that.

The last 11 months started extremely frustrating. For most sports, you can keep practicing regardless of lockdown. For swimming, we didn't have a pool for months. We were struggling to find ways to work out and stay physically fit. That time off helped me reflect on my journey and what has taken me to this level. I was grateful to see what time off was able to let me do.

Olympic Trials are June 23rd or something like that. It's close to two months away. I'm putting in some hard work right now. The goal is to make the team and then to do it again at the Olympics. I'm not sure what happens after you make the team.
Never miss the latest news from TexAgs!
Join our free email list