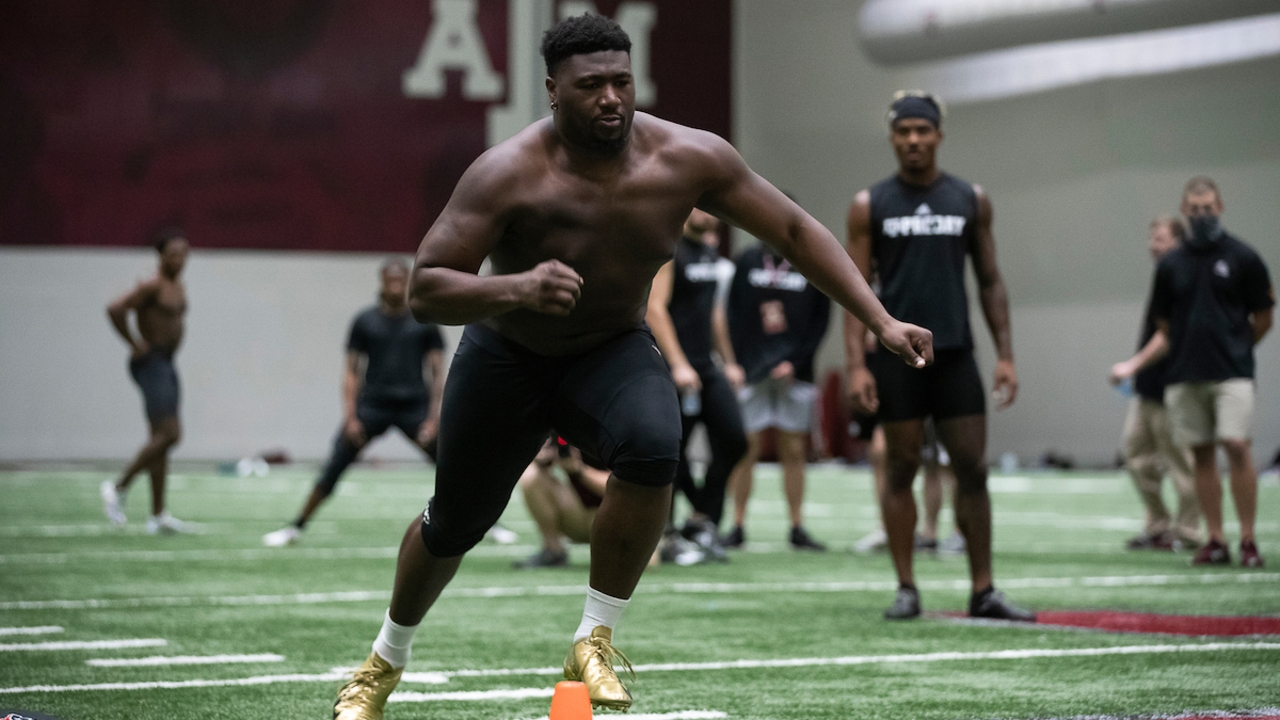 Photo by Texas A&M Athletics
Texas A&M Football
Pro Day leaves former A&M stars feeling confident ahead of Draft Day
---
A former Texas A&M football coach once suggested those afraid of competition should get a dog.
In about a month some NFL team is going to get a big, fast one.
Massive defensive tackle Bobby Brown participated among 20 former teammates on Texas A&M's Pro Day trying to impress pro scouts for the NFL draft next month.
The NFL draft is scheduled for April 29 through May 1 in Cleveland.
Brown had a message for teams in need of a watchdog, guard dog or bulldog of a defensive tackle.
"I tell coaches this: If you draft me you're going to get a dog," defensive tackle Bobby Brown said following Texas A&M's Pro Day on Tuesday. "You're going to get somebody that's going to work every day. You're going to get somebody who doesn't care who's lining up in front of you."
There figures to be much more concern from whoever lines up across from Brown, who measured in at 6-foot-4, 321.9 pounds. Yet, Brown ran a 40-yard dash in 4.9 seconds, turned in a 33.5-inch vertical jump and a 9.5-foot broad jump.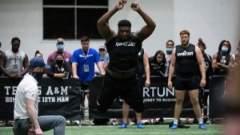 Texas A&M Athletics
"I wanted to do better," Brown said. "On my vertical, I wanted 35-plus. The broad jump I was trying to get 10 (feet). In the 40 I wanted 4.8."
Suffice to say that the NFL scouts on hand were duly impressed. For A&M coach Jimbo Fisher, however, it was like a rerun of a TV show he's watched for the last three years.
"He's not doing anything I haven't ever seen," Fisher said. "I've seen that before. Bobby is big, strong, fast, athletic, powerful. For a guy to be that quick and have that much power and size is very rare. There's not a lot of those guys around. God doesn't make a lot of people like that."
"It looked like he moved well today and tested very well. I hope he gets his opportunity because I think a team will be very happy."
Teams figure to be happy with several Aggies. Linebacker Buddy Johnson and quarterback Kellen Mond particularly seemed to have productive Pro Day showings.
Johnson, who has obviously added muscle mass to the 6-foot-2, 240-pound frame he carried as an A&M senior, leaped 10-8 feet in the broad jump and clocked an impressive 4.07 in the shuttle.
"I feel like I dominated," Johnson said. "That's just kind of what the culture has been around here. I feel like the Pro Day today was my opponent, so my biggest thing was going out, putting on a show and dominating the Pro Day. I feel like I did that overall."
Mond is also projected by some mock drafts to be a fourth-round selection. However, he seems to be gaining momentum. There is growing speculation he could climb into the second round. The Chicago Bears appear to be one team that's particularly interested in him.
"I've had a lot of people ask about Kellen. A lot," Fisher said. "Quite a few GMs, head coaches, assistant coaches and scouts. We've had quite a flow of guys.
"Kellen loves the process of football as much as he loves playing football. I think all the great guys do."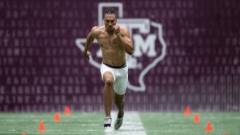 Texas A&M Athletics
Pro Day was part of that process. Like Johnson, Mond came away confident.
"For me, it was just another workout," Mond said. "Obviously, with NFL personnel there can add some excitement or anxiety for some people. For me, throwing the ball becomes natural. I didn't want to put too much pressure on myself."
"Obviously, I have high expectations. Today, I went out and did exactly what I wanted to do both in the 40 and throwing. I was super excited."
Of course, their level of excitement pales in comparison to what they will feel next month when their name is called as the newest member of an NFL team.
"When the draft comes and I hear my name, there'll be no feeling like it," Johnson said. "It will just feel like all my hard work has paid off. It's the biggest dream of mine to play in the NFL. I just love being around football."
Brown does too. He said he'd play even if the riches of the NFL weren't waiting.
"Honestly, if I wasn't getting paid I would still play football," he said. "That's the honest to God truth. But this is a way to help my mother, so this is the route I'm going. But I've been loving football since the age of three."
Brown has been projected to be selected in the fourth round of some mock drafts. He said those projections are mistaken.
"Not meaning to be cocky, I think I'm the best defensive tackle in this draft. Completely and whole-heartedly," Brown said. "But I feel I can play anywhere across the D-line. My freshman year at 325, I played defensive end. Past two years I played D tackle. Anything that is asked of me or required I can do it."
Never miss the latest news from TexAgs!
Join our free email list
PRESENTED BY