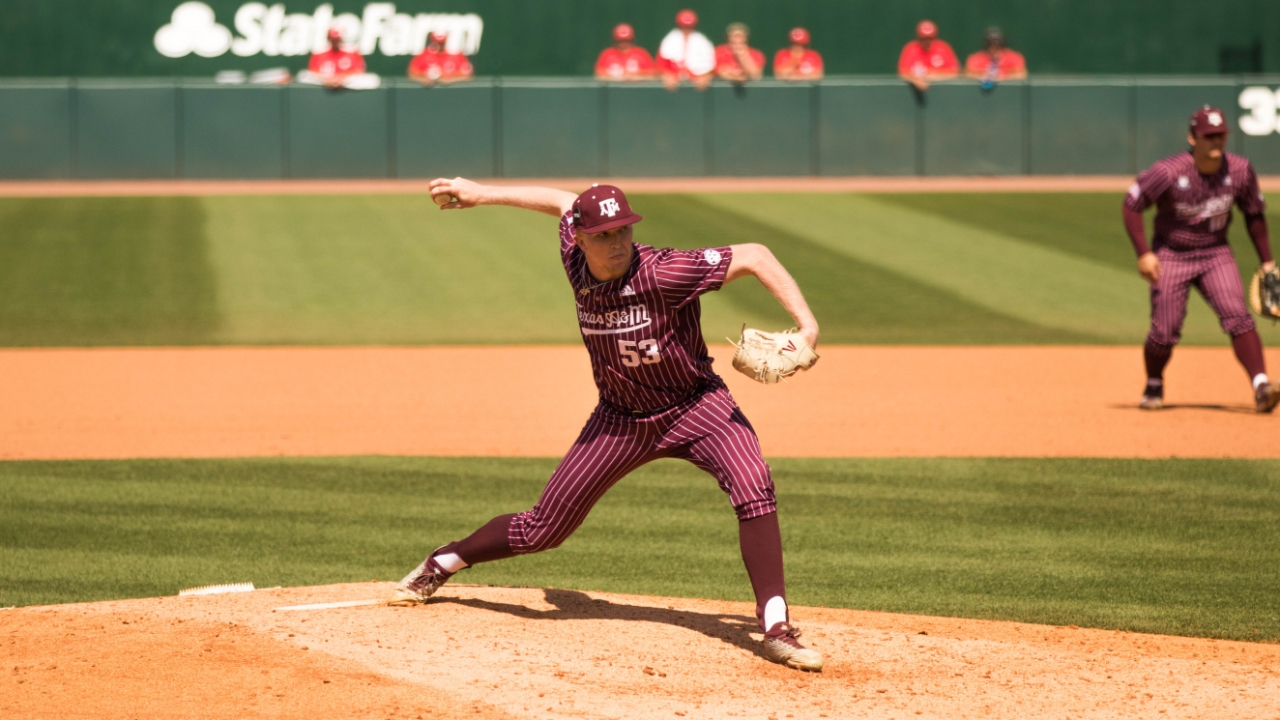 Rob Childress
Ty Coleman
Mikey Hoehner
Chris Weber
Texas A&M Baseball
Seventh-inning plagues A&M as Georgia takes finale, 6-4
---
Game #26: Georgia 6, Texas A&M 4
Records: Georgia (16-7, 2-4), Texas A&M (17-9, 2-4)
WP: Jaden Woods (1-0)
LP: Alex Magers (1-1)
Box score
---
A four-run seventh cost Texas A&M a chance at the sweep as Georgia prevailed, 6-4, on Sunday afternoon. The Aggie bullpen failed to uphold a 4-1 lead in the late innings of the series finale.
"Anytime you win a conference series in the SEC, you got to feel good about it," said Texas A&M head coach Rob Childress. "The disappointing part is you had a chance for a sweep and a 4-1 lead going into the seventh and were not able to come away with a win."
With A&M leading by three, Mason Ornelas walked Fernando Gonzalez to begin the seventh before back-to-back singles plated Gonzalez and chased Ornelas. Childress elected for the left-on-left matchup as Kobe Andrade struck out Corey Collins. Alex Magers then entered the contest.
"Three games that were really hard-fought, and we came out on top in two of them. That's something to be happy with."
"We had a lot of confidence in our bullpen," said Texas A&M starting pitcher Chris Weber. "We just ran into one tough inning."
After striking out the first man he faced, Magers gave up back-to-back singles to tie the game, 4-4. A walk to Cole Tate loaded the bases and spelled the end for Magers as Childress called upon lefty Will Johnston.
The first pitch Johnston threw was a fastball that went to the backstop, scoring Connor Tate and giving the Bulldogs the lead. Georgia added another run in the eighth on a Josh McAllister solo blast.
"It ends up being the difference in the game for us today," Childress said of the seventh. "They were better out of the bullpen than we were."
A&M utilized five relievers behind Weber, who departed in a tie ballgame after 4.1 innings of work. Making the spot start this weekend in the absence of Bryce Miller, Weber allowed just one run on five hits while striking out four and not issuing a walk.
"It was a battle from start to finish; from Friday night to today," Weber said. "Three games that were really hard-fought, and we came out on top in two of them. That's something to be happy with."
Ornelas worked out of a jam in the fifth, and the Aggie offense scored a pair to take a 3-1 lead. In the eighth, Ty Coleman led off with a double, and Ray Alejo brought him home to stretch the lead to three. It would not be enough.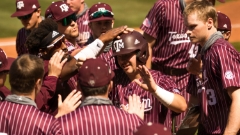 Angelina Alcantar, TexAgs
"I feel like we're all headed in the right direction as an offense," Coleman said.
With the loss, Texas A&M is now 2-4 in the SEC, and despite coming up short on Sunday, it was still a successful weekend for the Aggies as they continue to dig out of the 0-3 hole in league play.
"I feel encouraged about the weekend, certainly," Childress said.
The Aggies return to Olsen Field at Blue Bell Park on Tuesday night to host the Texas Longhorns. Since A&M moved to the SEC following the 2012 baseball season, the Aggies are 3-1 against their bitter rivals in regular-season play. First pitch is scheduled for 6:02 p.m. CT.
"There's not going to be any loss of intensity on Tuesday night, I can assure you of that," Childress said.
Never miss the latest news from TexAgs!
Join our free email list