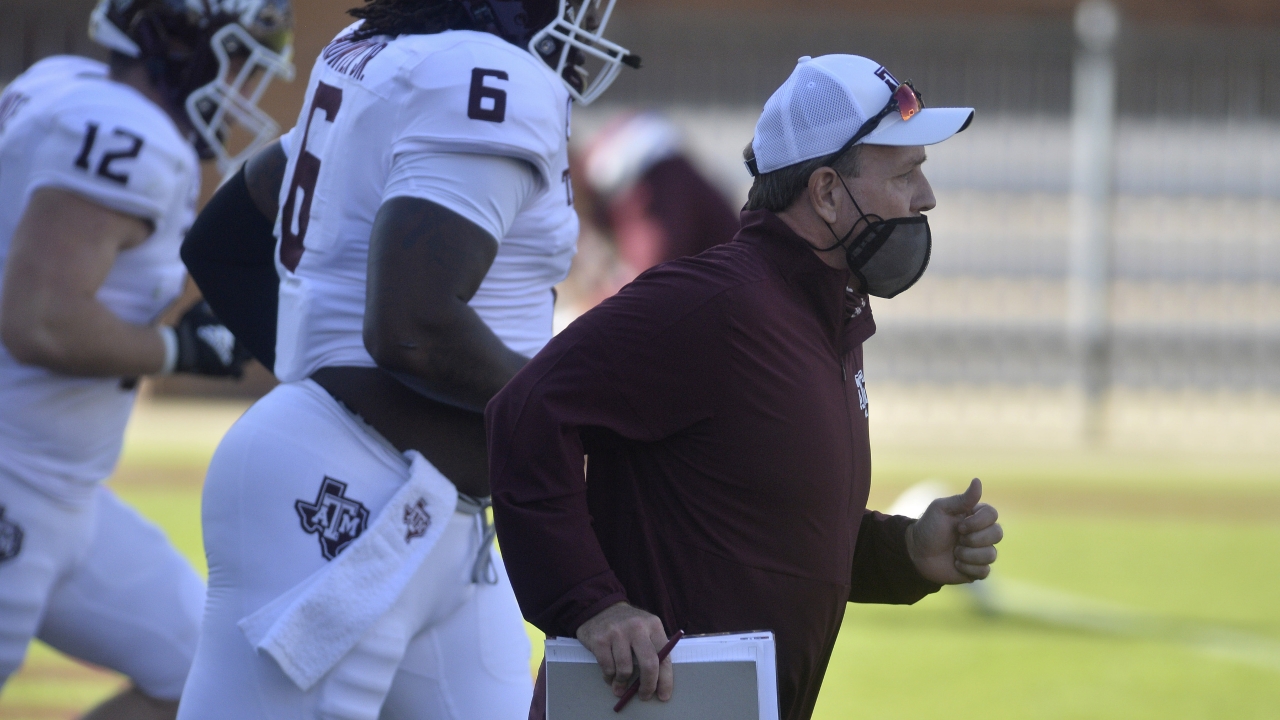 Photo by Matt Bush-USA TODAY Sports
Texas A&M Football
Aggies eager to return to practice field with spring football four days away
---
A race is always exciting with a photo finish.
Yet, coach Jimbo Fisher is pumped up about Texas A&M's upcoming quarterback competition because of the photo start.
As the first stage of the race to replace Kellen Mond begins when the spring football kicks off on Monday, Fisher adamantly declared that second-year freshman Haynes King, third-year sophomore Zach Calzada and true freshman Eli Stowers will be running neck-and-neck.
"It's an open competition," Fisher said on Thursday. "Just let things play out. Let things happen."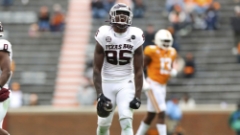 Craig Bisacre/Texas A&M Athletics
Of course, there will be much more competition than just at quarterback. The Aggies must rebuild the offensive line, find a replacement for Buddy Johnson at linebacker and perhaps find a new emerging starter or two.
Additionally, A&M will be without a few key members this spring. All-Southeastern Conference tight end Jalen Wydermyer cut a finger and hand in a freak off-field accident that required surgery to repair a tendon.
"It's all fine," Fisher said. "Just got to get it (the tendon) stretched out. He can't take any hits or anything on it."
Receiver Caleb Chapman, who tore an ACL while catching a touchdown pass in last season's victory over Florida, remains sidelined. Tackle Grayson Reed, tight end Blake Smith and freshman tackle Trey Zuhn will also sit out spring drills.
"Those guys will be out," Fisher said. "Everybody else will be back in this spring and practicing."
That includes freshman receiver Demond Demas, who has been suspended from athletic activities by the university because of an arrest for marijuana possession. Fisher still expects Demas to participate in spring workouts, and the former-five star has a meeting with athletic department personnel scheduled on Friday to discuss the situation.
"When that gets cleared up, he'll be back in action with us," Fisher said.
As is typical in college football, most of the interest and attention will be focused on the competition to replace Mond, A&M's starting quarterback for the last three seasons.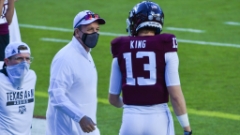 Lia Musgrave, TexAgs
Quarterback competitions are always intriguing, especially at A&M. This one might be even more fascinating because none of the competitors have significant collegiate playing experience.
King has thrown four passes and rushed for 43 yards as a collegian, while Calzada has thrown 24 passes. Stowers could still be in high school had he chose not to enroll early at Texas A&M.
All have talent, and apparently, all have a firm grasp on Fisher's complicated offense.
"Haynes … from the day he got here, he's done it (understood the offense)," Fisher said. "Zach has really focused himself. The calls, the things he does, the questions he asks at meetings, the walk-throughs … I think he really has it now. I really do.
"Eli Stowers has been amazing with how quick he's picked it up. He was like Haynes when he walked in. You tell him something once, he keeps it right in there and understands it. Not just memorizes it but understands it.
"From an intelligence standpoint and learning standpoint, all three of those guys I'm extremely pleased of their knowledge of what to do. Not only pass game but run game and also protections. It's not cliché talk and just trying to talk good about all three guys. I think all three guys have done an outstanding job in that regard."
Fisher will be observing how they pass, make decisions and how their teammates respond to them. However, he also made clear A&M's starter for the Sept. 4 season-opener against Kent State would not be determined during the 15 practices of spring drills.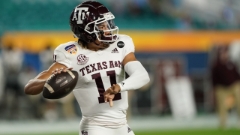 Jasen Vinlove/USA Today Sports
"What I saw last fall may not be what I see in the spring. What I see in the spring may not be what I see in the fall," Fisher said. "Guys develop and change. That's the exciting thing about young guys like this. There's no set pattern. They're all going to get the same of reps. We're going to see who we think gives our team the best chance to win."
That's not limited to quarterback. Sure, experienced players like Kenyon Green, DeMarvin Leal, Isaiah Spiller and Ainias Smith have proved what they can do and will start against Kent State, if healthy.
But Fisher said little else will be decided this spring.
"There's not going to be anything concrete to come out of the spring because we're going to experiment in different places, different players, different things and different spots," he said. "Expanding roles of some guys and seeing what they're capable of handling. Putting other guys in different roles. We'll do a lot of that.
"At the same time, hopefully, we'll get better fundamentally in the things that make you a good football team. The day-to-day basics of blocking, tackling, taking care of the football, and doing those kinds of things."
Never miss the latest news from TexAgs!
Join our free email list
PRESENTED BY