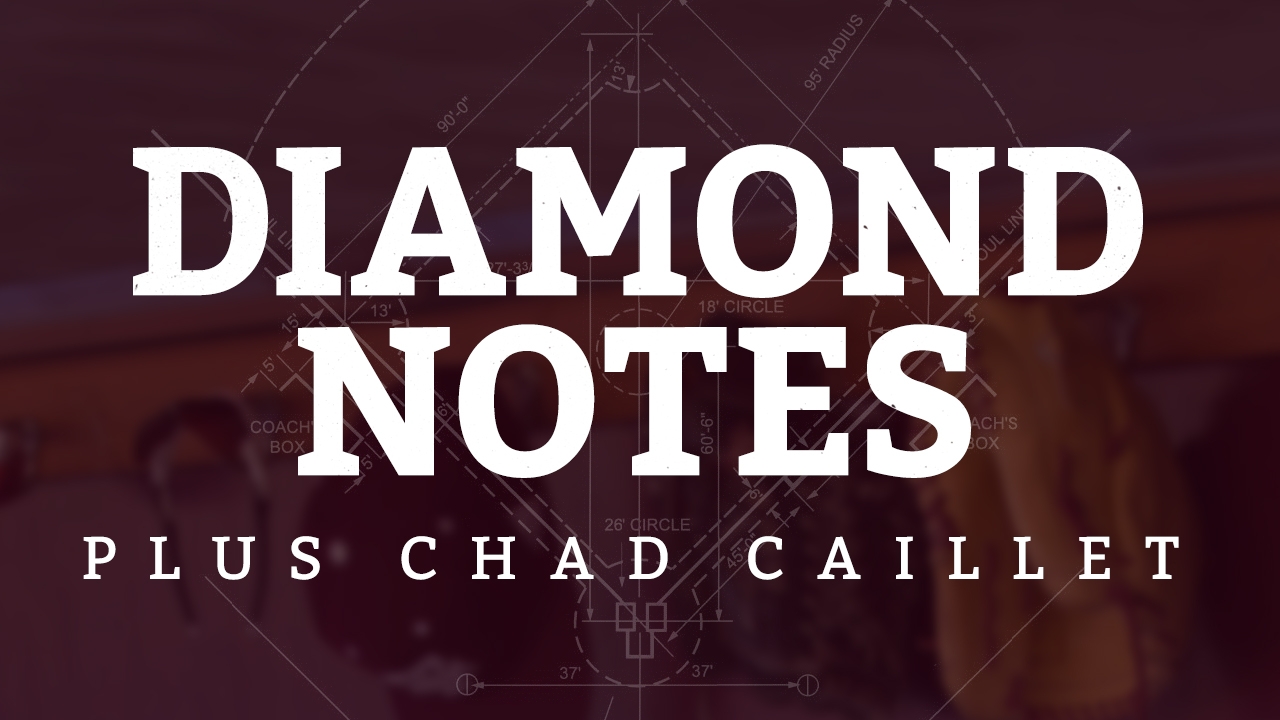 Texas A&M Baseball
Diamond Notes: Aggies aim to return to form after stumbling in Gainsville
---
Let's be blunt about what we saw this weekend in Gainesville. That was not pretty. The Aggies went 1-3 on the week, dropping all three games at No. 5 Florida to open up SEC play after beating Houston on the road last Tuesday. The Aggies were outscored 24-9 in the three losses and, quite frankly, were out-shined in every facet of the game other than infield defense (particularly at first base and at shortstop, where A&M's Kalae Harrison was spectacular all weekend and far superior to Florida's highly talented freshman shortstop Josh Rivera). Let's dive right into it with this week's "G.A.B.E." with a strong emphasis on A and B this go-around and not much of note under the categories of G and E this week.
Each week, we look back on the week that was with a "Good, Bad and Ugly" spin-off and breaking it down in four categories: Good, Average, Bad, Excellent
Here is this week's G.A.B.E. looking specifically at the three-game series sweep at the hands of Florida to fall to 0-3 out of the gate in the SEC:
Good
Bryce Blaum. The veteran infielder went 0-for-3 on Thursday, sat out Friday's game and went 3-for-4 in game three with three hard-hit balls, including a double down the left field line. Blaum went 3-for-7 in the series, and I could see that leading to a "promotion" back to the top of the order at some point in short order, perhaps sliding into the two-hole in-between Ray Alejo and Will Frizzell and moving Frizz back to the three spot.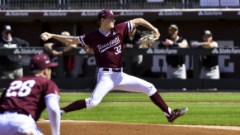 Jamie Maury, TexAgs
Bryce Miller. Two of A&M's three starts were in the "thud" category, but Miller was good and solid in game two and did enough to allow A&M to attempt to even the series. The fourth-year junior went 5.2 innings, allowing just one run on 5 hits, striking out 5 and walking only one. He was in control early, and the pitchability was there to go along with plus-plus stuff and a good mix of all three pitches. I didn't sense any over-throwing from Bryce, and you could tell that he was locked in throughout his performance. He was by far THE highlight on the mound in the series.
Average
Will Frizzell. Actually, judging by the standards he had established heading into the series in Gainesville, I would say that Frizzell's weekend at Florida was well below average. But I certainly wouldn't put it in the bad category. Will went 3-for-12 in the series and the lone extra-base hit was a home run that landed well beyond the perimeter of the stadium in deep-deep right field. It was certainly a highlight moment on a weekend with very few of those. I'll also say that Frizz was spectacular defensively at first base, scooping about a dozen balls on bang-bang plays. Otherwise, the margin of defeat would have been even worse than it already was.
Bad
The offense on the whole. A&M scored 9 runs in 27 innings, produced just 5 extra-base hits, walked only 2 times in 3 games and struck out 33 times (more on this lack of production in the "parting shots" portion of this story below). I fully get that Florida can pitch about as well as any team outside of Vanderbilt, but A&M did next to nothing to put pressure on the Gators' arms. The leadoff man reached base at just a .296 clip. The Aggies drove in only one run with two outs and were just .244 with runners on base. Logan Britt was just 2-for-11 in the cleanup spot and Alejo was just 2-for-13 in the leadoff role. It's only one bad weekend offensively, but A&M has produced pretty much "nada" in four games this season vs. SEC pitching (three games vs. Florida and one out-of-conference game vs. Auburn in Round Rock). Hopefully this isn't a sign of things to come.
The Aggies were not good on the mound at Florida. A&M gave up 37 hits in three games and 10 of those were extra-base hits, including 4 home runs.
A&M pitching outside of Miller. On the whole, even factoring in Miller's very good start on Friday night, the Aggies were not good on the mound at Florida (much more on this below in "parting shots"). A&M gave up 37 hits in three games and 10 of those were extra-base hits, including 4 home runs (the Aggies had allowed just 6 homers in 19 games entering the series at UF). Florida hit a whopping .352 in the series and A&M allowed an average of just under 9 earned runs per game on the weekend. Game one starter Dustin Saenz gave up 5 earned runs in just 3 innings and Jonathan Childress allowed 4 runs (3 earned) in 3 innings in game three. The bullpen wasn't much better, combining to allow 14 earned runs on 19 hits in 12.1 relief innings. Ouch.
Excellent
Austin Bost. Without much help at all, three-hole hitter Austin Bost produced with lined shot after lined shot against Florida pitching. The third-year sophomore went 7-for-13 (.538) with 2 of A&M's 5 extra-base hits in the series. Even his outs were loud outs. Bost is now hitting .313, and I would give him a green arrow pointing way up moving forward, as he continues to prove his worth in the Aggie lineup. Bost figures to be a mainstay moving forward as the guy who needs to hit immediately behind Frizzell for the foreseeable future in '21.
Kalae Harrison on defense. Sure, Harrison did commit one error in the Florida series — a dropped fly ball in the hole between shortstop and left-center where he should have given way to the left fielder — but he was peppered with hard-hit and difficult-to-field ground balls, and the freshman rose to the occasion each and every time. Hard shots in the five-six hole ... slow-rollers where he had to run up and fire on the move ... smoked balls near the second base bag where he had to flash his supreme athleticism and come up firing ... never a problem. Harrison is the best fielding shortstop we've seen in Aggieland since Cliff Pennington, who coincidentally serves as his infield coach in his role as student assistant. He's been a little shaky at times throwing the ball early in his career but has really come alive with the glove of late. The best is yet to come with this rising star in the SEC.
The Five Factors: Offense
Here's a look at what the Aggie bats did in five critical situational areas in the win over Houston:
Two-outs: .200 (2-for-10)
Runners on: .267 (4-for-15)
Runners in scoring position: .200 (2-for-10)
Leadoff OBP: .444 (4-for-9)
Two-out RBI: 1
Here are the five key split stats in the 0-3 showing at Florida:
Two-outs: .161 (5-for-31)
Runners on: .244 (11-for-45)
Runners in scoring position: .250 (6-for-24)
Leadoff OBP: .296 (8-for-27)
Two-out RBI: 1
Here are A&M's updated season totals to this point in all five areas:
Two-outs: .266 (64-for-241)
Runners on: .296 (115-for-389)
Runners in scoring position: .290 (73-for-252)
Leadoff OBP: .416 (77-for-185)
Two-out RBI: 2.7 PG (59 total)
The Five Factors: Pitching
Here are the raw numbers from what the Aggie pitching staff did in five critical situational areas vs. Houston:
Two outs: .200 (2-for-10)
Runners on: .313 (5-for-16)
Runners in scoring position: .273 (3-for-11)
Leadoff OBP: .444 (4-for-9)
Two-out RBI: 2
Here are the five key split stats vs. Florida:
Two-outs: .303 (10-for-33)
Runners on: .328 (19-for-58)
Runners in scoring position: .361 (13-for-36)
Leadoff OBP: .500 (12-for-24)
Two-out RBI: 8
Here are the updated season totals for Aggie pitching to this point in all five areas:
Two outs: .215 (51-for-237)
Runners on: .219 (73-for-334)
Runners in scoring position: .220 (46-for-209)
Leadoff OBP: .376 (73-for-194)
Two-out RBI: 1.5 PG (32 total)
Parting Shots
So who is this pitching staff? Is it the group that had produced as well as any stable of arms in all of college baseball during the non-conference? Is it the group that got torched in two of the three games against a very good hitting Florida team? Or somewhere in-between? I think the answer is C ... somewhere in-between.
Here are the numbers produced by Aggie pitching through the Samford series:
2.35 ERA
.208 opponents average
123 hits allowed in 161 innings (0.76 hits per IP)
232 strikeouts and 53 walks (4.4 strikeout-to-walk ratio; 13.0 strikeouts per 9 innings)
24 extra-base hits allowed (6 home runs) in 18 games (1.3 XBH allowed per game)
The numbers specifically in the Florida series:
8.63 ERA
.352 opponents average
37 hits allowed in 24 innings (1.54 hits per IP)
20 strikeouts and 11 walks (1.8 strikeout-to-walk radio; 7.5 strikes per 9 innings)
10 extra-base hits allowed (4 home runs) in 3 games (3.3 XBH allowed per game)
It was never an expectation that the minuscule numbers produced over the first 18 games of the season by Aggie pitching would hold up once they started facing supreme competition in the SEC. But what we saw from the pitching staff, really outside of Bryce Miller's Friday evening start, is unacceptable. Of course, this was just one bad weekend all the way around — pitching and hitting alike — but more high-level opponents are on the immediate horizon, and the Aggies are going to have to bounce back quickly and pitch much, much better if they have any hope of winning games and series in the Southeastern Conference.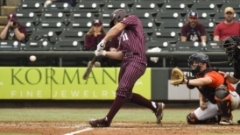 Jamie Maury, TexAgs
Now, onto the hitting. It wasn't good. It starts with the fact that nobody outside of Austin Bost — and Bryce Blaum in game three — was very good at all offensively. The Aggies entered the Florida series ranked No. 1 nationally in runs scored and walks and in the top 5 in home runs, but they were stymied by the Florida pitching staff for almost the entirety of the series. Check out these paltry numbers vs. the Gators in three games:
5 extra-base hits
2 walks
33 strikeouts
Y.I.K.E.S. Leaves a LOT to be desired and it's back to the drawing board for the offensive staff in an effort to figure out how to score runs and produce with the bats now that the pitching will be ramped up and at or near elite levels week after week.
What would you do with the lineup? I personally wouldn't go into panic mode at all after one horribly rough weekend, but tweaks probably need to be made to ignite as much as you can with this up-and-down group (a group that has proven it can explode at times). I'd move Frizzell back into the three-hole and give Bryce Blaum another crack at the top-third of the order. Something like this:
1. Alejo - CF (R)
2. Blaum - 3B (R)
3. Frizzell - 1B (L)
4. Bost - DH (R)
5. Britt - RF (R)
6. Targac - LF (S)
7. Ty Coleman - 2B (R)
8. Hoehner - C (R)
9. Harrison - SS (L)
That gets you a left-handed bat every third hitter against right-handed pitching and should give you more RBI opportunities for Frizzell with two veteran "grown-ups" hitting in front of Will.
I think that's the right nine guys to play every day right now. You might mix in Bryan Sturges or Zane Schmidt or even give Taylor Smith's at-bats to Hunter Coleman as the back-up catcher after more down moments than ups right now from Smith. But other than that, I think those are the nine guys that should be in the lineup game-in and game-out.
Another four-game week for the Aggies this week, all at Olsen Field at Blue Bell Park. The struggling Rice Owls (10-9) come into town for a Tuesday evening tilt and Georgia (14-5; 1-2 SEC) is in for three games Friday-Sunday. Certainly a more manageable schedule than what we saw from the four-game road tilt last week against UH and #5 Florida, but you've got to go out there and throw and catch and pitch it over the plate and show up with the bats.
The series against the Bulldogs is vital. The Aggies have GOT to find a way to win this series. You can't go 1-5 (or worse) to open up SEC play if you have any hope of reaching the NCAA Tournament or being relevant in the SEC West in 2021. Certainly not this year, with as strong as the competition is in this league every single week. We'll have full-scale in-game and post-game coverage of all four games this week, so keep it locked to TexAgs.com.
---

Key notes from Chad Calliet interview on TexAgs Radio
Very disappointing weekend. A lot of credit goes to Florida because they played well, but we didn't do enough in all three phases of the game. On Friday we got a good pitching performance but had letdowns hitting and defensively. They had some good starting pitching and made one more defensive play than we did on Friday. That was a momentum game and changed the entire feeling of the series.

On Thursday, we were facing a high-caliber SEC starter. We didn't get off to a start like we had wanted to. We had a chance to change it the next day but we couldn't.

Just like any elite hitter in this league, Will Frizzell is going to be circled on the lineup card. Teams won't let him beat them. Florida pitched him very well. You know you're going to get pitched well, and you have to take advantage of the mistakes that are made. At the same time, he responded after Friday with a couple of hits on Saturday. He did his part there. It's important that we do our part in front and behind him.

Austin Bost was the missing piece that we were trying to find hitting behind Frizzell. The comfort level with him there every day is growing. He took advantage of some mistakes. Bost is a terrific hitter and will be the stable pony behind Frizzell. It's important that he continues this.

Some individuals had a nice weekend. We had 11 hits with some scattered runs in the series finale. We didn't move the ball with runners in scoring position a couple of times. Eleven hits should equate to more runs.

Bryce Blaum has been most beneficial where he is now. He had an awesome day, and he needs to stay consistent. It's about not chasing hits. It's about a team offense. If you have a lot of hits but aren't producing runs, that's not the objective, obviously. He needs to be a clutch player for us, and he's one of our most experienced bats. There will be more opportunities for him to drive in runs in that six/seven-hole.

The stat that struck out to me was the two walks and the 30+ strikeouts. That is not winning offense. We knew Mace was going to throw a bunch of fastballs early, and we wanted to get to those fastballs. We tried to take advantage of those opportunities, but it didn't work out in our favor. We had too many quick outs against Mace. That carried over into the next two games. Looking back and reflecting on what we did and didn't do well, the walks were not there for us. That has been a huge part of our offense.

I am the biggest Kalae Harrison fan. I think he is a terrific player. He has done a great job. The average fan doesn't understand how difficult this jump has been for a freshman shortstop. He's facing college left-handed pitching. I don't care where you're from or who you played for, you're not ready for it until you see it. He will continue to be a peaks and valleys guy this year, but you'll see his talent shine through. He has done a terrific job so far.

We're practicing today. We'll take Wednesday off after the game against Rice. We'll play a good team on Tuesday. We'll try and get the mojo going in our home park and get ready for the Georgia Bulldogs coming in this weekend. It's another grinder of a Monday.
Never miss the latest news from TexAgs!
Join our free email list
PRESENTED BY