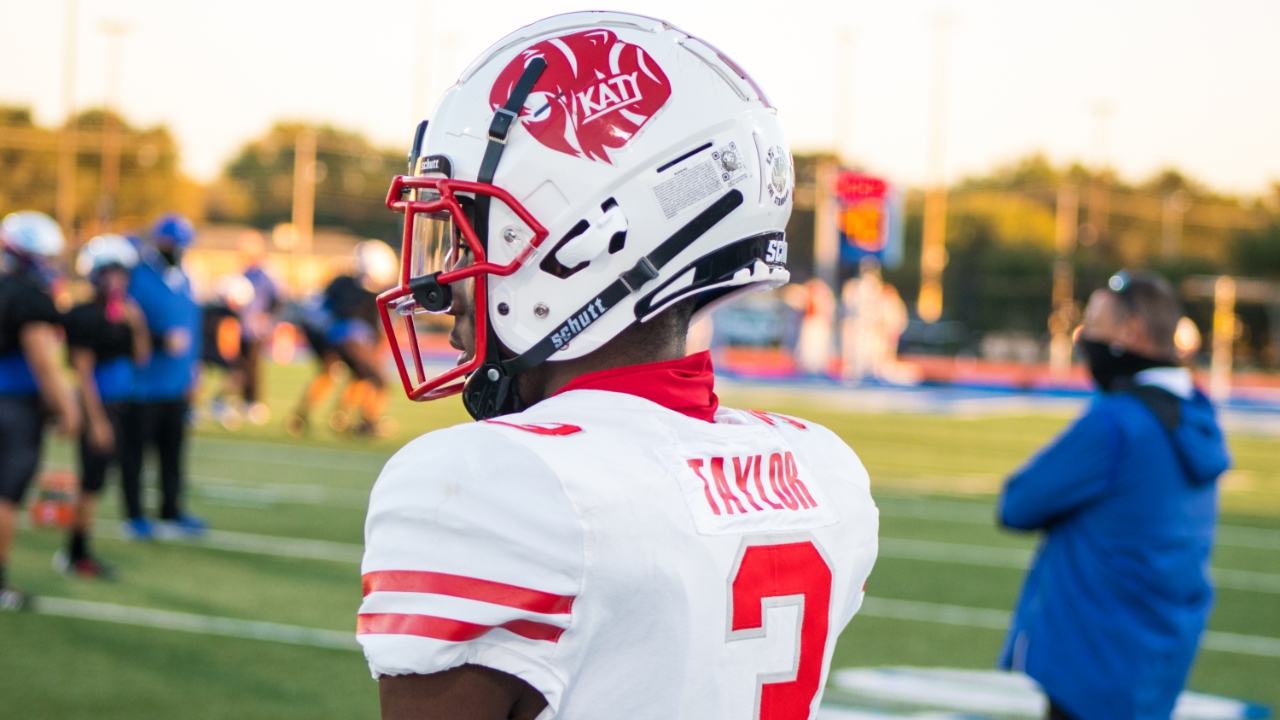 Photo by Walker Lott, TexAgs
Texas A&M Football Recruiting
Underneath Bobby Taylor's talent is a family-instilled work ethic
---
Video (above) produced by Lia Musgrave.
---
Cornerback may be the most stressful position on the football field.
Quarterback has greater responsibility but not necessarily as much stress. A quarterback has an offensive line for protection. Running backs and receivers to ease some of his burden.
Cornerbacks are frequently alone — on an island. They line up one-on-one against the opponent's fastest receivers. One wrong move — a bad angle, any hesitation — can be the difference in a pass defended or a touchdown pass. That can mean the difference between victory and defeat.
Elite cornerbacks are fast and agile. They also need qualities that cannot be measured with a stopwatch. Courage, resolve, self-confidence in the most imposing circumstances are vital.
Katy High School junior Bobby Taylor‍ is an elite cornerback. In fact, he's so good that Texas A&M coach Jimbo Fisher made him a recruiting priority two years ago.
Athletic ability came to Taylor genetically. His father, by the same name, played nine seasons in the NFL.
The intestinal fortitude came from his mother, a former collegiate basketball player at Houston. Once a single mother of three, she had the courage, determination and self-confidence to thrive under pressure and turn a dream into an incredible success story.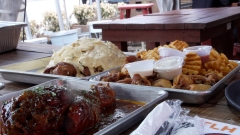 Lia Musgrave, TexAgs
Nakia Price sits at a picnic table on the outside deck of the Turkey Leg Hut, one of the most popular restaurants in Houston.
It's a slow day. Only about 200 customers, including Vincent and Mona Wydermyer, the parents of Texas A&M tight end Jalen Wydermyer, are part of the post-lunch crowd. Yeah… that qualified as a "slow" day at Turkey Leg Hut.
The hordes — some in T-shirts, some seemingly dressed for a night out — dining succulent fall-off-the-bone stuffed turkey legs are an illustration of Price's success.
So is the "overflow" parking lot across the street. So is the collage of photos showing Price and her husband posed with famous customers like comics Kevin Hart and Dave Chappelle, athletes Michael Vick and Deshaun Watson or rapper Snoop Dogg.
So are the glowing reviews in GQ magazine, on Food Network and the Texas Bucket List. So are the diamond wedding ring, earrings and diamond-encrusted watch she wears.
Price flashes a smile that sparkles more than her jewelry when asked about her only son, who helped Katy win a Class 6A state championship last season.
"I just always thought he had natural athletic ability from myself and his dad," she said. "I knew he was destined to be great. I just didn't know how great he was going to be."
The greatness — as we'll learn to be a tendency with Bobby — came early.
"He had a game during flag football," Price recalled. "We had leftover tacos for breakfast, and in this particular game, Bobby went out and scored about seven or eight touchdowns. Bobby couldn't have been more than eight or nine-years-old. Bobby looked over at me and said, 'Mom, I think it was the tacos.'
"We chuckled. After that, I knew he was going to be great. I'm excited for him. He's worked so hard to get to where he is."
The willingness to work hard comes from Momma, too.
Nakia and her husband, Lyndell, started selling turkey legs in the parking lot outside the Houston Livestock Show and Rodeo. As word got around, people not attending the rodeo began showing up to sample their fare.
That led to opening the Turkey Leg Hut at its present location on Almeda Road in 2016.
She's come a long way in a short time from when she was on her own as a single parent just seven years ago. She also has two younger daughters, Dylynn and Peyton.
"Initially, we were going to open up a business," Nakia said. "We were going to smoke turkey legs, and that was that. Never in our wildest dreams would it become this world-renowned restaurant that everyone hears about, everyone must eat at.
"Juggling getting the business together and having Bobby and his sisters at home … it's been tough. We make it work however we can, whatever is necessary. The kids are older now, so the hard part is out of the way, but it wasn't easy."
Bobby will tell you working in the restaurant isn't easy. He does a variety of jobs there on the weekends when he's not playing football.
Some might wonder why he works at all. He doesn't need the money, and he could spend more time working on his game.
Turns out he didn't have a choice.
"It really wasn't much of a conversation," he said. "She told me. And I said, 'All right. I'll be there.' That's how that went."
Nakia wants him to learn a lesson through working.
"There is a lot that is provided to him, but at the end of the day, we want him to know what it's like to go out and get it yourself and to earn what you have," Nakia said. "We do that by making sure he stays grounded. He has chores. He actually comes here to work even though he hates it.
"I want him to understand the responsibility of being an athlete is so much more than going out on the football field and playing. It's what you do off the field as well. "
"I want him to understand the responsibility of being an athlete is so much more than going out on the football field and playing. It's what you do off the field as well. Laying that foundation to know whatever it is that you want in life, you have to work hard for … That's what's most important to us."
Although he went to work when told, Bobby hasn't always done what his mother wanted.
As a 6-foot-2 forward and center on strong UH basketball teams under former coach Joe Curl, she foresaw her son following her steps onto the court.
Instead, he had made his mind up that he would pursue whichever sport a scholarship offer was first received.
That offer came from Arkansas during his freshman year. It was just another indication that he intended to do things early.
The first sign of that came about 17 years ago.
"He gave me such a hard time," Nakia recalled of her first pregnancy. "He kept wanting to come early. They had me on bed rest with Bobby at five months. They were like, 'He's trying to come.' I was like, 'No, not yet.' But he still wound up coming early. I had Bobby when I was eight months pregnant."
She didn't want him to commit early, either. Nakia went through the recruiting process as a high school senior in Chicago. She wanted him to take his time and enjoy the experience.
Bobby had other ideas.
He estimates he made seven visits to A&M. He'd developed strong relationships with Fisher and defensive coordinator Mike Elko. He liked that Fisher said to him about playing corner, nickel and safety. He was awestruck at the Kyle Field crowd of 104,000 when he attended the Aggies' game against Alabama in 2019.
"It was lit up," Taylor recalled. "After that, I knew that's where I wanted to be."
He released his commitment video on Feb. 24 — his mom's birthday. Though truth be told, he had been a silent commitment for several weeks.
"Convincing my mom wasn't easy," Bobby said. "There were some days I was like, 'Oh my God, just let me do it already.' But I wanted it to be special. We came to an agreement to do it on her birthday so that way it could be done for me and her. I just pulled the trigger then, and that was that."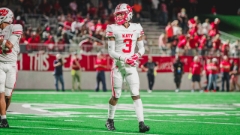 Justin Schoenemann
Nakia shrugged.
"I told him all the time — and this is something I'm grateful for — that you're able to go to college and don't have to attain any student loans," she said. "Take advantage of it. There are a lot of people that don't have this opportunity.
"With that being said, taking advantage of it means you're going to get your money's worth as well. You're going to go out and play football, but you're also going to go in and do what you're supposed to do academically."
Taylor still has to try to help Katy win another state championship. That hasn't stopped him from attempting to make an immediate impact for Texas A&M.
Although he's indicated he'll take other visits, Taylor has insisted he's 100 percent committed to A&M. He's even taken on the role of a recruiter to help bolster the Aggies' 2022 recruiting class.
The Aggies' class is currently ranked fifth in the nation. Taylor said he's working to ensure that ranking climbs higher.
"I was one of the first ones to commit, if not the first," Taylor said. "I silently committed a little early. Then I started to after my class. I got Malick Sylla‍, my teammate, of course. Then, I went to Dickinson and got Donovan Green‍ and PJ Williams‍.‍ And then Noah Thomas‍ after that and then Hunter Erb‍. And then we got one of the best quarterbacks in the nation in Conner Weigman‍. We got Isaiah Sategna‍. I knew Isaiah was going to commit because he told me, but of course, I couldn't tell y'all that.
"Whenever they put A&M in their Top Eight or Top 10, I'm one of the first people to text them. Come be great because we're building something special."
Taylor has a lot of charisma and leadership qualities. He also has an ace-in-the-hole. He can always invite another prospect over for lunch to discuss recruiting. A crawfish mac-and-cheese stuffed turkey leg can be a powerful lure.
As of yet, he has not resorted to such delicious tactics.
"It'll have to get to that extent if it's us and Ohio State up there," he joked. "I know I'm going to give Ohio State a run for their money, I tell you that much."
The Turkey Leg Hut allure doesn't hurt A&M, but it might not give the Aggies an edge for long.
Nakia envisions a time when Bobby can take friends and teammates to the Turkey Leg Hut in any city he might be playing in.
"Turkey Leg Hut is going to be in every state," she said. "Bobby, prayerfully, will be healthy enough and follow in his dad's footsteps and be in the NFL. The sky is the limit. We're not stopping."
Never miss the latest news from TexAgs!
Join our free email list