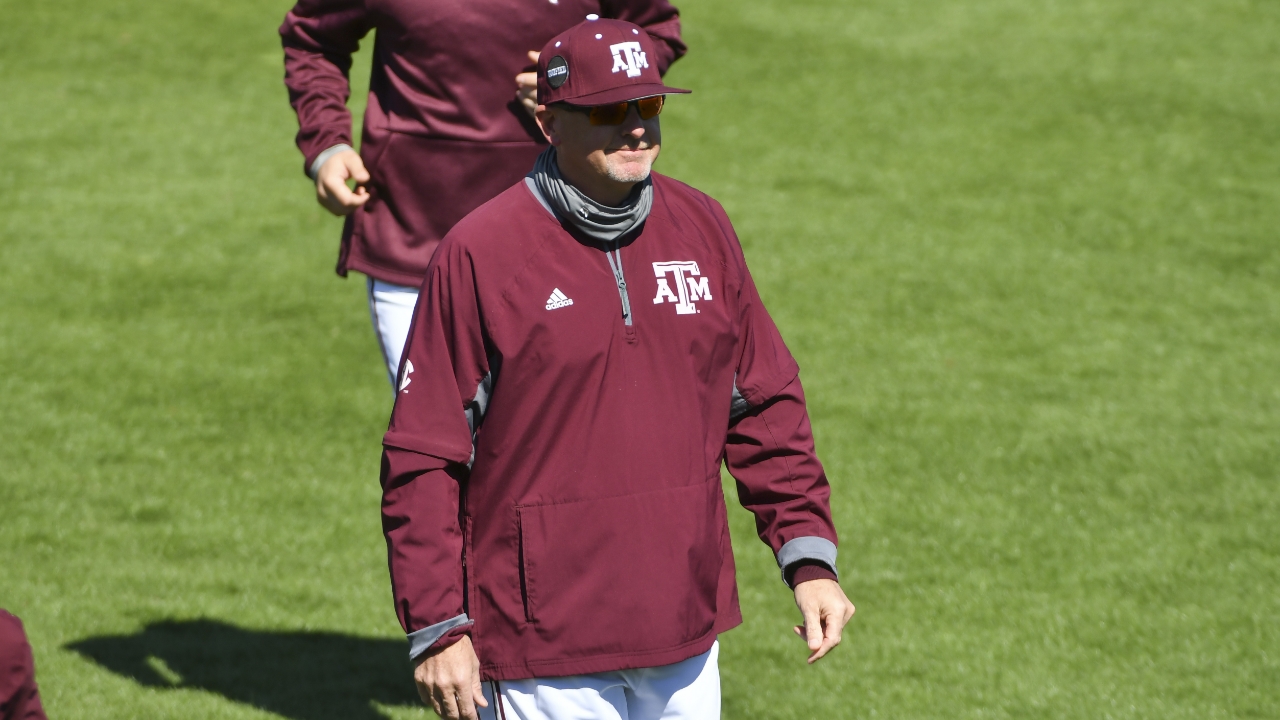 Photo by Jamie Maury, TexAgs
Texas A&M Baseball
Rob Childress discusses 10-game winning-streak, first road swing of season
---
Key notes from Rob Childress interview
I'm certainly proud of where we are. Other than Opening Day, we've been pretty consistent. We're starting to do the things we know we're capable of and have known we were capable of.

Logan Britt has been really good over the last two weeks. Taylor Smith is back to being really good like he was in the fall and January. We're seeing it spreading up and down the lineup. Ray Alejo is back and healthy as well.

Having Ray Alejo is like having another coach out there. He's helping Justin Seely direct the defense. Nothing is too big for him, and there is nothing he hasn't seen before. I'm super happy he's back and healthy. We don't have to worry about his hamstring right now. His maturity is so valuable.

We've always felt Will Frizzell is one of the better left-handed hitters in the SEC. He's healthy after that major knee surgery, and not just healthy enough to DH, but play defensively every day. It's really a miracle.

Austin Bost showed flashes of greatness before the shutdown last year, and we're happy to see it again this year. The player we're most excited about is Logan Britt in the middle of the order, but with Ty Coleman, you know you're going to get a professional at-bat every time up.

Taylor Smith has worked really hard with Chad Calliet and Cliff Pennington from an approach standpoint. He gets one barrel and it comes back. We need him in the middle of the lineup to raise the blood pressure for the opponent.

With Dustin Saenz, I am seeing incredible poise and command. If you look at the score on Friday night, and you think it's a walk-in-the-park. Really, it was much closer. Dustin was up for the challenge. I'm incredibly proud of him and his maturity. It comes from his daily routine, and he gets paid back every Friday night.

Jonathan Childress is very similar to Dustin from a command standpoint. We were seeing something special from him as he took a perfect game into the seventh. Less a swinging bunt, who knows what would've happened. To go through six innings with perfection, it was something special. He got us into the eighth inning, and it was a masterful performance. It was a hard thing for him to do to sit there through that first game, and to stay engaged is hard to do. The way he's pitching, it's a big boost. You are going to have a chance on every Sunday for sure.

When you look at Chandler Jozwiak's numbers, you have to ask, "Why aren't you starting that guy?" Joz and Mason Ornelas are fantastic out of the bullpen. He goes out there and pitches with rage and anger. We would not be where we are today without Jozwiak.

Kyle Simmonds does a great job of getting our pitchers ready to go, which gives us a great chance to score first. When you get off the field without giving up a run and aren't chasing, it's a good thing.

Tonight is our first true road test. Houston can really overwhelm you with their lineup. We're starting Nathan Dettmer and will chase him with Chris Weber. We're going to have to do a good job against them tonight. We need to throw the first punch.

We'll travel tomorrow to Florida for our first SEC series of the year. They have a lot of pieces in the lineup and outstanding starting pitching. Maybe their weakness is that they haven't figured out their bullpen 100 percent. I'm looking forward to seeing their new ballpark.
Never miss the latest news from TexAgs!
Join our free email list