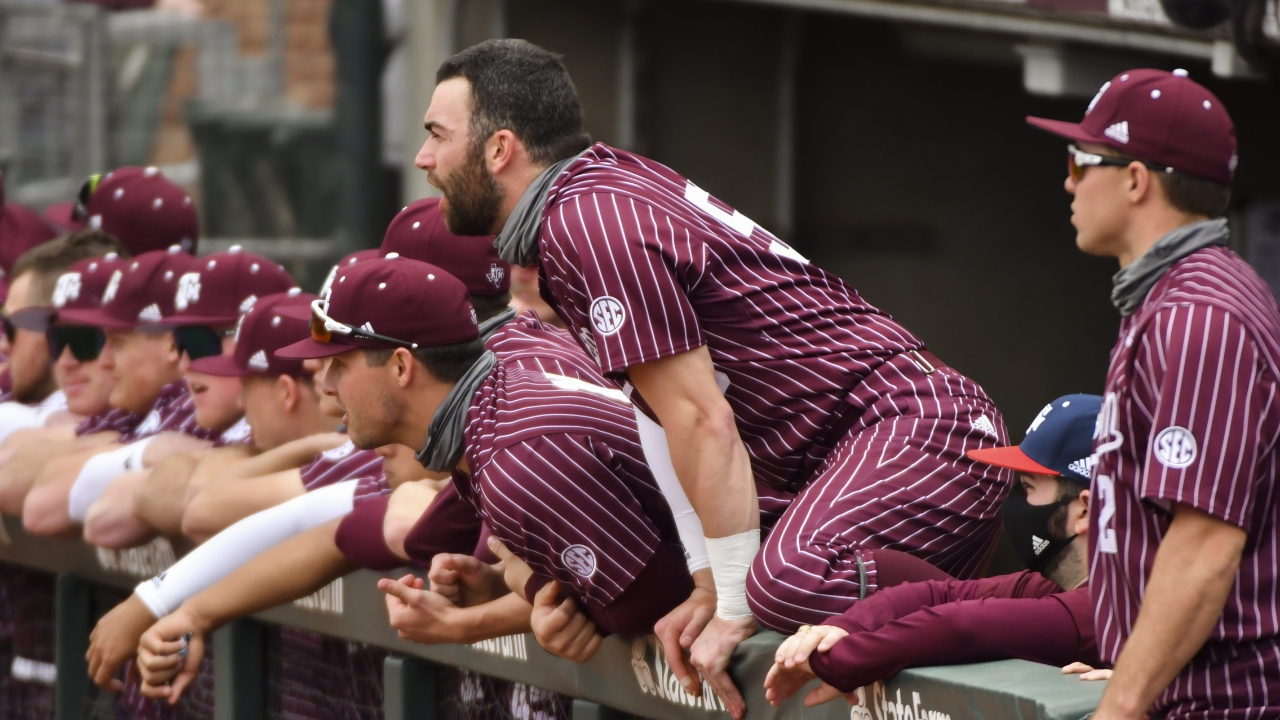 Photo by Jamie Maury, TexAgs
Texas A&M Baseball
Series Preview: Texas A&M vs. Samford
---
Also included above is Diamond Talk with Gabe Bock, Ryan Brauninger and Scott Clendenin from Friday's edition of TexAgs Radio.
Who: Samford (7-6, 0-0 Southern)
Where: Olsen Field at Blue Bell Park – Bryan-College Station, Texas
When:
Friday: 6:30 p.m. CT (SEC Network+)
Saturday: 2:00 p.m. CT (SEC Network+)
Sunday: 12:00 p.m. CT (SEC Network+)
Pitching matchups
Friday: Dustin Saenz (LHP, 2-1, 2.45) vs. Samuel Strickland (LHP, 2-1, 2.81)
Saturday: Bryce Miller (RHP, 2-0, 2.30) vs. Jesse McCord (RHP, 0-2, 7.53)
Sunday: Jonathan Childress (LHP, 1-1, 1.08) vs. Zach Hester (RHP, 0-0, 7.70)
Scouting Samford
This will be the first meeting between the Bulldogs and the Aggies. Samford is treading water this far with a 7-6 mark, highlighted by a three-game weekend sweep at the hands of No. 5 Florida — who just so happens to be Texas A&M's opponent next weekend in Gainesville. Wins have come against UT-Martin (3), Toledo (2), Jacksonville St. and Troy, along with two losses to Alabama State. The resumé looks very pedestrian, but the Bulldogs put a scare into the nationally-ranked Gators in their series finale. The numbers reflect these early-season struggles.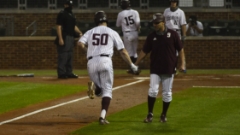 Jamie Maury, TexAgs
Samford has scuffled on the mound with a bloated team ERA of 6.89. The staff surrendered 36 runs to Florida and 26 runs in a three-game set with Toledo. If you look at their projected starting rotation for this weekend, only Friday night ace Samuel Strickland has formidable statistics that should worry an inconsistent Aggie offense. The sophomore left-hander is 2-1 with a shiny 2.81 ERA. The Bulldogs also have a legitimate closer, Chase Isabell, who boasts three saves, a 1.93 ERA, and a 16-3 strikeout-to-walk ratio. The Aggies can't afford to fall behind late in a game. Beyond those two assets, the rest of the staff is combustible. Saturday and Sunday starters Jesse McCord and Zach Hester are sitting on inflated 7.53 and 7.70 ERAs, respectively. Six Bulldog relievers own double-digit ERAs. If the A&M bats can make quick work of the starting pitching and get deep into Samford's bullpen, expect to see a lot of runs and fireworks from the Maroon side.
Offensively, Samford has one big power stick. Sonny DiChiara has shredded opposing pitching with the long ball, hitting five homers, driving in 11 RBIs and a slugging percentage at .750 to lead the team in every major power category. He has also walked 11 times for an on-base percentage of .473. He's the one dangerous hitter that A&M pitching must not let beat them. The Bulldogs have two other guys hitting above .300, King Towns (.370) and Ryan Crockett (.306), with limited run production. Max Pinto leads the team with a perfect 6-for-6 in stolen bases and utilizes his speed on the base paths. Other than those few offensive assets, the rest of Bulldog offense shouldn't scare Aggie pitching. Their overall team batting average is a tepid .243 with a lackluster .367 slugging percentage. For comparison, the Aggies are slugging at a .407 clip.
Texas A&M storylines to watch
Given those Bulldog offensive statistics, the Aggie pitching staff should have the upper-hand this weekend if they throw strikes and limit the free passes. After some inconsistency with control and pitch count in the first couple of weeks, the staff has become very efficient and effective in the starting rotation and the bullpen. The surprises have been Dustin Saenz as the Friday night starter and Joseph Menefee, who has emphatically taken the closer's role by storm.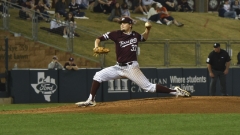 Jamie Maury, TexAgs
As a freshman, head coach Rob Childress saw Saenz's natural ability and publicly anointed him as a potential major contributor despite his youth. However, Saenz wasn't ready for prime time and has been inconsistent throughout his career in middle relief. As a junior, that has changed. He's hitting 94-95 mph on the radar gun, and more importantly, he's pitching with poise, control and a gameplan. That's reflected in his 2-1 record and 2.45 ERA. He'll need that poise drawing the opposition's best hurler. In this case, that's Samuel Strickland, and it will be a grind for Saenz. Even a team like Samford will roll out a quality arm on Friday night. That means Saenz has to be very good and not get frustrated with little run support, which will be the case from here on out. Tonight will be a dress rehearsal, as Florida and the SEC gauntlet await just six days away.
Menefee struggled early in the 2020 pandemic-shortened season, but he has come roaring back with a vengeance in 2021 with eye-popping numbers. Last week, he struck out 16 of the 19 batters he faced. He has struck out 19 batters in 7.2 innings while surrendering only two walks. Opponents are hitting .043 against him. It will be impossible for the junior to stay at this dominant pace, but he's clearly established himself as the best option out of the bullpen and one of the best closers in the nation. That will be absolutely critical in SEC play. With A&M scratching to score runs, they will be in a lot of close games, and it will be an absolute must to have a lead after the sixth inning. Menefee, along with Mason Ornelas, Alex Magers, and Chandler Jozwiak, must continue this hot start in the bullpen. The Aggies won't be able to navigate the upcoming SEC schedule without a few effective relievers. Now is not the time to stumble or lose momentum.
Offensively, I know it sounds like a broken record from previous weekend previews, but this unit is still searching for adequate run production and hitting out of the middle of the lineup. Ray Alejo and Will Frizzell are hitting near .400, and guys like Kalae Harrison have ticked up at the bottom of the lineup (.286). Still, to be successful long-term, A&M must get some productivity out of the middle three spots. Through the first 15 games, the Aggies have thrown quite a few hitters into the No. 3, 4 and 5 spots, just hoping for someone to stick and catch fire. There's some hope that Logan Britt could be an answer after a torrid week, albeit against suspect competition. He has hit below the dreaded Mendoza line for most of the year and has been in-and-out of the starting lineup. However, he's strung together a couple of multi-hit games this week, and his run production is healthy. Britt is second on the team behind Frizzell in power categories like home runs (3), RBIs (14) and slugging percentage (.561), and he's now hitting .293. However, he still strikes out a lot, and he's last among the starters in walks (3). Those stats will need to improve, but Britt will be someone to watch closely this weekend.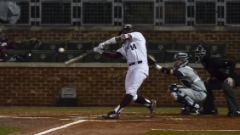 Jamie Maury, TexAgs
It will be interesting to see if the staff inserts Taylor Smith into the lineup at some point this weekend. Projected to be a guy in the middle of the lineup, Smith struggled immediately out of the gates. He was still hitless heading into this week, but then he connected on Wednesday with a fastball that came inches from hitting the Student Rec Center fire hydrant in one of the most impressive longballs in some time. We now see what the Texas A&M staff and just about every major baseball program in the region saw in making him one of the most coveted JUCO catchers in the nation. If he can eventually wriggle out of this slump — and there are early signs that he may be coming around — he can definitely be one of those middle-of-the-order guys. I expect the staff to insert him into the lineup at some point this weekend to build upon his midweek success.
Austin Bost has been one of the few hitters over the past week to see his offensive numbers go down. A week ago, he was hitting .368 and looking like the answer to hit behind Frizzell. Now, he's scrambling to get back on track after seeing his batting average dip to .275. You'd like to see him get back to his old form in that fourth spot.
What's at stake this weekend
Ever since they stumbled out of the gates at 1-3, the Aggies have been playing catch-up. They've done a good job so far, winning 10 of their next 11 to stand at a respectable 11-4, but the non-conference comeback won't be complete until Texas A&M can finish off this streak with another weekend sweep to get to 14-4. Should that happen, the Aggies would be back on track heading into the meat grinder of the SEC schedule.
When COVID-19 ended the 2020 season, this team was 15-3 with three losses in the Frisco Classic. The Ags went 15-0 at home against these small, undermanned early-season opponents a year ago, and that's why this year's 1-3 start was such a shock. It put a lot of pressure on Texas A&M to win every one of these remaining home games. So far, so good as the Aggies have run the table at home since that first week, but the comeback isn't complete just yet until they sweep Samford. Even dropping one game this weekend will be a disappointment and slow the current momentum. On paper, the Aggies have a big advantage, which means if the team plays clean this weekend, the odds of ending the weekend at 14-4 are pretty good.
Never miss the latest news from TexAgs!
Join our free email list