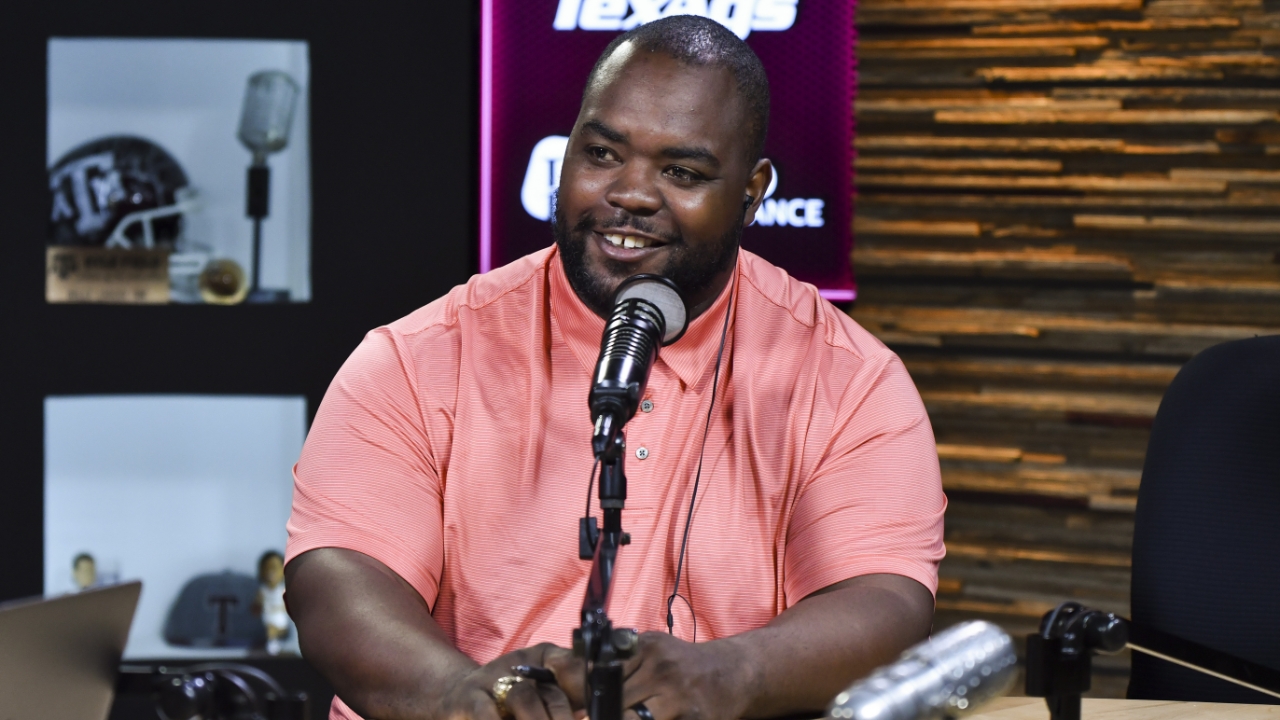 Photo by Jamie Maury, TexAgs
Texas A&M Football
Ty Warren discusses life back in Aggieland, watching his daughters compete
---
Key notes from Ty Warren interview
It's good to be on Texas soil. As good as Detroit was to me, it's just not the same. It was good for experience, and I had a lot of good experiences up there.

Our good friend Dan Campbell is now the head coach of the Detroit Lions. There was a lot of noise about him coming there. When it got within range of it being legal to talk to people, I reached out to Dan. We talked about what he wanted and where I was.

I had been away from the house for a couple of years, which we thought going to Detroit would be a good idea. It was. I feel like God placed me up there, and it brought a lot more structure that I needed back into my life. It made me realize how much I needed that and helped calibrate me to get home and back to my family.

I'm going to continue this path. I have my own EXOS profile I've built over the last couple of years to help build my catalog for teaching the game. Whether it's pros, college or high school is yet to be determined. I'm just focused on growth.

Everything that was thrown my way in Detroit was a highlight. I was excited to be on that side of things and do some coaching. One of the highlights was when one of our coaches was out for COVID-19, so I got to take over the defensive line room. Over those two weeks, I was able to step in and apply my thinking to what was already in place was a lot of fun. Those guys went out and fought hard for me. It was cool to be on the sideline.

There are so many layers in what needs to happen to win on a day-to-day basis. There needs to be trust from top to bottom. Dan is a successful person in general and is an awesome guy. We had a great conversation when we were figuring out what they were going to do. I think so much of him. I think those guys will play well for him, and he has put together an awesome staff. I didn't paly with Aaron Glenn, but I played with Jason, so I know the kind of man he is.

Jason Glenn does a great job in Houston. Lonnie Madison does as well, and I get to speak with him a lot. There are so many guys out there doing awesome jobs at grooming those kids.

I enjoy watching my daughter, Bre, play softball for our university. Through COVID and everything, it's amazing that I can pick up my phone and watch my daughters play softball and volleyball no matter where I am. There is nothing like it. Still, going back to that structure that I realized was so important is something I want to keep going.

In short, Tom Brady still wears that chip on his shoulder from when he came into the league and how he was perceived back then. That's what makes him so successful. It looks for anything that even remotely resembles that. It drives him. He still looks at him as an underdog despite how much success he has had. He has found his sequence in how he take care of his body and his mental approach to the game. His best quality is his leadership, and while he can be vocal, he leads by example.

With Bill Belichick, from a preparation standpoint, nobody prepares better and nobody adjusts on the fly better than him.

At A&M, I had a lot of great moments. The first one on my list would be beating Texas after the Bonfire collapse, but we had many other great games as well.

My first Super Bowl was a blur because I was a rookie, but that second Super Bowl, I started all 16 games and was more of a contributor. I went to work and probably overworked. It might've led to some injuries down the line, but that's just who I was. That second Super Bowl meant a lot to me. I was also a captain during that undefeated season, and that was a highlight of my career, even though we didn't win that Super Bowl.
Never miss the latest news from TexAgs!
Join our free email list