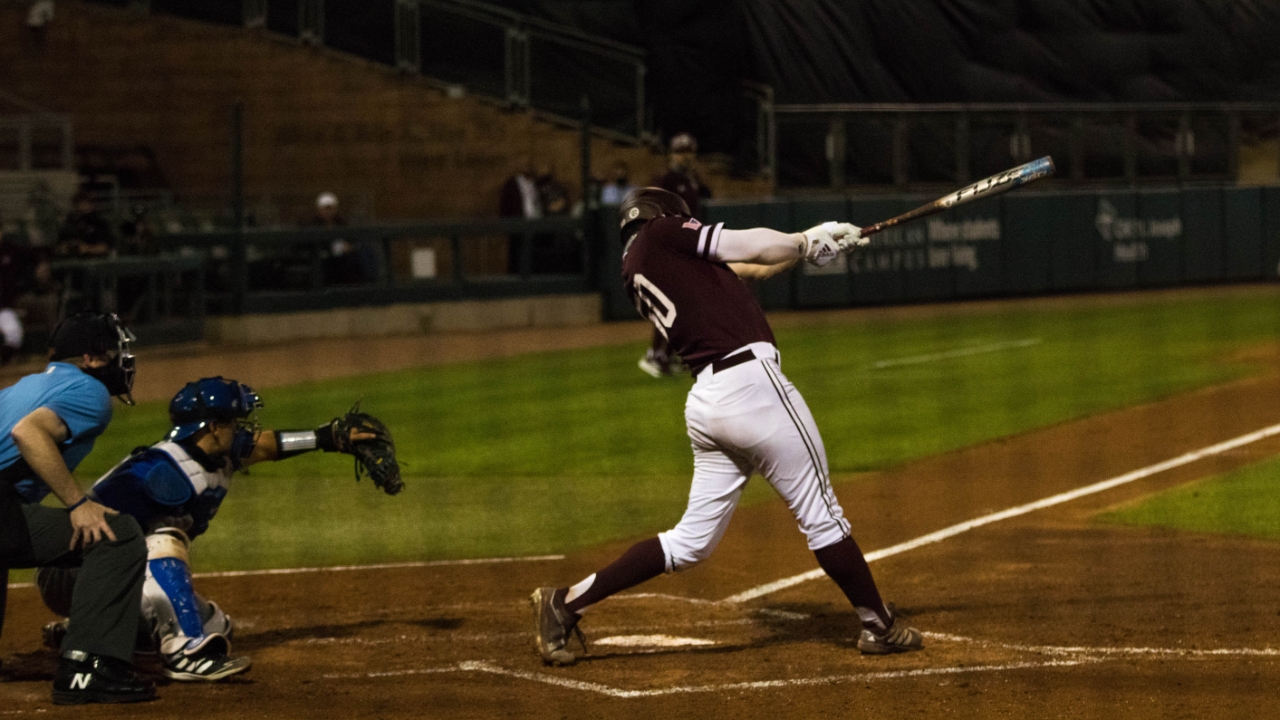 Rob Childress
Nathan Dettmer
Ray Alejo
Texas A&M Baseball
Aggies crush Islanders at home for sixth straight win, 7-0
---
Game #14: Texas A&M 7, Texas A&M-Corpus Christi 0
Records: Texas A&M (10-4), Texas A&M-Corpus Christi (4-8)
WP: Nathan Dettmer (2-0)
LP: Cassius Shy (0-2)
Box Score
---
Complete. Team. Victory.
Perfect defense and timely hitting aided more solid pitching as Texas A&M shut out Texas A&M-Corpus Christi, 7-0, on Tuesday night. The Aggies have now won six consecutive ball games.
"All-in-all, I thought maybe it was our best performance, all the way around, of the year," said Texas A&M head coach Rob Childress. "I couldn't be more proud of our team all the way around, and I thought our defense was at a premium."
In an encore of last Tuesday's stellar outing, Nathan Dettmer again held the opposition off the scoreboard. The freshman grinded through scoreless 5.1 innings as he lacked pinpoint command of his secondary pitches.
"In the bullpen, everything felt great," Dettmer said. "It didn't go my way, but luckily, I found a way to compete."
The San Antonio Johnson product has now thrown 11.1 consecutive innings without allowing a run and sports a 1.76 ERA.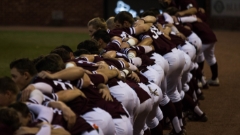 Angelina Alcantar
"It was a gritty performance, I would say, more than great," Childress said. "He did a really good job getting us into the sixth."
Following Dettmer's lead, Chandler Jozwiak and Chris Farrell sealed the shutout, the Aggies' fourth through 14 games.
The Aggies were stout defensively behind the trio of arms, and for the fourth time in 2021, the Maroon & White played error-less baseball. The team's fielding percentage continues to soar, now reaching the .972 mark. Perhaps the biggest play of the evening was Blaum's sliding stop that got the Ags out of a bases-loaded jam in the second.
"It feels amazing knowing that defense has your back," Dettmer said. "I knew, whatever I throw, if they hit it, my defense was going to be there and make a play."
Freshman shortstop Kalae Harrison also flashed the leather, making six plays on the dirt.
Corpus Christi's bullpen was a revolving door as the Islanders utilized eight pitchers, none of which accumulated more than six outs. Islander starter Cassius Shy was saddled with the loss after allowing one run in the second inning.
"You got to go up there and just try to compete each at-bat, no matter who's on the mound," said senior center fielder Ray Alejo. "You just got to stick to your approach and stick to your plan and do what you can to find a barrel and get on base."
Despite the everchanging man on the mound, the Aggies consistently hit Islander pitching as the home team scored in half of their eight at-bats. Seven Aggies notched a hit and five Aggies scored at least one run. As a group, A&M was 6-for-16 with runners in scoring position. Alejo recorded a multi-hit night, finishing the evening 3-for-4 with two RBIs and a run scored.
"I was just trying to find something I could put a barrel on," Alejo said.
"It's just good to see him on the barrel tonight, and usually when a guy gets on a barrel, that confidence tends to soar."
He was ultimately lifted in the late innings as the Aggies continue to monitor his hamstring injury. Childress hopes to get Alejo the day off tomorrow.
"I'm still a little cautious on things, but that's just because hamstrings are a little sketchy at times," Alejo said. "Besides that, I feel pretty good."
JUCO-transfer Taylor Smith finally got off the schneid as he robbed a double to left-center that one-hopped the wall and drove in a run during a three-run fourth inning. Prior to the hit, Smith was 0-for-13 with 11 strikeouts to begin his A&M career.
"You saw how excited the team was for him," Childress said of Smith. "It's just good to see him on the barrel tonight, and usually when a guy gets on a barrel, that confidence tends to soar."
Texas A&M wraps up the midweek slate Wednesday night as they host Prairie View A&M. First pitch between the Aggies and Panthers from Olsen Field at Blue Bell Park is scheduled for 6:32 p.m.
Never miss the latest news from TexAgs!
Join our free email list