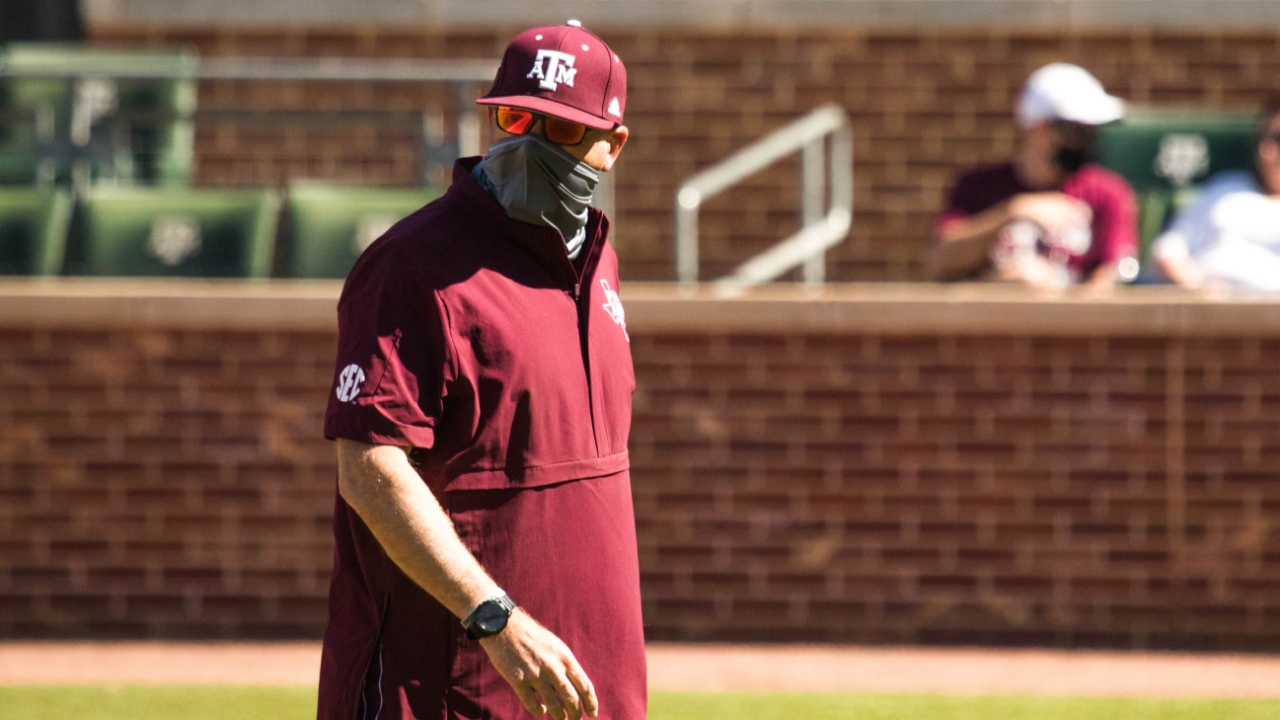 Photo by Angelina Alcantar, TexAgs
Texas A&M Baseball
Rob Childress discusses his 600th career win, strong weekend on the mound
---
Key notes from Rob Childress interview
It's great to look back on all those former players, those young people you got to be around that are now husbands and fathers. It's fun to be their friend now rather than their coach. I really appreciated all the congratulations for my 600th career victory.

Any time you have a 5-0 week, many things have to go your way. The starting pitching is right at the top of that. Perhaps best of all was Chris Weber on Wednesday. He barely got through the second inning but got it back together and got us five innings. Nathan Dettmer was fantastic on Tuesday, and all of the weekend starters were fantastic. The bullpen kept the game together each time, and it was an impressive five-game stretch on the mound.

The one asset we asked of them was getting the leadoff hitter. We were allowing over 40 perfect in letting the leadoff man reach, but our pitching answered in a big way this week.

Bryce Miller had a great bullpen on Wednesday. We fixed some things with his direction, and we got his curveball back. If he can pitch off the fastball at the top of the zone with the curve in the bottom of the zone, he is hard to deal with. Maybe he was just a little revved up his first couple of outings, but he was fantastic on Saturday. He had the changeup rolling as well. He was able to land that pitch and get hitters off the fastball.

We got Chandler Jozwiak out there in game two, and he was marvelous. We got Mason Ornelas out there for two innings on Sunday after a few days off. We are in a good spot with our bullpen, and we have more guys we need to get in the grease. Our starters have been stingy with those opportunities because they've been going deep.

Alex Magers has been good at getting groundballs. We need to find more opportunities for Will Johnston and Chris Farrell. The guy who has been remarkable has been Joseph Menefee. He has caught fire since we put the uniforms on and the lights came on.

I've said this before, but Will Frizzell is a hitter first and a power guy after. He is hard to pitch to. There are not many times where you get to watch a hitter go 5-for-5. That speaks to his maturity and his approach. I'm glad he's on my team, and I'm glad we don't have to pitch to him.

I like Frizzell in the two-spot. He had seven hits on the weekend. Leadoff man gets on and opens up the hole on the right side, which gives him more opportunities. Until somebody else proves to us they need to be ahead of Will, that's where we'll keep him.

It is incredibly important to figure out the middle of the order. We have six games before SEC play, and we have been choppy offensively. A lot of guys are starting to press, and a thinking mind is a slow bat. Hopefully, we can get a couple of guys going. Our 7-8-9 guys set some innings up and knocked them down as Logan Britt, Mikey Hoehner, and Kalae Harrison had big days on Sunday.

We have Texas A&M-Corpus Christi tonight, and they are a desperate team. They've lost five in a row. They have a lot of older hitters and experienced guys back. We know we're going to have to be good against them, and Nathan Dettmer has to be good. We'll go to Jozwiak after him. We know we'll face a left-hander against Corpus, so we'll have a lot of right-handed bats in there. We'll let Chris Weber go on Wednesday, and we'll turn him loose.

With Samford, we've gotten to know them over the last few years when we practice before the SEC Tournament. They are physical offensively and won't be intimidated. We'll have to do a good job against them this weekend.
Never miss the latest news from TexAgs!
Join our free email list