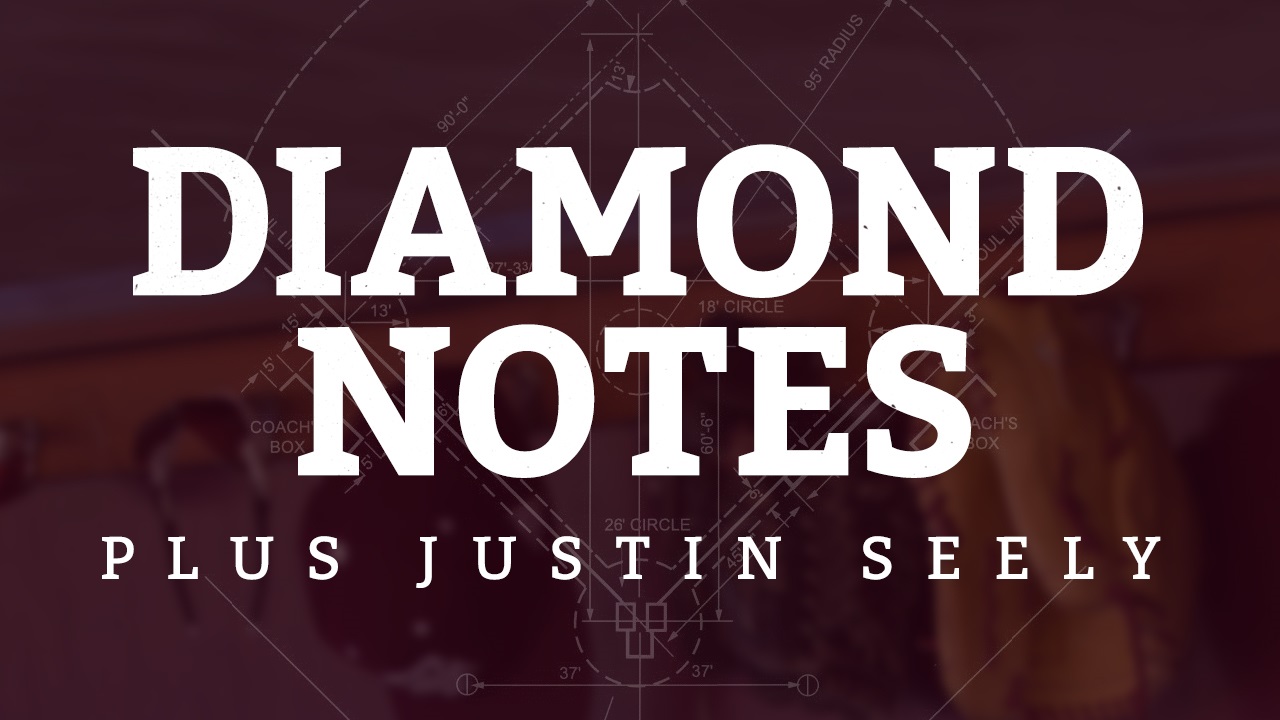 Texas A&M Baseball
Diamond Notes: Texas A&M wins Round Rock Classic, finishing week 3-2
---
Color me a fair amount more encouraged about Aggie Baseball 2021 as I sit here and type out my thoughts for you on a Monday afternoon vs. where I was at this time last week.
The week didn't start much better than where we were left after the opening weekend series loss to Xavier. What followed was a loss to Abilene Christian and an extra-innings grinder of a win over Tarleton State. To say that the Aggies were limping into the Round Rock Classic at 2-3 would be an understatement, but that's the beauty and beast about the sport of baseball — you get to go out almost every single day and prove yourself.
When it's going bad, it can certainly be difficult at times to turn it all around, but the thing about baseball is that you get an opportunity to turn your momentum around and get it going the other direction.
That's what happened on Friday night, as the Aggies pounded a mediocre Baylor team, 12-4, to start the Round Rock Classic in style. A&M followed that by scoring seven runs in the opening frame vs. Oklahoma in an 8-1 win on Saturday night. The Ags suffered a 6-1 in the final game to Auburn, which was winless on the weekend entering Sunday.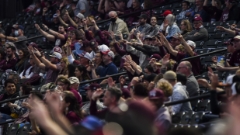 Jamie Maury, TexAgs
It always feels a little bit like a thud when you win two games in a weekend but lose the third. However, you have to come away encouraged overall by A&M's showing in Round Rock. We'll see if it leads to more consistent baseball, something this team struggled with through eight games and something I'm afraid might well continue throughout the 2021 campaign.
It's still way too early to give a true assessment of this baseball team. You might be disappointed in the inconsistency you see on the mound and what A&M got out of the bullpen. Still, you have to be highly encouraged by what the Aggies are getting from LHP Joseph "Moo" Menefee and RHP Mason Ornelas in late relief, and the starting pitching was much better in week two.
Yes, the Aggies scored 21 runs in three games in Round Rock, but 19 of them came in the first 10 innings of the weekend. A&M managed just two runs over the final 17 innings. Again, quite a bit of hit and miss so far as we sit here eight games into the season.
Each week, we look back on the week that was with a "Good, Bad and Ugly" spin-off and breaking it down into four categories: Good, Average, Bad and Excellent
Here is this week's G.A.B.E., looking specifically at the three games in the Round Rock Classic:
Good
Will Frizzell. The Aggies' most consistent hitters and the one mainstay in the middle of the A&M lineup so far this season continued his hot start at the plate, going 3-for-5 with his fourth homer of the season and a couple of RBIs vs. Baylor. After an 0-for-3 showing with a couple of barreled-up outs against Oklahoma, Frizzell came back on Sunday with a 2-for-4 showing in the loss to Auburn, including a late double and scoring A&M's lone run in the 9th inning. Frizzell is slashing .387/.474 /.871 with four homers, eight RBIs and 12 total hits in eight games. Very strong start for a young man who was apparently close to calling it a career two years ago due to multiple knee injuries that left him hardly able to get out of bed. Credit Will for his grit to keep fighting. It's certainly paying off now.
Starting pitching. A much better display from the starting trio of LHP Dustin Saenz, RHP Bryce Miller and LHP Jonathan Childress in week two. The veteran arms combined to allow just four runs in 16.2 innings of work in Round Rock and experienced far less adversity this week while facing a rather significant uptick in competition.
• Saenz was strong vs. Baylor's lefty-oriented lineup, working around nine hits over 5.2 innings of work. He gave up three runs (all earned) but no crooked numbers and pitched his way out of several jams. Saenz struck out five Bears without walking a man in his second outing of the season.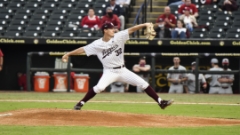 Jamie Maury, TexAgs
• Miller took the ball in game two vs. a mostly right-hand lineup and got through five complete frames, allowing just one hit and no runs. He did walk three hitters but struck out five and got a significant strikeout to end the fifth inning, stranding a pair of runners on base.
• For the second straight week, Childress enjoyed the best start of the weekend. Unlike last week, he got no run support to back up his appearance on the hill. The third-year freshman (that's right) went at a very good War Eagle lineup and got through six innings, giving up just one run on four hits, issuing three free passes and fanning four.
I liked the setup of giving the ball to Saenz in game one and having him eat up at least five, if not six, innings, then allowing Miller to give you all he's got. If his start doesn't last more than the five-inning range, A&M should have plenty of bullpen help behind him in game two if Saenz does his part. We'll see if Rob Childress elects to roll that way or goes back to Miller on Fridays.
Average
Two-out hitting. A&M hit .324 on the weekend with two outs. That's not a bad number at all, especially for a team currently hitting .245 overall. This isn't in the "good" category because A&M's success with two outs got worse and worse as the weekend wore on, going from .438 vs. Baylor to .300 vs. OU and finishing .182 with two outs against Auburn. I don't think the Aggies will be nearly as good with two outs as we saw against Baylor but should be quite a bit better than the output against the Tigers.
The Blaum/Minnich combo at the top of the order. Bryce Blaum appears to be the answer for the Aggies in the one-hole. He hit leadoff in all three games and collected four hits, drove in a couple of runs and scored three times. He also walked twice and struck out once in Round Rock. I would label his start to the season as "solid" and "much-needed." The senior was beaten out at second base by Logan Sartori to open the season, but a lack of success in the leadoff spot has given him new life. Blaum is taking advantage of it, slashing .318/.448/.455 with seven hits and a team-leading six walks in six starts. Blinn transfer Brett Minnich has seemed to settle into the two-hole and is enjoying a solid start to his career at A&M. The sophomore had a hit in all three games over the weekend and scored three runs. He currently has a slash line of .304/.414/.391 with a pair of doubles, five walks and just two strikeouts. We'll see if he sticks in the two-hole as A&M continues in its search for answers in front and behind Frizzell.
Bad
The cleanup spot. The four-hole has been a black hole so far this season. It started on Opening Day with Taylor Smith going 0-for-4 with four strikeouts in game one and has continued through the first eight games. The struggles carried into the weekend as Bryan Sturges went 0-for-8 with six strikeouts in the first two games, and Austin Bost went 0-for-4 with a strikeout on Sunday. Now, Bost had a couple of hard-hit balls that found Auburn leather, but 0-for-12 with seven strikeouts from the cleanup position will never get it done. The Aggies need an answer in that spot, and Bost appears to be the most likely option. I could see Sturges get a look in the two-hole, with Minnich hitting fourth. I could also see Zane Schmidt getting a shot in the four-hole. Then there's always a re-emergence of Taylor Smith or Trevor Werner, but the struggle is real in the swing-and-miss category with those two hitters early.
The bullpen minus Menefee on Saturday and Sunday. A total of six arms got into the game behind starters Miller and Childress, and LHP Joseph Menefee was the only one that really showed up and did his part. The rest of them — RHP Alex Magers, RHP Nathan Dettmer, LHP Will Johnston, RHP Gabe Craig and RHP Trevor Werner — combined to give up five runs and 12 hits in just 5.1 innings of work. You want to see fewer hits allowed than innings pitched. Not. Good.
Excellent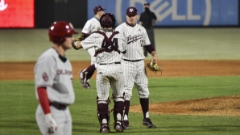 Jamie Maury, TexAgs
Veterans Joz and Moo out of the pen. On Friday night, veteran lefty Chandler Jozwiak busted out of his early-season struggles with a strong performance behind Saenz, giving up one run on one hit over 2.1 relief innings, punching out four without walking anyone vs. Baylor. It was by far the best he's looked so far in '21. On Saturday, Menefee came in against Oklahoma and slammed the door on the Sooners to the tune of five strikeouts in 1.2 innings. Menefee walked the first batter he faced but proceeded to strike out the next five to close the game. The Menefee that we saw in flashes in 2019 is back in a big way and looks better than ever. He has 11 strikeouts in 4.1 innings so far. That's 11 Ks out of 13 outs recorded so far. I think it's become abundantly clear who the closer should be for this team moving forward.
Best thing that happened in the Round Rock Classic
Logan Britt's three-run homer during the seven-run first inning vs. Oklahoma
Ask anyone around the A&M program, and almost anyone will tell you that Logan Britt is one of the most talented players on the entire roster. He's also a draft-eligible freshman with potential that could get him selected in the first 3-4 rounds. However, the production hasn't come close to matching the natural gifts and ability to this point. Britt started three games in center field over the weekend and had two hits, including a big three-run BOMB over the wall in straight-away center field during A&M's seven-run outburst against the Sooners to open the game. Let's file this one away and see if it leads to continued opportunities and further success for the prospect out of Colleyville Heritage.
The Five Factors: Offense
Here's a look at what the Aggie bats did in five critical situational areas vs. Baylor...
Two-outs: .438 (7-for-16)
Runners on: .360 (9-for-25)
Runners in scoring position: .333 (4-for-12)
Leadoff OBP: .333 (3-for-9)
Two-out RBI: 7
Here's a look at what the Aggie bats did in five critical situational areas vs. OU...
Two-outs: .300 (3-for-10)
Runners on: .417 (5-for-12)
Runners in scoring position: .500 (4-for-8)
Leadoff OBP: .125 (1-for-8)
Two-out RBI: 2
Here's a look at what the Aggie bats did in five critical situational areas vs. Auburn...
Two-outs: .182 (2-for-11)
Runners on: .111 (1-for-9)
Runners in scoring position: .000 (0-for-2)
Leadoff OBP: .222 (2-for-9)
Two-out RBI: 0
Here are the updated season totals in all five critical situational areas...
Two-outs: .280 (26-for-93)
Runners on: .290 (40-for-138)
Runners in scoring position: .273 (24-for-88)
Leadoff OBP: .352 (25-for-71)
Two-out RBI: 2.6 PG (21 total)
The Five Factors: Pitching
Here's a look at what the Aggie pitching staff did in five critical situational areas vs. Baylor...
Two outs: .333 (5-for-15)
Runners on: .235 (4-for-17)
Runners in scoring position: .444 (4-for-9)
Leadoff OBP: .444 (4-for-9)
Two-out RBI: 3
Here's a look at what the Aggie pitching staff did in five critical situational areas vs. OU...
Two-outs: .000 (0-for-9)
Runners on: .048 (1-for-21)
Runners in scoring position: .000 (0-for-14)
Leadoff OBP: .556 (5-for-9)
Two-out RBI: 0
Here's a look at what the Aggie pitching staff did in five critical situational areas vs. Auburn...
Two-outs: .300 (3-for-10)
Runners on: .250 (6-for-24)
Runners in scoring position: .333 (5-for-15)
Leadoff OBP: .667 (6-for-9)
Two-out RBI: 2
Here are the updated season totals in all five critical situational areas...
Two outs: .244 (22-for-90)
Runners on: .204 (31-for-152)
Runners in scoring position: .204 (20-for-98)
Leadoff OBP: .438 (32-for-73)
Two-out RBI: 1.75 PG (14 total)
Parting Shots
I'll be interested to see if Rob Childress elects to start right-hander Mason Ornelas after his impressive pair of outings in relief so far.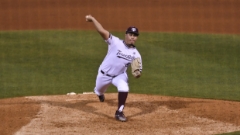 Jamie Maury, TexAgs
Maybe that is why the second-year freshman did not get into a game in Round Rock. Ornelas is clearly one of the top arms on the pitching staff, and Rob has a tough call to feel out exactly where Ornelas will impact A&M the most. There's no doubt that he could start games because of his temperament and a true four-pitch mix, any time and in any count.
Another five-game week coming up, with A&M hosting HBU and Incarnate Word in the midweek before welcoming the Aggies of New Mexico State in for three games this weekend.
These games all should be wins for A&M, but there are no guarantees with this team combined with the added experience that we're seeing these mid-major squads bringing back thanks to the COVID-19 shutdown.
At any rate, here's looking for a 5-0 week and for A&M to begin finding answers to major questions in the middle of the lineup, the revolving door all over the outfield, the order of the weekend rotation and what gives you the best chance at series wins and the bullpen depth.
TexAgs will have full in-game and postgame coverage of all five games this week from Olsen Field at Blue Bell Park.
---

Key notes from Justin Seely interview on TexAgs Radio
Taking myself out of my baseball coaching shoes, there's a lot of funky things going on in college baseball right now. I think that has to do with things like eligibility, and it's caused teams in the middle of the pack to get a lot better. There are fewer fans in the stadium — a lot of different things going on.

We were a lot better on Friday and Saturday this week, and we need to put together a complete weekend now.

You evaluate not only guys' performance in the field during games but day-in and day-out during practice. However, you can't keep running someone out there that's not getting it done. You saw us go with a more veteran lineup at times this weekend.

As we move through this weekend, I'm starting to feel really good about five or six guys establishing themselves in the lineup, but we still need to get the last few settled. We will continue working at it every day until we find the nine that will play the best together as a team. I think we're heading in the right direction.

Will Frizzell has come a long way. I think it has to do with his mental toughness. I could go on and on about the work that he has put in, but he probably wouldn't like that. He is the man he should be at this point, and there are no longer even discussions about his knee. He's done a great job getting himself ready to go, and he's reaping those rewards.

Bryce Blaum did not perform great leading into the season, and he would tell you that. We started the guys who had performed well leading into Opening Day. When you have depth, it's tricky to find the best nine together. On Opening Day, Bryce's attitude couldn't have been any better. He was upbeat and went out there the next day and delivered like he always thought he could.

Will is doing a good job at taking his shots when he can. He's aware when he is being pitched around. I did like Austin Bost's at-bats this weekend. It didn't show in the box score, but he may be able to help us get some protection for Frizzell in the middle of the lineup. In the game against Oklahoma, despite not scoring late, we put together good at-bats.

On Sunday against Auburn, they really kept us off balance, and we weren't able to barrel up the ball. We might not have the best average as a team, but we should slug the ball pretty well. Auburn took that away from us.

Actions show how we feel about some of the guys who are struggling in games at the moment. I've talked to them, and at the end of the day, you have to keep chugging and coming to work every day. The big message to them is to not strike out as much. When you're writing a lineup, you want to avoid the punch out as much as possible. I think they are pressing, but we will do our best to keep giving them opportunities.

The pitching is starting to clean itself up. Joseph has been great. Dustin Saenz was great on Saturday, commanding the strike zone with multiple pitches. Pitching behind Saenz allowed Bryce Miller to go air it out with a fresh pen behind him. Jonathan Childress was good on Sunday, and maybe we should have run him out for an extra-inning. A lot of good from the bullpen this weekend. Right now, I say we have seven of our nine spots "settled." We need to fill those last few roles.
Never miss the latest news from TexAgs!
Join our free email list