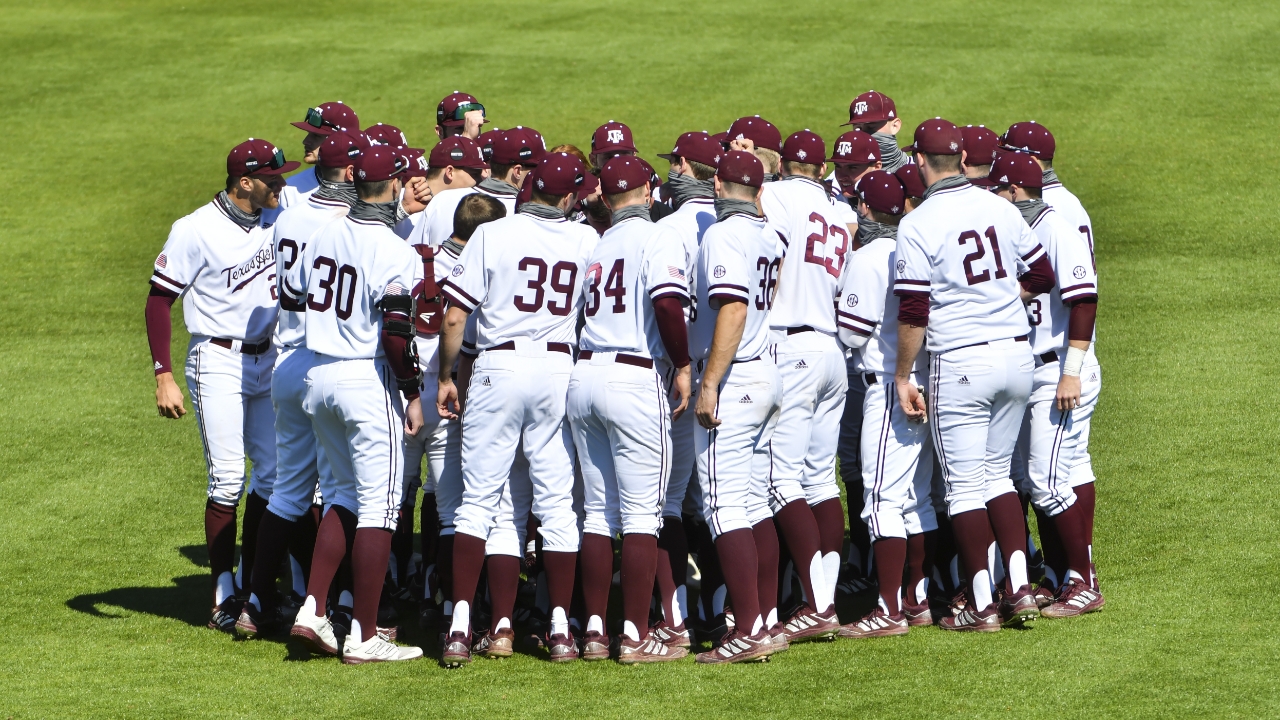 Photo by Jamie Maury, TexAgs
Texas A&M Baseball
Series Preview: Texas A&M at the Round Rock Classic
---
Also included above is Diamond Talk with Gabe Bock, Ryan Brauninger and Scott Clendenin from Friday's edition of TexAgs Radio.
Who: Baylor - Fri (1-2, 0-0 Big 12), Oklahoma - Sat (2-2, 0-0 Big 12), Auburn - Sun (5-0, 0-0 SEC)
Where: Dell Diamond – Round Rock, Texas
When:
Pitching matchups
Friday: Dustin Saenz (LHP, 0-1, 3.60) vs. Blake Helton (RHP, 0-0, 4.91)
Saturday: Bryce Miller (RHP, 0-0, 9.42) vs. Jake Bennett (LHP, 1-0, 3.60)
Sunday: Jonathan Childress (LHP, 0-0, 0.00) vs. Mason Barnett (RHP, 0-0, 0.00)
Scouting - Round Rock Classic
Friday 6:00 - Baylor
The Baylor baseball team struggled in week one, losing two of three games to UT-Rio Grande Valley in Edinburg. The Bears had trouble on the bump, surrendering 23 runs on 31 hits in the three-game set.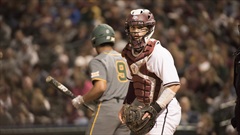 Marc Flores, TexAgs
Head coach Steve Rodriguez will send sophomore Blake Helton to face the Aggies on Friday. He jumped out slowly, giving up five hits and four runs in 3.2 innings of work in his first start. Looking at his career stats at Baylor, his numbers don't shine with an ERA of 21.00 in a shortened 2020 and 4.75 in 2019.
On the other hand, the Bear offense had a good weekend, and hitting has been the strong suit of the Rodriguez era since 2015. Baylor generated 24 runs on 40 hits last weekend. Second-year freshman Jared McKenzie started 2021 with a bang, swatting two home runs, driving in five RBIs and hitting .467 vs. UTRGV. McKenzie hit .406 last season and earned freshman All-American honors. Baylor hit .333 as a team and will pose a big test for A&M starter Dustin Saenz.
Saturday 6:00 - Oklahoma
Due to weather, the Sooners got a late start on the season, playing Omaha on Sunday. As with Texas A&M and Baylor, Oklahoma struggled against "lesser" early-season competition, splitting a pair with Omaha before dropping a Tuesday contest against SFA.
Sooner hitting has been stone-cold through week one, with a team batting average of .213. The Boomers aren't doing much booming with a tepid slugging percentage of .353, which is forty points lower than Texas A&M's .391. No single hitter screams "DANGER" at the plate, with the team leader in batting average sitting at .333. The Sooners' defense hasn't been clean either, committing seven errors in four games.
While the Sooners haven't announced a starting pitcher for the A&M game, the assumption is Jake Bennett (Monday's starter) will get the call. He had a solid outing against Omaha, giving up two runs in five innings and striking out an impressive 10 batters. He'll likely be the best pitcher A&M has faced in 2021.
Sunday 11:00 - Auburn
As with every team in this tournament, Auburn has played a cupcake schedule against Presbyterian and Alabama A&M. The difference here is that No. 21 Auburn did what they were supposed to do and dominated its competition — outscoring their opponents 73-7. Even by "cupcake" standards, Auburn's opponents were much weaker than Texas A&M's. Still, the Tigers took care of business in convincing fashion.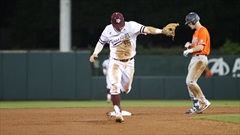 Mintie Betts, TexAgs
The team is hitting .398, and the pitching staff has a combined ERA of 1.08. Now, these stats aren't all that relevant given the competition.
The Aggies will likely face sophomore Mason Barnett, who won his opening start against Presbyterian and threw four scoreless innings, allowing three hits and walking two. In limited work from the bullpen in 2020, Barnett struck out 16 batters in just 7.2 innings and a 3.52 ERA. He has wipeout stuff, and the Aggies strike out a lot.
Texas A&M storylines to watch
The Aggies need to get off to a good start in Round Rock.
On paper, Baylor looks like the best opportunity for a win given their early-season struggles on the mound. Texas A&M hitting has been on life support so far, but in the late innings of Wednesday's come-from-behind extra-inning win, the Maroon & White not only fought back with six runs in the final six innings, but hitters were getting much better swings and hitting the ball hard. Time will tell if that was a turning point or if Tarleton State ran out of pitching on Wednesday night. Regardless, the Aggies need to show it against a shaky Bears pitching staff.
All eyes should be on senior Will Frizzell in the middle of the lineup. The coaching staff talked highly of him in the preseason, and his slow start in the first four games made that talk seem more like hype. On Wednesday, the big lefty flashed in a major way with two home runs, a double, two RBIs, and three runs scored. Nobody should expect those numbers every game, but Frizzell's consistent production is critical if this team hopes to rebound from a disappointing first week.
It would also be nice if Taylor Smith can get off the goose egg and overcome his woeful start as he has struck out eight times in nine at-bats. If you recall, Smith was the Opening Day clean-up, hitter and the staff was expecting big contributions at the plate. The talent is there, but so far, not the confidence. If the Aggies can get Smith or another hitter in the middle of the lineup to protect Frizzell in the lineup to provide a substantial 1-2 punch, that could be a huge difference going forward.
Regarding pitching and defense, it's pretty simple: A&M must clean up the sloppy play. Seven errors in five games is too many for this squad. Twenty-four walks and five hit-by-pitches are far too many. Finally, eight wild pitches and five passed balls is unacceptable in five games, especially when several of those led to runs. This team isn't good enough to win with these mistakes. They must play clean.
While starting pitching was solid, the staff needs to be better, and they need to pitch into the sixth and seventh innings. The weekend starters last week pitched 3.2, 5.0, and 4.2 innings, respectively. That won't cut it.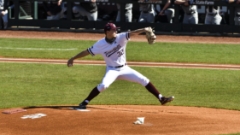 Jamie Maury, TexAgs
Bryce Miller came out smoking, throwing 99 mph, and he struck out the side in the first inning. However, that doesn't matter when he hits his pitch count in the fourth frame and is gone. Pitch counts rise when pitchers get behind and have to expend extra pitches per hitter. They must get ahead in the count and limit the burden on themselves, both physically and mentally. Pitch counts also rise when a hurler is forced to get more than three outs a frame (see shaky defense above).
Finally, the Aggies still need to find a designated closer. Trevor Werner had a disastrous outing on Wednesday. In his first three outings, I thought Joseph Menefee looked as sharp as I've seen him since his freshman All-American season in 2019. Still, somebody needs to emerge in that role over the next couple of weeks.
What's at stake this weekend
Usually, at this early stage of the season, I tell you the Aggies don't have to worry about the results. They need to focus on themselves and play well, and let the chips fall where they may. A loss here or a loss there in early March won't hurt you.
That is out the window after a dreadful 2-3 start. Every pundit or fan had 5-0 penciled in here — at worst, 4-1.
All of a sudden, the results this weekend are big. A&M can't get swept in the Round Rock Classic like they did in the 2020 Frisco Classic. The Aggies rolled into that tournament with a 10-0 record. That team could digest a sweep. The 2021 bunch doesn't have that luxury.
To get somewhat back on-course, this team needs to grab at least two wins to move to 4-4.
That's not ideal, but on the other hand, leaving Round Rock at 2-6 would be devastating. That would force the Aggies to fight their way back above .500 and in position for an NCAA berth against No. 1 Ole Miss, No. 2 Arkansas, No. 5 Mississippi State, No. 11 LSU and No. 7 Florida.
The SEC gauntlet awaits, and the league is better than ever in 2021. That's why loading up the win column in non-conference play is so important. The Aggies have dug themselves an early-season hole, and the only way out is to starting winning ball games in bunches.
That starts this weekend in Round Rock against good but not elite competition.
Never miss the latest news from TexAgs!
Join our free email list