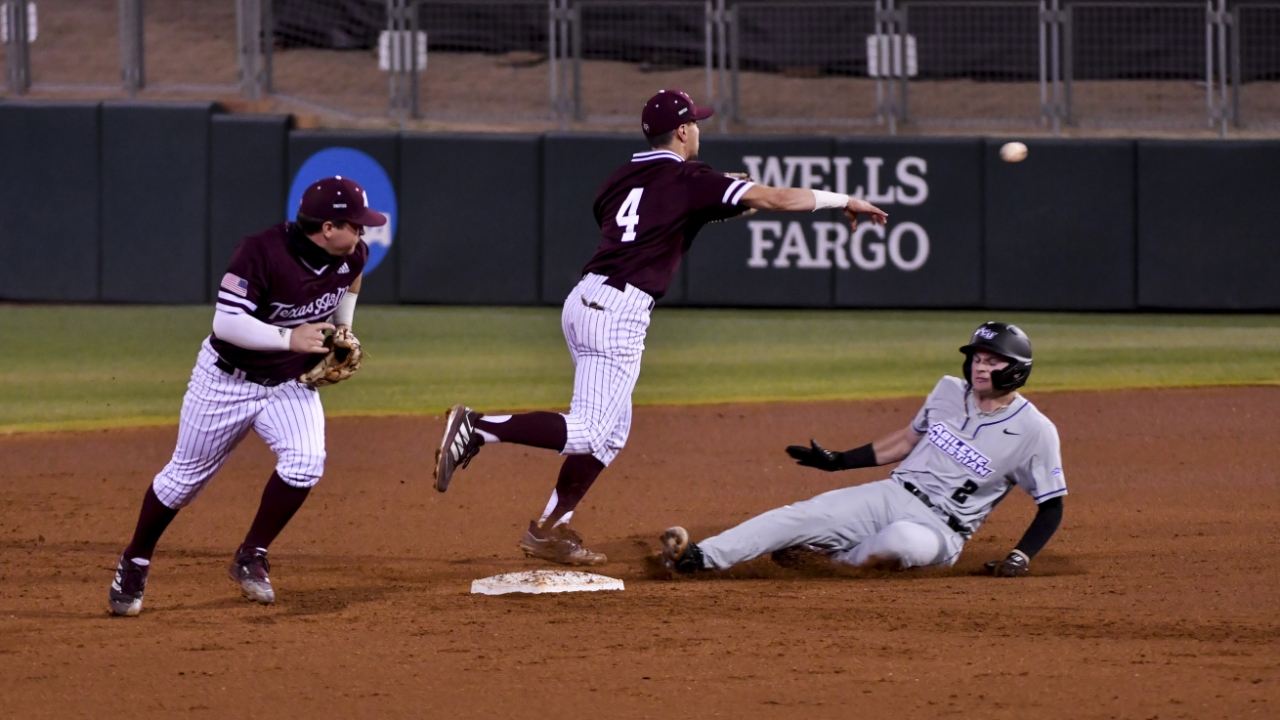 Rob Childress
Will Frizzell
Alex Magers
Texas A&M Baseball
Errors, free bases plague Aggies in embarrassing 6-5 loss to ACU
---
Game #4: Abilene Christian 6, Texas A&M 5
Records: Texas A&M (1-3), Abilene Christian (3-1)
WP: Tanner Riley (1-0)
LP: Joseph "Moo" Menefee (0-1)
Box score
---
Ugly baseball typically leads to ugly losses.
That was Texas A&M's fate on Tuesday as an inexplicable 6-5 loss to Abilene Christian dropped the Aggies to 1-3 on the young season. Errors, free bases and mental mistakes plagued the Maroon & White in their latest loss.
"We're going to get this thing headed in the right direction sooner rather than later. I promise you that."
"We want to play better, and we expect better," said Texas A&M head coach Rob Childress. "We're going to get this thing headed in the right direction sooner rather than later. I promise you that."
Deadlocked in the ninth, ACU's Hunter Gieser roped a one-out double into the right-center field gap, putting the go-ahead run in scoring position.
Pinch-running for Gieser, Alexei Cazarin then advanced to third on a spiked fastball by Joseph Menefee. Bryson Hill hit a sacrifice fly on the next pitch, putting the Wildcats in front, 6-5. The Aggies went without a whimper in the bottom half.
"Stuff like this happens in baseball," said first baseman Will Frizzell. "We got to be better as veterans in the locker room and really get everybody going because we got to be better than this."
The Aggies can begin by focusing on their defense. Three of ACU's six runs were unearned, and a fourth scored as a result of Menefee's wild pitch in the ninth.
"I think the main thing that's really plagued us so far has been free bases," said reliever Alex Magers. "Walks and hit-by-pitches have been not terrible but have definitely been a little more than we would normally expect as a staff."
To Magers' point, Aggie pitchers allowed 10 "free" bases via walks (4), hit batters (3) and wild pitches (3).
Starting pitcher Chris Weber lacked control, lasting just 3.1 innings and walking four. All three runs he allowed were unearned, one of which suffered by Weber's own throwing error on a tailor-made double-play ball that bounced back to the mound in the fourth.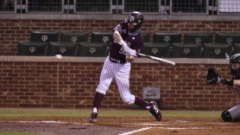 Jamie Maury, TexAgs
That error was the Aggies' second of two in the game, a Kalae Harrison throwing error in the third, which yielded two unearned runs.
"There's no excuse for that," Childress said of his team's poor defense. "Those things get magnified when we weren't scoring an awful lot this evening."
Aggressive baserunning ran A&M out of the fifth when an attempted double-steal got Frizzell, the trailing runner, nailed for the second out. Somehow the Aggies managed to score three in the frame but figured to be on the verge of a much larger inning.
"We ended up scoring that inning, but you know, who knows what could have been," Childress said.
The three-run fifth put A&M up 5-3, but the Aggies failed to hold the lead as pinch-hitter Tommy Cruz drove in two Wildcats to tie the game with a one-out single.
"Grabbed the momentum back in the fifth inning; we go right back out and give back to them in the sixth and just weren't able to overcome it from an offensive standpoint late in the game," Childress said.
The home nine was just 1-for-10 in the final three innings on Tuesday.
After dropping a "guarantee" game, rebounding quickly ahead of their biggest non-conference weekend of the season is crucial. Texas A&M won't have to wait long for the next opportunity as Tarleton State comes to Bryan-College Station on Wednesday night for a 6:30 p.m. first-pitch.
Even if the Aggies win on Wednesday, a weekend with three Power 5 opponents in the Round Rock Classic looms extremely large.
Never miss the latest news from TexAgs!
Join our free email list