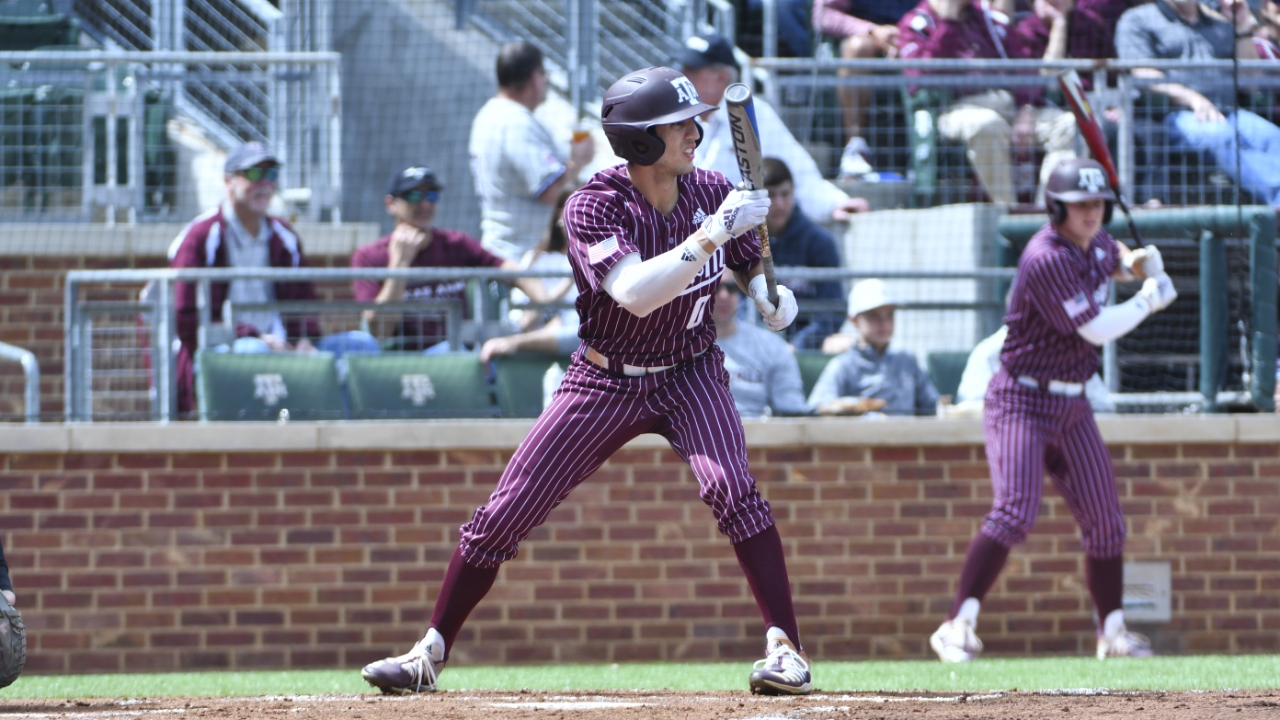 Photo by Tarah Cochran, TexAgs
Texas A&M Baseball
3 Days 'til Aggie Baseball: Best case scenarios for the 2021 squad
---
It's that time of year! The Texas Aggie baseball team is set to open up the 2021 season on Friday against Xavier at Olsen Field at Blue Bell Park. We're counting down the days with our 2021 Aggie Baseball Preview Series.
---
With the Aggie baseball team picked toward the middle of the SEC West and unranked by the national publications, I feel like these preseason articles are being met with quite a bit of speculation and trepidation.
I understand that. While I believe this year's club, like many during the Rob Childress era, contains the talent to make a postseason run, there are plenty of questions. What will the rotation look like? What will the power production be and where will it come from? What will be this team's offensive style? Can they defend at an elite level?
Like I said, there are plenty of questions. So, let's play the "if" game in an attempt to answer some of those questions assuming the best-case scenario for each. That's unlikely to happen obviously, but for the sake of a preseason primer piece, let's just imagine they all come to fruition.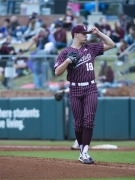 Tarah Cochran, TexAgs
1. This pitching staff will be successful if...
Bryce Miller is the guy you think he is and some of the old heads find their form. Look, replacing Asa Lacy and Christian Roa ain't going to be easy, but you can take a big step toward answering the questions regarding the starting rotation if Bryce Miller can be a bonafide Friday night SEC starter. From there, this A&M team will need a solid campaign from veterans Dustin Saenz, Chris Weber, Jonathan Childress and Chandler Jozwiak. You've got a few weeks to play musical chairs with those weekend starting roles, and there are some really promising young arms.
Regardless of how it sorts itself out though, the success of this pitching staff is going to be on the shoulders of the old guard. Coach Childress has been great in terms of development and production with his arms over the years, and he'll need to do it again with some guys that have been around a while.
2. This offense will be productive if...
You get the type of seasons you're hoping for out of Will Frizzell, Trevor Werner, Logan Britt and Ray Alejo. There are certainly some other key pieces to this. For instance, I think Logan Sartori and/or Bryce Blaum are going to be pretty much a mainstay in the lineup, but a lot of that depends on what happens at DH and where the coaching staff determines defensive needs. However, the group of hitters in that first sentence are the straws that stir the drink.
Number one, Frizz has to stay healthy. By all accounts, he's your most reliable source of power in this offense. His availability to play first base also gives your lineup its most flexibility. Werner and Britt are physical freaks. These are the two most talented kids on the team (along with Bryce Miller). They're big, they can run and they both have a skill set that can carry an offense when they're going right. I threw Alejo in there because I think even with the outfield options, he's going to get a huge chunk of at-bats either at the very top or the very bottom of the lineup. For a team with offensive consistency question marks, if he can get on base at a high rate, it'll help the Aggies' chances to score runs quite a bit.
This isn't a team that's built (on paper at least) to be getting into a bunch of slugfest games. This team needs to be good at winning games in the 5-6 run area, in my opinion.
3. This team wins a lot of games if...
They're good in the important sabermetric numbers. That means they don't walk people, they catch it and throw it at a high percentage, they don't strike out and they produce runs with less than two outs. What I'm saying is this isn't a team that's built (on paper at least) to be getting into a bunch of slugfest games. This team needs to be good at winning games in the 5-6 run area, in my opinion.
Now, could some of these unknown/unproven bats turn into plus power guys and thus run that number a little higher? Sure, and I'm looking at names like Taylor Smith, Ryan Targac and Bryan Sturges. Home runs and legit power are erasers. This team, or any team for that matter, could use more of those. However, I believe a successful 2021 Aggie baseball team will have to pitch to contact, defend at a high level and cut out some of the swing-and-miss to reach its full potential.
Never miss the latest news from TexAgs!
Join our free email list
PRESENTED BY