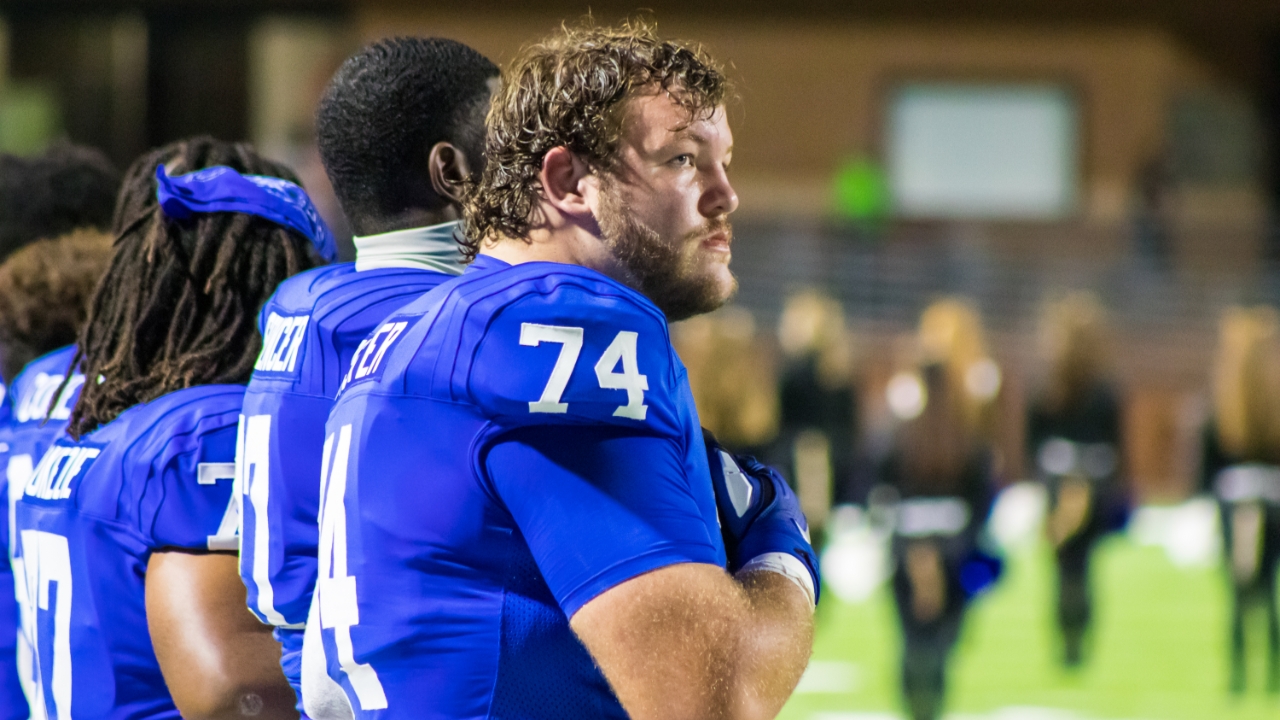 Photo by Walker Lott, TexAgs
Texas A&M Football Recruiting
Foster: Our goal is to turn Texas A&M into the next O-Line U
---
On National Signing Day, Texas A&M OL signee Bryce Foster‍ joined TexAgs Radio to discuss his reasons for signing with the Aggies, the camaraderie amongst the offensive line group in '21 and wanting to turn Texas A&M into OLine-U.
Key notes from Bryce Foster interview
I'm really excited to get to Aggieland. I've been talking to some of the fellow Goons about how it is, and they're really excited about it. We've been texting. I'm not sure what the grocery bill will look like, but I imagine we'll have to buy our own food.

For track & field season, I try to shift my center of gravity down to my hips to have better balance. I usually lose a little weight for track, but for football season, I do whatever they say is best for me. I've lost like about 12 pounds right now. I'm starting to get abs. I'm getting that big sexy feeling back.

I don't want to have a bench press contest with Brauny. I wouldn't want him to hurt that shoulder again.

I've been using the tactics that a lot of other schools have used to help recruit people to Texas A&M, but now I can be the example of how I'm going to this school. A lot of other good offensive linemen are as well. I don't know how guys can say 'no' to Texas A&M.

With the five offensive linemen, we have a great camaraderie together. Matthew Wykoff‍, Reuben Fatheree‍, and Remington Strickland‍, we've played for a long time together. Throw Trey Zuhn‍ into it, and we're always talking, texting, or Snapchatting. We're joking around all the time, and we have a good time together.

I talked to LJ Johnson Jr‍ about A&M's running back history with Achane, Spiller, and the guys that are in the NFL right now. He can be one of those and run behind this next group of Maroon Goons. We're going to turn this into the next O-Line U.

How many colleges do you know that have a nickname for their offensive line? Everyone talks about how it "begins in the trenches," but if you don't have a nickname for your trench group, is it really that important to you? That really stuck out to me. At other places, it's always about one guy. Like Penei Sewell, you heard about how great he was, but you never heard about Oregon's entire group. At Texas A&M, you hear about the Maroon Goons as a group, and that's super cool.

I love to show off my speed. The block 40 yards downfield is awesome. The pancakes are cool, but whenever you're 40 yards downfield blocking for a guy like LJ, you get a little bit of screen time. If I do that, I can wave hi to my mom, dad and brother. I love doing that.

Every day, I'm not sure about the exact calorie count, but (I'm eating) probably about 5,000 calories. There was something at Chili's called the boss burger, and it's like an O-lineman's dream. It has everything you could ever want on a burger.
Never miss the latest news from TexAgs!
Join our free email list