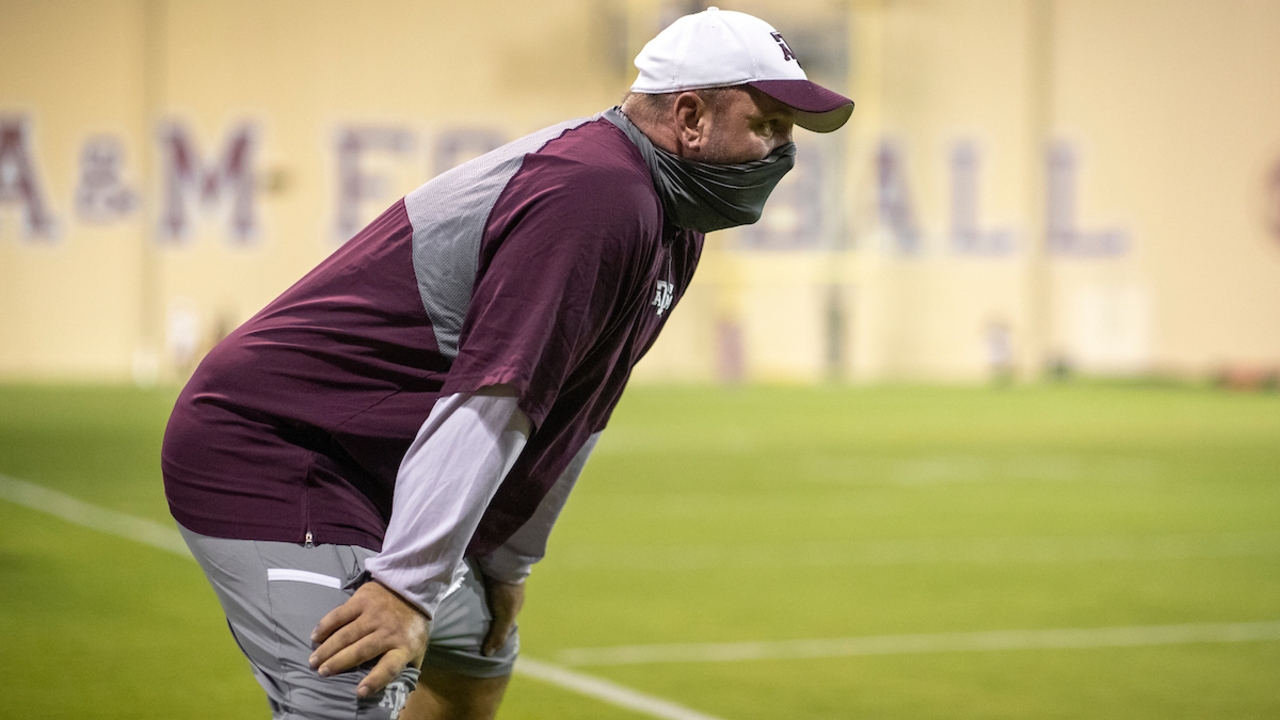 Photo by Texas A&M Athletics
Texas A&M Football
In only three years, Mike Elko has revolutionized Texas A&M's defense
---
Everyone should get a return on an investment like Texas A&M has gotten with defensive coordinator Mike Elko.
The addition of Elko has been like buying blue-chip stock. It's paid off quickly and projects to soar.
The No. 5 Aggies, who face North Carolina in the Orange Bowl on Saturday, are ranked third nationally in run defense and 11th in total defense. That's with just four seniors in the starting lineup.
"I know we've had success this year, and there's been games where we've shown up, but I still think we're just scratching the surface of what we're capable of."
"I still think we're just scratching the surface of what we're capable of," Elko said on Tuesday during an Orange Bowl press conference. "I still think there is a lot of room for us, consistently, to be a more dominating defense, play-in, play-out. I know we've had success this year, and there's been games where we've shown up, but I still think we're just scratching the surface of what we're capable of."
Perhaps. But under Elko, the Aggies have already improved by a mile. Actually, make that 1,480 miles — roughly the distance between the Rose Bowl and Kyle Field.
This season, the Aggies have allowed 31 points or fewer in seven games. That's less than the Aggies allowed in the final 17 minutes in the infamous 45-44 loss to UCLA in 2017.
Of course, that loss was the first step in the process toward hiring head coach Jimbo Fisher, who then hired Elko away from Notre Dame. The defense has steadily gotten better ever since.
In 2017, A&M was ranked 78th in total defense. In one season under Elko, the Aggies improved to 32nd in 2018. Last year, A&M was 29th.
With a strong showing in the Orange Bowl, the Aggies' defense could finish in the Top 10 for the first time since 2001. That's when A&M's suffocating defense was known as the "Wrecking Crew." This year's unit has been so impressive at times that the "Wrecking Crew" moniker has been dusted off.
Elko says put it back on the shelf … for now.
"We are honored when the term 'Wrecking Crew' is thrown around in reference to this defense," he said. "We understand how important that is to Texas A&M tradition and how important that is to this fan base.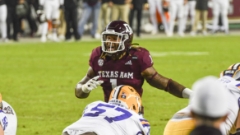 Lia Musgrave, TexAgs
"That (status) was not something that can be accomplished in four quarters, one game, one season, one moment. If we can get to the point where, over the course of years, we are playing at a very high level, we are helping this team win championships...that's what the Wrecking Crew means to me. Not just, 'Hey, you guys came out and played a good game, so the Wrecking Crew's back.'"
The Wrecking Crew might not be back, but at least the wretched few years of defensive futility is gone. Veterans players and star recruits sensed it would be just a matter of time for Elko to rebuild the defense.
"He's an NFL-type defensive coordinator," said senior defensive tackle Jayden Peevy, who's had a strong showing in his first season as a starter. "He showed me a lot. When he first got here, he said don't worry about playing right now. You're going to be playing soon. I believed in him, and I believed in his system."
Sophomore defensive end DeMarvin Leal was among the top prospects in the country in 2019. He was sold on Elko's vision of defense.
"Coach Elko showed me what we wanted the defense to be like and what his plans for it was," Leal said. "I knew from talking to him that he was definitely going to challenge me mentally and physically.
"He was definitely going to be one of those coaches that wants the best out of you every single day. With that being said, I actually fell in love with the way he had the defense set up. I just went with it. I loved it, and I have since then."
But love sometimes means letting go.
As Elko's stature among college football coaches continues to climb, so will the likelihood of him becoming a head coach.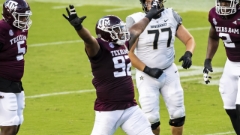 Maria Lysaker-USA TODAY Sports
Someday — probably sooner rather than later — Elko will be offered a head coach job that he cannot turn down.
Until then, though, he says he's happy in College Station.
"I think everyone has ambitions for their future," Elko said. "But those things are just kind of on the back burner. When you're at a place like I'm at, when you're in a program that's one of the best programs in the country, when you're extremely happy in College Station, living in the area we live … it's (head coach job) not something you spend a lot of time focusing on."
Elko is instead focused on devising ways to contain North Carolina and star quarterback Sam Howell.
Elko tweeted about his frustration when A&M was not selected for the College Football Playoff last week. But he has turned his attention to the Tar Heels, who are the sixth highest-scoring team in the country.
"You start watching film on (North Carolina), and you realize how much energy and effort this thing is going to take for us to go out there and have success in this game," Elko said. "It becomes an easy transition to move on to the next thing."
Elko has said that transition was made quickly. Just like the transitioning A&M's struggling defense to a potential Top Ten unit in just three seasons.
"It's been a heck of a ride," Elko said. "I'm extremely proud of how far we've come as a unit. Probably just from a mentality and culture standpoint more than anything. How we go about our day-to-day business. How we approach preparation. How we get prepared to play games.
"I think we've made tremendous strides behind the scenes in all of those areas. I think that has helped the product on the field become better as we've been here over three years."
Never miss the latest news from TexAgs!
Join our free email list
PRESENTED BY