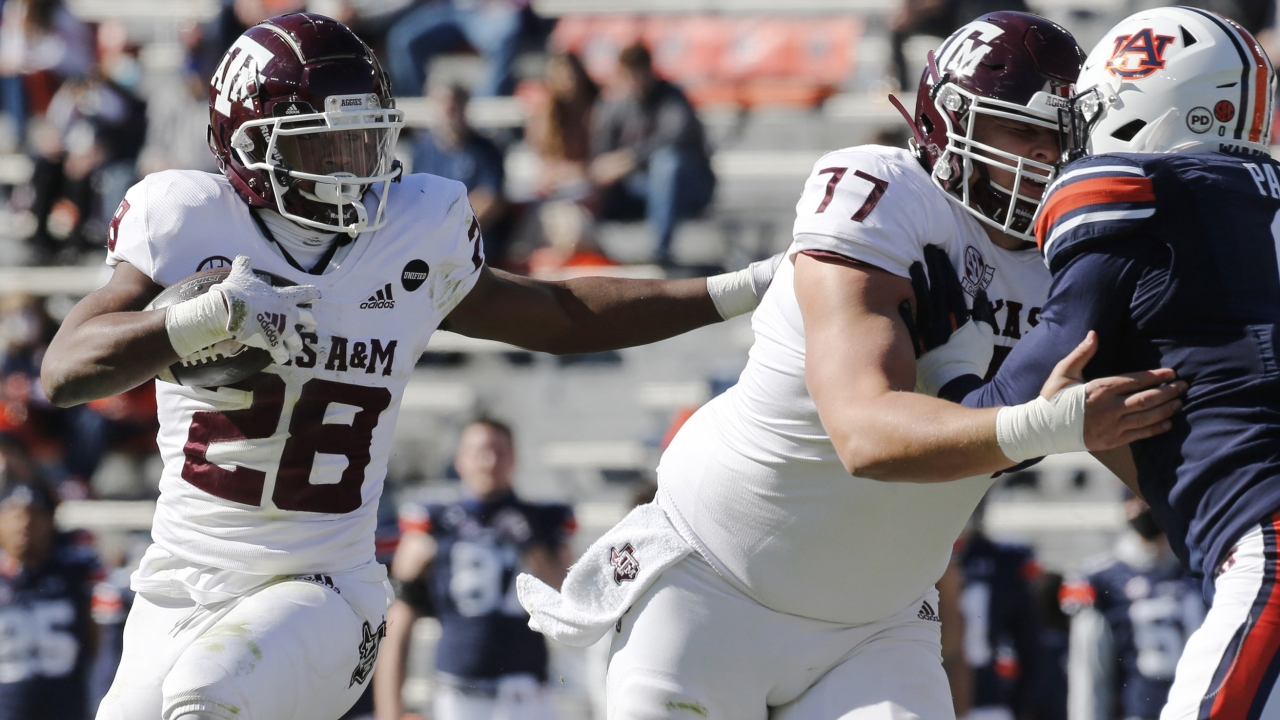 Photo by John Reed-USA TODAY Sports
Texas A&M Football
No. 5 Texas A&M finishes 31-20 win over Auburn in convincing fashion
---
Those needing to define "convincing", reference Texas A&M's 31-20 Southeastern Conference football victory over Auburn at Jordan-Hare Stadium on Saturday.
A double-digit win on the road against a traditional SEC power should qualify as convincing to anyone qualified to judge it.
"Convincing" has been an oft-repeated adjective of late. A&M supporters and detractors have debated how many of A&M's seven wins have been fit the definition.
"I'm glad we're winning. I'm glad we're playing well. We will keep moving on and will evaluate everything at the end of the year. I'm not worried about convincing."
Skeptics should've been convinced by the Aggies' 11-point win over Auburn (5-4).
A&M (7-1) rolled up 509 yards of offense, averaged almost seven yards per rush and dominated the all-important fourth quarter.
That should convince any detractors. However, Texas A&M coach Jimbo Fisher isn't convinced that it matters if everyone isn't convinced.
"I'm glad we're winning," Fisher said. "I'm glad we're playing well. We will keep moving on and will evaluate everything at the end of the year. I'm not worried about convincing."
Alas, others that opine on college football and playoff-worthy teams do.
Word on the street — including words from Herbstreit — is that A&M's 20-7 victory over LSU last week was not convincing, especially not for a team positioned fifth in the College Football Playoff rankings.
Those lobbying for Florida, Cincinnati or BYU to be ranked ahead of A&M might remain stubbornly unconvinced by the win over Auburn.
They'll point to squandered opportunities and uncharacteristic defensive issues. Instead, they should focus on the fourth quarter … 15 minutes that often separate good teams from excellent ones.
On a cool, sunny day on the southeast Alabama plains, the Aggies demonstrated excellence when it was needed most.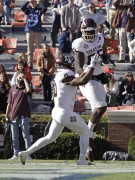 John Reed/USA Today Sports
Penalties, questionable play selection and missed tackles resulted in the Aggies entering the fourth quarter facing a 20-14 deficit.
But then the team that had sometimes stumbled only strutted. A&M outscored Auburn 17-0 in the final 15 minutes.
Quarterback Kellen Mond threw a touchdown pass and completed a deep pass to set up another touchdown. Kicker Seth Small drilled a clutch field goal. The defense, which allowed 319 yards in the first 45 minutes to play, limited the Tigers to just 21 yards in the final 15. Most of those came when A&M was playing back to protect the lead.
"You raise your game," Fisher said of A&M's fourth-quarter surge. "You've got to go higher. You've got to make plays. Your intensity goes up. Your urgency goes up. Your attention to detail goes up."
Through three quarters, the Aggies' blood pressure must have been up.
Mond had thrown a 10-yard touchdown pass to tight end Jalen Wydermyer and had scored on a 1-yard quarterback sneak. Still, they could have had much more than 14 points.
A 15-yard chop block penalty torpedoed a potential scoring drive. A curious decision to pass on third-and-goal from the 1-yard line resulted in a sack and an ensuing field goal attempt sailed wide left. Another drive stalled when Mond opted not to run for a first down and instead threw incomplete into coverage.
Meanwhile, the SEC's top-rated defense was giving up yardage in chunks. Auburn quarterback Bo Nix shook out of an apparent sack by Bobby Brown and scrambled for a touchdown. Running back Tank Bigsby bounced off tackle attempts by Jeremiah Martin and Leon O'Neal to convert a key third down. Nix ran three yards for a touchdown on the next play.
On Auburn's next series, Bigsby had a 42-yard run — the longest by an A&M opponent this season — to set up a 24-yard Anders Carlson field goal. That gave Auburn its 20-14 lead with 4:16 left in the third quarter.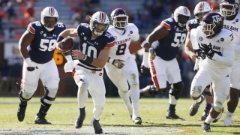 John Reed-USA TODAY Sports
Then, A&M dominated the fourth quarter.
"We looked each other eye-to-eye and looked at ourselves in the mirror," senior linebacker Buddy Johnson said. "We knew we had to step up. I think in the fourth quarter we started to do that. We played as a team, and with that, just the grit we needed and finished."
The offense was clicking, too.
Mond hit Wydermyer with a 20-yard touchdown pass that deflected off Auburn linebacker Zakoby McClain's hands.
"I was wide open down the seam," Wydermyer said. "I didn't see the dude (McClain) until the ball got there. It went off his hands. I kept my eyes on the ball and secured it for a touchdown."
On A&M's next series, Mond passed 37 yards to Ainias Smith, down to the 4-yard line. Smith scored on the next play for a 28-20 lead.
Three Auburn plays later, A&M was back on offense with 6:41 remaining. Relying heavily on running back Isaiah Spiller — who rushed for 120 yards — the Aggies drained more than five minutes off the clock on a 12-play drive for a win-clinching 32-yard field goal by Small.
"I'm very proud of this football team," Fisher said. "I think this is one of the hardest places to play. It was a big battle. It was an important game. We had to have a good performance."
The Aggies' performance was more than good. It was convincing.
Never miss the latest news from TexAgs!
Join our free email list