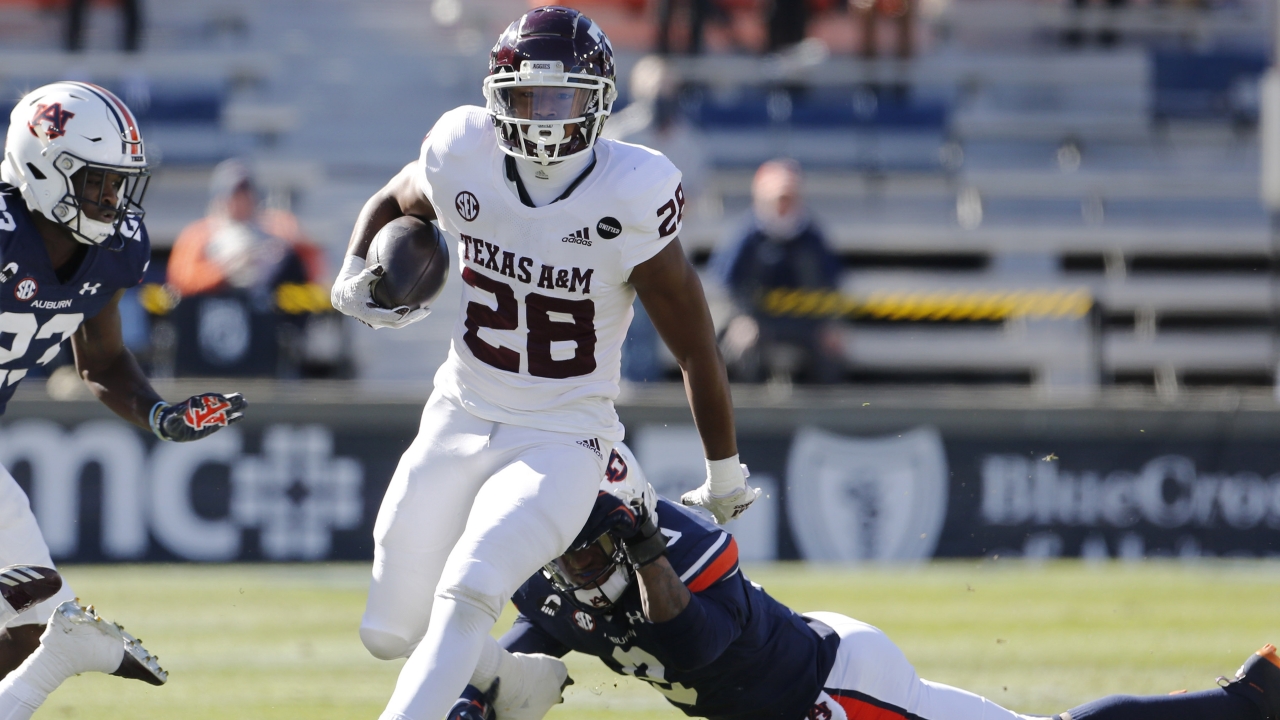 Photo by John Reed-USA TODAY Sports
Texas A&M Football
Post Game Review: No. 5 Texas A&M 31, Auburn 20
---
It's all about how you finish.
No. 5 Texas A&M found a way to defeat Auburn, 31-20, on Saturday afternoon. The win is the Aggies' first over Auburn since 2016 and keeps their playoff hopes very much alive.
A week after Mike Elko's defense held LSU scoreless for 59:22, it was the Aggie offense that had to do the heavy lifting on The Plains. Jimbo Fisher's offense scored 17 unanswered points in the final 14 minutes of play to pull off the comeback victory.
Trailing 20-14 early in the fourth quarter and facing a crucial third-and-11 situation, Kellen Mond found Chase Lane over the middle as a clutch diving snag moved the sticks. On the very next play, Mond's deep pass was tipped right into the waiting arms of Jalen Wydermyer for the touchdown. Seth Small's PAT gave the Aggies the lead once again.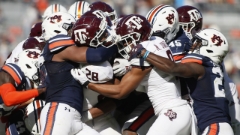 John Reed-USA TODAY Sports
That touchdown drive came after the Aggies forced Auburn to settle for a 24-yard field goal in the red zone.
Despite struggling for much of the afternoon, A&M's defense then forced a lightning-quick three-and-out to preserve the one-point lead.
Mond & Co. would push the lead to eight points on their next possession. A rare first-down deep-shot to Ainias Smith was complete for 38 yards, setting up first and goal at the Auburn 4. Smith would follow lead-blocker Isaiah Spiller into the endzone one play later.
The Aggie defense held firm again, forcing another Auburn punt. The change in possession allowed Fisher to wind 5:32 off the clock with methodical and effective rushing from Mond, Spiller and Smith. Small's 32-yard field goal barely snuck through the uprights to give A&M an 11-point lead with 1:09 to play.
As mentioned above, the Aggie defense struggled for much of the day. Auburn's ground attack was near-lethal as the Tigers ran for 196 yards, and Bo Nix appeared to be covered in Crisco as would-be tacklers couldn't bring the Tiger quarterback to the ground on multiple occasions.
Fortunately, A&M's running game was just as deadly. Spiller rushed for 120 yards. Devon Achane ran for 99. Even Mond ran the ball effectively late in the contest, finishing with 60 yards on the ground.
The Aggies opened the contest with a brisk touchdown drive, culminating in a 10-yard pass to Wydermyer to open the scoring. After Auburn failed to move the sticks on their opening drive, it appeared Texas A&M would bolster their resume with a "convincing" victory. However, the game would be much closer than the Maroon & White would have preferred.
A&M found little success on their second offensive series, and Auburn responded with a 37-yard field goal from Anders Carlson.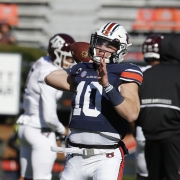 John Reed-USA TODAY Sports
Although Achane ran well on the ensuing drive, the Aggies had to settle for a field goal try as they couldn't punch it in on third-and-goal from the 1. Seth Small subsequently shanked the 28-yard attempt wide left.
Auburn capitalized as short passes and quarterback keepers gashed the Aggie defense. On second-and-5, Nix appeared to be sacked, but somehow, the Tiger signal caller escaped and scrambled for a 5-yard touchdown run to give the home team its first lead of the contest.
The Aggies responded immediately as strong running from Spiller and Achane took the Maroon & White down the field in just 3:12, resulting in a Mond keeper for a 1-yard touchdown to regain the lead with 24 seconds remaining in the first half.
Poor tackling and an inability to keep Nix in the pocket plagued A&M's defense on the opening drive of the third quarter as the Tigers found the endzone again, taking a 17-14 advantage. Auburn would extend their lead to six points on their next possession as Carlson hit a 24-yard field goal as A&M's defense did just enough to keep the Tigers getting six.
While the win may not have been as "convincing" as some hoped, the Aggies did what was needed to return to Aggieland with a shot at getting into the College Football Playoff. Texas A&M is expected to host Ole Miss next Saturday at Kyle Field. Kickoff time between the Ags and Rebels has not yet been released.
RUMBLED: Whenever you rush for 313 in a Southeastern Conference clash, it's safe to say you rumbled. The Aggies found a ton of success running the ball, and sophomore Isaiah Spiller led the way with 120 yards on 20 carries.
STUMBLED: Texas A&M's run defense seemingly didn't show up on Saturday. However, "stumbled" implies that you eventually found your footing, which the defense did, forcing stops at critical times.
TURNING POINT: With Auburn leading 17-14 late in the third, Texas A&M's defense forced the Tigers to settle for a short field goal. Keeping it a one-score game gave the Aggie offense a chance to complete the comeback.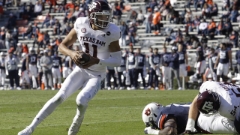 John Reed-USA TODAY Sports
UNSUNG HERO: Kellen Mond was fantastic on Saturday. Mond completed 18 of 23 passing attempts for 196 yards and two touchdowns through the air. On the ground, he added 60 yards and another score. Although those stats don't pop, his consistent play was a big reason why the Aggies won the game.
KEY STAT: Fourth-quarter points. Two years ago on The Plains, Auburn outscored A&M 14-0 in the game's final stanza as the Tigers pulled out the win. On Saturday, the Aggies flipped the script as the Aggies held a 17-0 advantage in the last quarter.
Scoring Summary
First-quarter
A&M: 8:42 - Kellen Mond 10-yard touchdown pass to Jalen Wydermyer. Drive: 11 plays, 75 yards. TOP: 6:18. Texas A&M 7, Auburn 0
Second-quarter
AU: 14:11 - Anders Carlson 37-yard field goal. Drive: 12 plays, 71 yards. TOP: 4:14. Texas A&M 7, Auburn 3
AU: 3:36 - Bo Nix 5-yard touchdown run. Drive: 9 plays, 80 yards. TOP: 4:33. Auburn 10, Texas A&M 7
A&M: 0:24 - Kellen Mond 1-yard touchdown run. Drive: 8 plays, 75 yards. TOP: 3:12. Texas A&M 14, Auburn 10.
Third-quarter
AU: 10:36 - Bo Nix 3-yard touchdown run. Drive: 9 plays, 75 yards. TOP: 4:24. Auburn 17, Texas A&M 14
AU: 4:16 - Anders Carlson 24-yard field goal. Drive: 8 plays, 72 yards. TOP: 3:38. Auburn 20, Texas A&M 14
Fourth-quarter
A&M: 13:31 - Kellen Mond 20-yard touchdown pass to Jalen Wydermyer. Drive: 11 plays, 75 yards. TOP: 5:45. Texas A&M 21, Auburn 20
A&M: 8:12 - Ainias Smith 4-yard touchdown run. Drive: 7 plays, 77 yards. TOP: 3:42. Texas A&M 28, Auburn 20.
A&M: 1:09 - Seth Small 32-yard field goal. Drive: 12 plays, 55 yards. TOP: 5:32. Texas A&M 31, Auburn 20.
Never miss the latest news from TexAgs!
Join our free email list