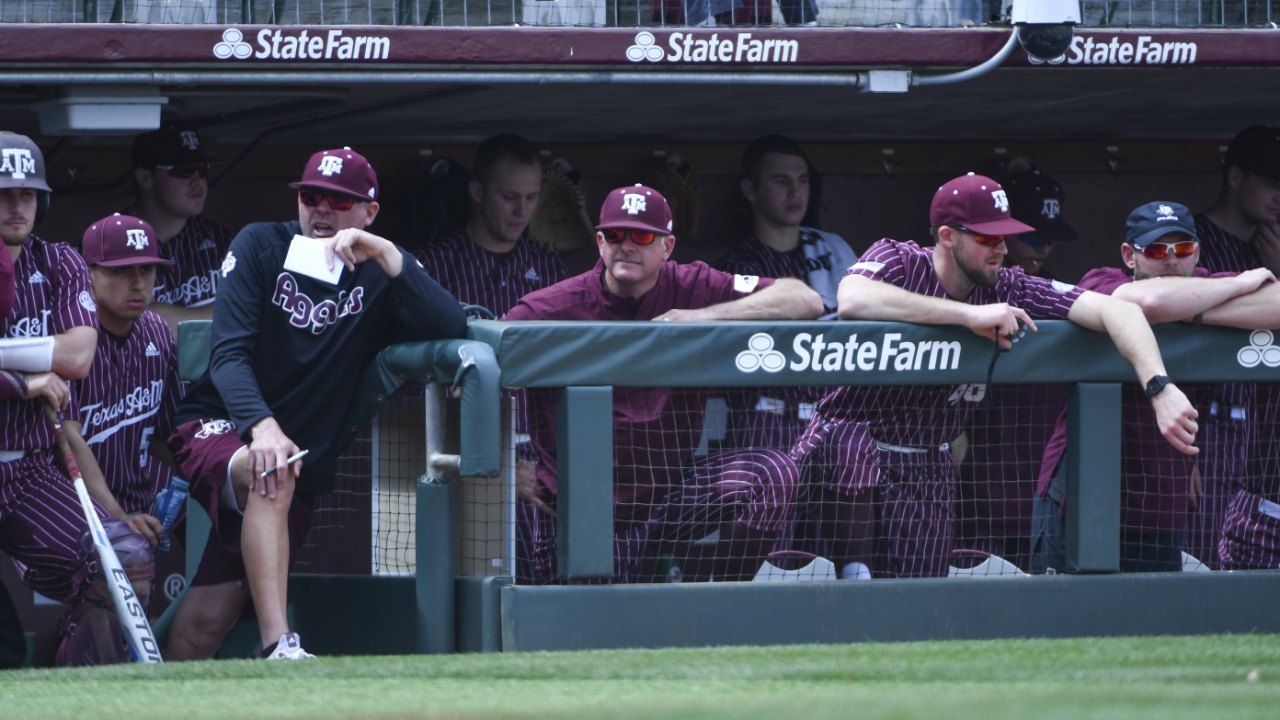 Rob Childress
Justin Seely
Texas A&M Baseball
Class Breakdown: Aggie Baseball adds 14 in 2021 signing class
---
Press play above for interviews with Rob Childress (audio) and Justin Seely (video).
Texas A&M Baseball added 14 talented high school prospects in its latest recruiting class, as high school players were eligible to sign on the dotted line on last Wednesday's National Signing Day.
"For us, it's almost like Christmas morning with the opportunity to have signing day on Wednesday and see the culmination of a lot of hard work out of our recruiting coordinator Justin Seely, Chad Caillet and the rest of our staff," says head coach Rob Childress. "This class is one that has gone on for the last three or four years when you look how hard it is and how far out you have to recruit, I think at the end of the day it's the greatest tribute to Justin Seely. I think he's one of the best in the country and does such a great job identifying talent but also cultivating and developing relationships with these kids."
The COVID-19 pandemic slightly affected the recruitment of this class, but since baseball recruiting classes are largely assembled multiple years in advance, Seely was able to grab commitments from most of this year's signees before the college and high school seasons were canceled.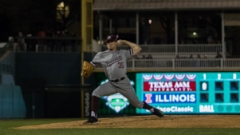 Angelina Alcantar, TexAgs
"The bulk of this class was put together before March 2020, so we'd had a lot of work done with this class with the exception of a few guys," Seely says. "We got to evaluate most of these guys in person, and we felt like it went very well from the get-go. I think we probably got two of the top players in the state right away at a very young age. Izaac Pacheco and Rawley Hector might've been the first two guys we signed, and then we just started tacking on from there.
"We felt like we needed to sign a bigger class than we typically do because I think we might break the record for draft picks. A lot of these guys are going to have to step up and play right away. I felt like we were going to be having a lot of turnover, so we needed to have a larger signing class to fill holes that we were going to have on our roster."
This class is especially pitching-heavy, as nine of the 14 — eight righties and one lefty — will have a chance to pitch for the Aggies when they get to campus.
"When you look at the 2021 team that we currently have in place, we are going to have an incredible amount of turnover on the mound," Childress explains. "The opportunities for pitching to come in and be impactful right away is the reason it is a pitching-heavy class."
Seely pinpoints several members of this class as guys who A&M might have to fight to get to campus because of their MLB Draft possibilities, including Pacheco, a 6-4, 205-pound shortstop from Friendswood, Rawley Hector, a right-handed pitcher from Anna, and Ryan Prager, the lone left-handed pitcher of the class.
"I'd say there are 9 or 10 guys that we're going to have to sweat, and that is something you consider," Seely says. "You want to take the best players that you can take that match the mindset of your program that also have a belief in school. After you get past those three or four things, then you get to the point where you're like, 'Okay, have they been seen quite a bit, have they not been seen?' That's kind of a second-tier thing that you get concerned about, but it's something you have to factor in.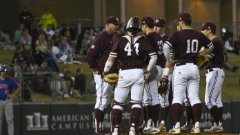 Tarah Cochran, TexAgs
"I'm glad we got all the signatures, and I'm glad these guys decided to pick us."
The 2021 MLB Draft will take place on July 11 and is expected to contain 20-30 rounds, after the 2020 Draft had only five rounds. Childress believes those adjustments will only add to the potential of losing signees to professional baseball.
"This is going to be different than any other year with the draft being pushed back to mid-July," Childress concludes. "Hopefully there will be a drop-dead date put on that, but you're looking at possibly losing a kid to the draft in mid-August, and that's going to be hard to replace. There's certainly a few of these guys I could pinpoint right now, and maybe one that comes out of nowhere and makes a jump this spring that we're going to have to sweat. That's the way it is at every SEC campus when you talk about baseball recruiting. If you're not sweating them, then you probably didn't recruit good enough."
Class Breakdown
TexAgs conducted interviews with Childress and Seely. Seely offered an in-depth scouting report of each player as well as interesting tidbits from the player's background and recruiting. Childress detailed each pitcher and also sprinkled in other analysis.
Brayden Edwards, RHP (6-4, 200, Fannett, TX – Hardin-Jefferson HS)
Recorded a 1.68 ERA and 23 strikeouts in 16.2 innings during his shortened junior season
Went 7-3 on the mound with a 2.35 ERA and 57 strikeouts in 59.2 innings as a sophomore
Named All-District 22-4A First Team in 2019
Seely's Scout: He's going to look very much like the bulk of our staff in terms of the type of pitcher that we like to recruit. He's upper-80s right now touching 90, he's going to sink the ball with a slider, he's developing a changeup, and he's a guy that I think with maturity and strength is going to be able to help us in the future. We're going to need to put some strength on him to get his stuff to where it's capable of being and get him ready to compete at this level, but I think he's a guy that eventually is going to give us a chance to fill a rotation spot.
Adds Childress: He's a guy that came to our camp several years ago and is a very projectable young man. He continues to develop physically, he's got a good, easy arm with a sinker-slider mix, and we feel like he's going to make a jump throughout his senior year.
Jack Hamilton, RHP (6-0, 190, College Station, TX – A&M Consolidated HS)
Went 4-2 on the mound with a 2.55 ERA and 31 strikeouts in 38.1 innings in 2019
Named All-District 19-5A Second Team and Team MVP in 2019
Perfect Game Texas Region All High School Underclass First Team in 2020
Texas Rangers Area Code Team in 2019
Seely's Scout: Jack is a little different body type than most of our guys. He's ultra-competitive and he's a pitch-maker. He's very much into his body, he's into his diet, he's a team-first guy, and he's a very good pitcher as well. He has a lot of intangible qualities that are very, very difficult to find, especially in pitchers. Jack is a baseball player that happens to pitch, so I think that gives him a lot of extra qualities. His makeup is probably his best quality, and he can throw three pitches for strikes any time.
Adds Childress: Jack is a guy that we would consider a knife fighter. He's a strike-thrower with a very good breaking ball. He throws a lot of strikes and he has a chance to be an immediate help to us because he is polished, he is going to throw it over the plate, and he does have a pitch with his curveball that is a swing-and-miss pitch both for left- and right-handed hitters.
Rawley Hector – RHP/INF (6-2, 190, Anna, TX – Anna HS)
Collegiate Baseball High School Preseason First-Team All American as a junior in 2020
5-3 record with a 1.24 ERA and 76 strikeouts in 45.1 innings as a sophomore in 2019
Hit .621 with 6 home runs, 6 doubles, 5 triples, 27 RBI, and 24 stolen bases in 2019
THSBCA 4A Second Team All-State as a shortstop
District 11-4A Offensive MVP
Named Perfect Game/Rawlings Preseason Underclass All-American First Team in '19 and '20
Seely's Scout: We still feel like he's one of the best players in Texas. He's had some unfortunate events; he just had a couple of injuries that have set him back this last year. I feel for him, but Rawley doesn't feel sorry for himself, and that's a testament to his makeup and who he is. Rawley is a baseball player who also happens to pitch, which is a theme with guys we sign. I like guys who are baseball players that pitch. He's the son of a coach, I've known his dad for 20 years, we've had a long relationship with them. Rawley has elite pitchability, and I'm talking top of the country. He has the ability to throw the ball in the zone and out of the zone the way he wants to with multiple pitches. He pitched on the 17U Team USA team as an underclassman and was one of the best pitchers they had. He's going to be 92-93 depending on where he comes back from his injury, and if his velocity ticks up any more than that I think there's a chance we lose him to the draft because I think he has all the makings of what you want from a professional standpoint.
Adds Childress: Rawley has been on the national scene for some time. He played on Team USA and is a two-way guy. He plays short and third for his high school team, and he's a very polished pitcher. He had a knee injury and had surgery, and he's coming back from that. Rawley's dad played for me at Texarkana Junior College, and I think that's kind of neat – there's always been that relationship there, and certainly Rawley is an exponentially more talented prospect than his dad ever thought about being.
Rawley is incredibly mature for his age, and I think that comes from growing up in a coaching household and him also being on the national scene. He's gotten a chance to meet so many players from coast to coast, he's been out of the country to play, and Rawley is just a neat young man. He's going to be incredibly impactful here at Texas A&M not just on the mound but in the locker room and in the community.
Logan Henderson – RHP (5-11, 190, Katy, TX – Cinco Ranch HS)
Will play at McLennan Community College in 2021
Struck out 21 batters without allowing an earned run in 8 innings in 2020
Logged a 2.70 ERA and 50 strikeouts in 36 innings as a junior in 2019
All-District 19-6A First Team as a 2B in 2019
Seely's Scout: He's just a freshman so he hasn't even competed in his first full season at McLennan, but he went out in the summer and pitched really well in the Summer Collegiate League. He had a lot of offers over the summer to go to other schools, and we were lucky enough to get him to commit to us this fall. He is a right-hander that's going to be 91-95 and I think he'll throw harder than that in the spring. He has an elite changeup that he can throw to rights and lefts, he's developing a curveball, his attack is nasty, and he has the ability to humiliate hitters. He's kind of a mix between Jason Jester and John Stilson that we've had here before.
Adds Childress: He has a wipeout changeup and an above-average fastball. He really came on the scene for us this summer playing in the collegiate league and just watching what he was doing via social media and video. I think he might've thrown 35 innings and struck out 60-65 guys. People weren't putting him in play, he had a wipeout change, very good breaking ball, and explosive stuff. He was truly committed to going to play at McLennan – there were a lot of schools that came in on him this summer trying to sign him, but his loyalty to going to McLennan was set and that's when we made the decision to honor that and bring him in after his freshman year. We're very thankful that Logan is going to be coming in, and he's going to make an immediate impact whether that be in the rotation or not, he's coming in to be a frontline guy for us.
Ty Hodge – SS (6-2, 195, College Station, TX – A&M Consolidated HS)
Hit .447 with 4 doubles, 13 RBI, 14 runs scored, and 5 stolen bases in 2020
Batted .443 with 3 homers, 15 RBI, .694 slugging percentage in 2019
Perfect Game High School First Team in 2020
Seely's Scout: Ty is a kid that we evaluated at a young age. We have a relationship with his dad going back a long time, and Ty is an outstanding athlete. He's a 6.5 runner, he can jump out of the gym, he can dunk a basketball. He's extremely strong, he's physical, and he's nimble enough to play the middle of the field, which is a tough combination at that age. He can throw 93 off the mound and there's a lot of things he can do on the field. He's very patient at the plate and he can do damage when he does move the bat. He's more of a modern-day player in that he will walk, he will homer, and he will occasionally strike out. Ty is super advanced and he can play shortstop, second, center field – there's really no limits to what he can do on the baseball field. He can also steal bases, so that's where he differs from the three true outcomes type of player.
Will Maynard – RHP (6-2, 185, Tomball, TX – Klein Cain)
4-year letterman at Cain High School
Led Twelve Baseball to the Don Mattingly World Series title in 2020
Named to All-Showcase Team at 2D Sports/5 Tool Showcase
Seely's Scout: He's a guy we committed post-COVID. Will is a baseball player; he plays short, he catches, he plays all over the field. He loves to play, he has a big chip on his shoulder, he plays with an edge. I was fortunate enough to see him pitch in actual games via live streams. That was important for me to do, and he was super athletic. He throws 89-92 with a really good slider, big-time moxie, he'll let you know about it while he's on the mound, which I like. I was a big, big fan of his, I talked to a lot of people around him, and he has come a long way in a short amount of time as a person and an athlete. I really like the way the needle is turning on him, and I'm pretty excited about him.
Adds Childress: Will is another guy that came on the scene this summer. He started developing physically, he was a two-way guy, left-handed hitting middle infielder, and the more and more he got on the mound, the bigger jump that he made. He's been 88-92 with a very good slider, he's a very confident, very aggressive, very competitive kid who we feel like has a chance to be a ready-made guy for us on the mound.
Izaac Pacheco – SS (6-4, 205, Friendswood, TX – Friendswood HS)
Batted .414 with 2 homers, 14 RBI, 14 runs scored, and 10 stolen bases during shortened junior season in 2020
As a sophomore in 2019, hit .442 with 5 homers, 4 doubles, 4 triples, 25 runs scored, and 16 stolen bases
2019 District 22-5A Offensive MVP and The Daily News All-Galveston County First Team
Ranked as the No. 11 high school player in the country (#2 in Texas) by Perfect Game
Seely's Scout: I've known Izaac since he was 8 years old, which tells you how long Izaac has been eye-catching. You run across a lot of kids, and very few times is there an 8-year-old that sticks out in your mind like Izaac did. I can remember the first day I saw him; he was a long-bodied 8-year-old with feet as big as my desk, so I was like, 'This guy is going to be a big guy.' Then he moved around really well and he had a really good swing for an 8-year-old. I just happened to be around him until he was 14, and we ended up committing him at that age. He could've gone anywhere in the country, but we were fortunate enough to get him. Izaac is now a big man that is athletic, plays shortstop, and I don't think there's any reason why he shouldn't have the opportunity to play shortstop. People might label him differently based off of his stature, but I would never close that door on him because I know what he's capable of. Izaac can hit and he brings a major presence to the middle of the order. He can handle velocity, he's seen plenty of it, he's played on the national scene for a long, long time. He was a basketball player but he's not playing anymore because it was interfering with his high school baseball season. Izaac is pretty special, and I think he's got a chance to play for a long, long time, and hopefully we can get him in the maroon and white first.
Ryan Prager – LHP (6-3, 200, Dallas, TX – Hillcrest HS)
Recorded a 0.77 ERA with 35 strikeouts in 18 innings on the mound in 2020
3.06 ERA and 87 strikeouts in 61.2 innings as a sophomore in 2019
All-District 11-5A as a 1B in 2018
Ranked as the No. 2 LHP in Texas by Perfect Game
Seely's Scout: Ryan is the last guy I saw play before COVID hit. He reminds me of Ethan Small that pitched at Mississippi State. Ryan has advanced pitchability and he's a lefty, but the stuff wasn't as advanced when he was younger. Then I went back and saw him in his junior spring and the stuff had really ticked up. He was pitching very comfortably 88-91, touching 93. He's the valedictorian at Hill Creek High School and is a super well-rounded kid. He has his head on right, he's very intelligent, he has advanced pitchablity, and he's becoming a better athlete. We're very, very excited about Ryan, and I think he's a guy that can pitch right away.
Adds Childress: Ryan's dad played at UTA and several years of professional baseball, so he's grown up in a baseball family. He is a very, very polished, plus-pitchability guy whose stuff just continues to improve. Ryan is very polished and he's going to be able come in and pitch right away because of his feel to pitch. He's a four-pitch guy who's very confident that we were very lucky to get in the recruiting process. His stuff continues to improve every time he goes out the mound and he's one we hope to get to campus.
Will Rizzo – RHP (6-1, 205, The Woodlands, TX – St. Thomas HS)
Selected TAPPS Second Team All-District 1-4 as a sophomore
Posted a 1.85 ERA and 20 strikeouts in 20 innings in 2019
As a junior in the shortened 2020 season, struck out 28 in 25 innings
Perfect Game Preseason Texas Region All-Underclass First Team in 2020
2-Time Perfect Game Preseason All-American
Seely's Scout: Will is a super athlete who played shortstop in high school, which is a recurring theme but it's the way we like to recruit pitchers. He has a bazooka, he's already been up to 94, 95 mph, and I'd expect him to be at least that during the spring. He looks like a running back and he's trying to get up to 215 pounds. If you follow him on Instagram you can see all about it because he can really move some weight – it's impressive to see, and he's working on moving it fast, which is what we like to see. Will is a tremendously hard worker who is very diligent in all parts of his life. He's a great student, a great son from my estimation, a super athlete, very dedicated to his craft, and I think the sky is the limit. His mindset is one that thrives in college and is going to allow him the opportunity to move on past this level and play for quite a while.
Adds Childress: Will has played with my son growing up so I've gotten a chance to see him a lot. He's another two-way guy and he's probably physically the most explosive guy in the class. He loves the weight room, loves to work out, and he's going to have a chance to play both ways here. I feel like his future is on the mound and whether he's starting or closing, he has wipeout stuff. Very explosive, low-to-mid 90s, very good breaking ball, but I think he's a guy that has the chance to rival a guy like Trevor Werner in the weight room. He's built a little different.
Brad Rudis – RHP (5-11, 195, Madisonville, TX – Madisonville HS)
During shortened 2020 junior season, struck out 11 and gave up one run in 5 innings
Went 5-3 with a 2.84 ERA and 66 strikeouts in 56.2 innings as a sophomore
District 19-4 Co-Pitcher of the Year in 2019
Perfect Game Preseason Texas Region All-High School Underclass Second Team in 2020
Seely's Scout: He comes from a baseball family, he plays all over the field when he's not pitching, and he's got a pretty good swing. His older brother is a pitcher who used to pitch at TCU, now he's at Sam Houston, his dad played at TCU. Brad is the ultimate pitchmaker, he's the guy that has feel to pitch. When you watch Major League Baseball games now, a 2-0 count is not where you get a fastball anymore, a 2-0 count is where you get the next pitch. They just throw what pitch they want, it doesn't have to be a fastball, and Brad can do that in high school. He could throw you a 3-0 changeup or a 3-0 slider, he has that kind of feel and that kind of confidence on the mound. He's very similar to Mason Ornelas, who was an All-American for us last year in the shortened season.
Adds Childress: Rudis is very similar to Jack Hamilton. He's a very, very athletic kid, has feel for his body, repeats his delivery, strike-throwing machine, and a guy who's just very confident. He's another guy that we feel like can come in and help us right away out of the bullpen because he's going to throw strikes and he's going to spin the breaking ball.
Chanden Scamardo – C (6-1, 205, College Station, TX – College Station HS)
Hit .282 with 4 homers, 13 RBI, 9 runs scored in 2020
Perfect Game Preseason Texas Region All High School Underclass First Team in 2020
As a sophomore in 2019, hit .295 with 6 homers, 8 doubles, 28 RBI, 20 runs and a .481 on-base percentage
District 19-5A Second Team as C in 2019
Seely's Scout: He's a big, big man. When you look at him, he looks like a big block. He's got a big head, big hands, very strong, just what a catcher would look like. He's got power at the plate, and I think that's Chanden's calling card. Whenever he's locked in, playing as hard as he can, and being competitive, he's a nasty, nasty figure. I've gotten good reviews about Chanden from high school coaches, and watching him, the power is evident and the ability to catch and throw. We've got some catchers on the roster now, so we don't have to have him catch right away, and I'm excited to see his development.
Ty Sexton – RHP (6-6, 205, Montgomery, TX – Lake Creek HS)
Posted a 1.50 ERA with 5 strikeouts in 9.1 innings in 2020
Hit .323 with 3 doubles, 7 runs, and 9 RBI in 2020
Missed most of 2019 season due to injury
Perfect Game Texas Region Honorable Mention in 2020
Seely's Scout: Ty doesn't play another position, but he is a quarterback. If you squint your eyes, he looks a little bit like Michael Wacha did at that age. He plays two sports, he's downhill with the fastball, going to be in the 88-91 range, touch 93. Michael did not have the changeup so much at that age, he had a good one, Ty is the same way. Ty probably spins the ball better than Michael did at that point, and he's going to throw hard. I really, really like the upside of this guy because I think there's a lot there. Him being a quarterback, being able to command a team, helps him. He's had injuries in football but hasn't stopped playing, which I love because it means he doesn't stop and run the other way toward the comfortable, convenient thing. That tells me there's some internal fire in him that's hard to measure, and I'm really excited about this guy.
Adds Childress: Ty is a high school quarterback and if you've seen any of his stuff on video, he's a very talented guy for his high school football team. He can really throw the football, but on the baseball side of things he's a prospect. He's 6-foot-6, 6-foot-7, and really came into his own this past summer. He made the jump velocity-wise from 84-87 to 88-91 and as he starts to put things together mechanically with that big body, the sky is the limit. He is going to be a guy that I feel like is going to throw really hard at some point in his career, but the thing that impressed me the most was his athleticism. To watch him on the football field and control all those moving parts with being that tall, his athleticism was what really stuck out to me. Once he gets a chance to get in the weight room and continue to develop physically, he's going to continue to head north with his stuff.
Austin Stracener – SS (5-11, 170, New Braunfels, TX – Canyon HS)
Hit .316 with 11 runs and 13 stolen bases in the shortened 2020 season
As a sophomore in 2019, hit .264 with 4 doubles, 5 triples, 27 RBI, 26 runs, and 7 stolen bases
District 26-6A Second Team in 2019
Selected to the USA Baseball 17U National Team Development Program in 2019
Named to the MaxPreps 2021 Top 50 High School Baseball Players
Seely's Scout: This guy's a baller. Every day you go out, you know what you're going to get out of him. They're going to play dirty, a little nasty, they get the big hit when you need it, hit a home run when you don't think it's coming, play great defense. I love his makeup, I love his grit, I love his ability to move the offense. There's nothing not to like about Austin. He's left-handed, he can run, he can defend, he's played and excelled at a high level. He's a guy I've seen since he was a young age, and he continues to get better. His competitiveness continues to come out every time you see him. You see him on the field against guys who are physically bigger, and some would say more gifted, and Austin still stands out. I'm fired up; that dude has a chance to make a big impact in our program.
Chase Valentine – SS (6-0, 170, Phoenix, AZ – Sandra Day O'Connor HS)
Batted .350 as a freshman and .311 as a sophomore
All-Conference First Team in 2019
Selected for the Athletics Area Code Team in 2019
Seely's Scout: If you've ever watched the Harlem Globetrotters and what those guys can do with a basketball, Chase can pretty much do that with a baseball at shortstop. It is one of the more remarkable and amazing things I've ever seen. He can go between his legs, behind his back with a baseball, and he can do it and make the play. You kind of look back and go, 'Did he just do that?' It's not something that's super noticeable. Great imagination, great feel, high energy, is really coming on with the bat. He's starting to get more physical and really making moves with his swing. He was just a guy we could not turn down. There are very few guys that can just slam dunk play shortstop and do it with that kind of feel and moxie and energy, so we just felt like we had to take him and fortunately he liked us enough to pick us too.
Never miss the latest news from TexAgs!
Join our free email list