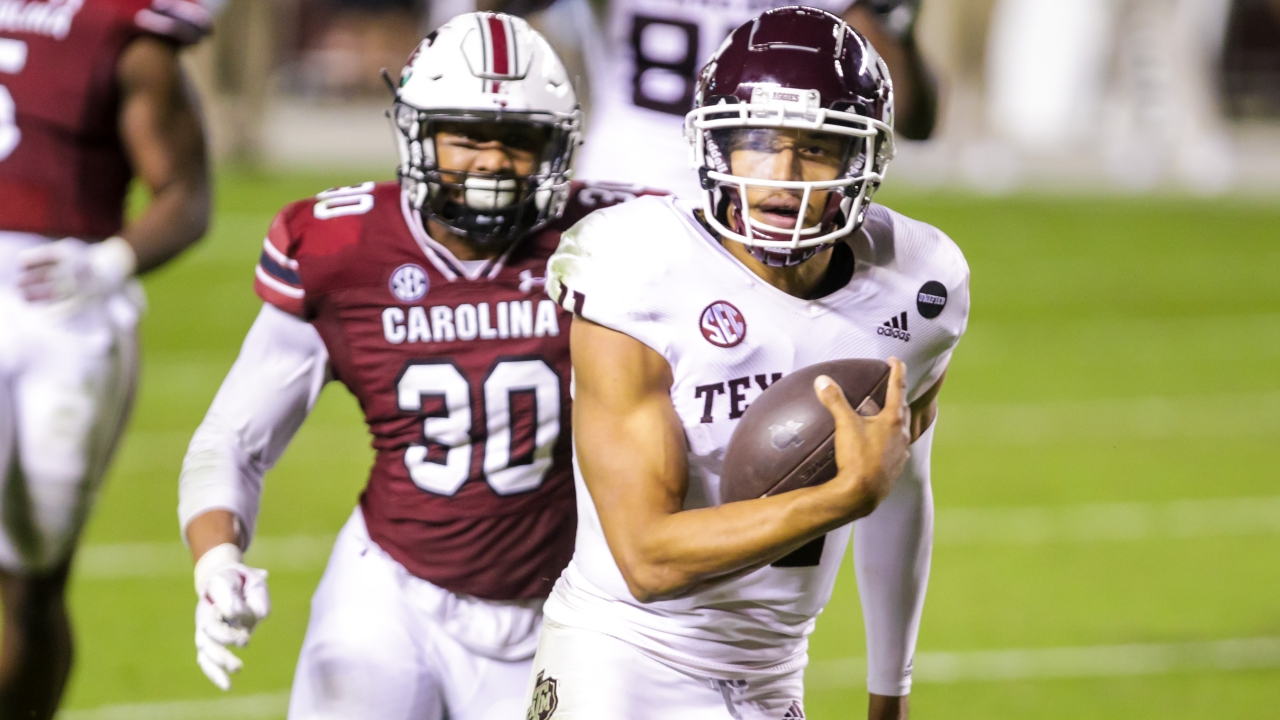 Photo by Jeff Blake-USA TODAY Sports
Texas A&M Football
Post Game Review: No. 7 Texas A&M 48, South Carolina 3
---
Stress-free and easy. Dominant.
That pretty much sums up No. 7 Texas A&M's 48-3 road victory over the South Carolina Gamecocks on Saturday night as the Aggies had it rolling on both offense and defense.
At halftime, South Carolina had just 68 yards of offense, 21 of which came on a single Kevin Harris run. Conversely, Texas A&M piled up 248 yards before the break as the Aggies held a sizable 21-0 advantage. The beatdown did not end after 30 minutes as the visiting Aggies continued to pour it on, finishing with 530 total yards while holding the Gamecocks to 150.
South Carolina's offense ran just 53 plays and was on the field for less than 22 minutes. The Aggies recorded two sacks, 10 tackles for loss and two takeaways. Had it not been for a 48-yard field goal with 5:55 to play, the Aggies would've pitched their first conference shutout since 2015 (Vanderbilt).
It was a record-setting night for quarterback Kellen Mond. Late in the second quarter, a touchdown strike to Jalen Wydermyer brought him even with Jerrod Johnson for most touchdown passes in Texas A&M history (67). Early in the third, a 52-yard pass to Devon Achane put Mond all alone at the top of the list.
Texas A&M jumped out to a 7-0 lead on its second offensive series. Following a third-down pass to Chase Lane that came up just shy of the line to gain, Jimbo Fisher elected to keep the ball on the field rather than attempt a 36-yard field goal. Spiller surged ahead for the first down. The Maroon & White ultimately capped off the 12-play drive with a 3-yard touchdown pass from Mond to Ainias Smith as A&M struck first.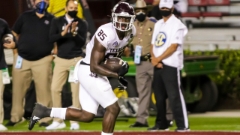 Jeff Blake-USA TODAY Sports
Two possessions later, the Aggies again went on a scoring drive as they moved methodically down the field on a 10-play, 75-yard scoring march, punctuated with a beautiful 15-yard play-action pass from Mond to Wydermyer on third-and-1 to push A&M's lead to 14-0.
The very next play from scrimmage, Hill's deep shot was intercepted by Carper at the Aggies' 42-yard line, setting up A&M's offense with terrific field position. However, A&M could not capitalize on the South Carolina turnover.
South Carolina's offense appeared to have found some momentum, but with the Gamecocks nearing the red zone, Aaron Hansford got home on a blitz for the Aggies' first sack of the night. Two plays later, Muschamp's bunch settled for a 44-yard field-goal try, which Parker White pushed left.
With just 3:05 remaining in the first half, Texas A&M's offense received a big-time boost from Spiller, who busted a 52-yard run up the middle (putting Jaylan Foster in the rinse cycle in the process) to put the Aggies in the red zone. Three plays later, Mond again connected with Wydermyer for a 7-yard score, making it 21-0 at the break.
A&M's offense picked up where they left off to open the second half as the Aggies went 75 yards in nearly four minutes. The drive was highlighted by a 36-yard pitch-and-catch to Spiller and finished with a 15-yard touchdown run for Mond on an option-keeper (Seth Small's PAT hit the left upright and was no good).
Keldrick Carper stepped into the vacancy in the defensive backfield and made the most of the opportunity. Carper finished the game with four tackles, a tackle for loss and an interception.
The Aggie defense then picked up their second takeaway of the night as Leon O'Neal hauled in a tipped pass on fourth down and returned the ball to the A&M 48-yard line. One play later, the Aggies were back into the endzone, and Mond connected with Devon Achane for a 52-yard score. Achane would find paydirt again on A&M's next drive, this time on a 3-yard carry.
To sum up how amazing A&M was, their final score of the contest: a 42-yard touchdown pass from backup quarterback Haynes King to defensive-lineman-turned-tight-end Max Wright. The Aggies were so dominant that King, Wright, Demond Demas, Moose Muhammad, Layden Robinson, Akinola Ogunbiyi, Earnest Crownover, Deondre Jackson, Devin Price and many others received playing time late in the game.
Just as it has since its inception, the James Bonham Trophy will continue to reside in the great State of Texas.
RUMBLED: Following last week's contest in which Arkansas ran fairly well on the Aggie defense, Mike Elko's unit silenced their critics and the Gamecock offense.
STUMBLED: South Carolina quarterback Collin Hill was awful, completing 8 of 21 attempts for 66 yards and two interceptions. Backup Ryan Hilinski played the entire fourth quarter.
UNSUNG HERO: Starting safety Demani Richardson could not go on Saturday, so veteran defensive back Keldrick Carper stepped into the vacancy and made the most of the opportunity. Carper finished the game with four tackles, a tackle for loss and an interception.
TURNING POINT: Texas A&M was stopped just short of a first down on their second series of the game. Rather than attempting a 36-yard field goal, Fisher went for it on fourth-and-1. Spiller converted, and the Aggies later scored the game's opening touchdown.
KEY STAT: The nation's top third-down team continued its dominance on the all-important down. Texas A&M converted 12 of 16 such opportunities, while South Carolina was just 3 for 14.
Scoring Summary
First-quarter:
A&M: 4:04 - Kellen Mond 3-yard touchdown pass to Ainias Smith. Drive: 12 plays, 52 yards. TOP: 5:57. Texas A&M 7, South Carolina 0
Second-quarter:
A&M: 9:05 - Kellen Mond 15-yard touchdown pass to Jalen Wydermyer. Drive: 10 plays, 70 yards. TOP: 5:47. Texas A&M 14, South Carolina 0
A&M: 0:14 - Kellen Mond 7-yard touchdown pass to Jalen Wydermyer. Drive: 6 plays, 73 yards. TOP: 2:51. Texas A&M 21, South Carolina 0
Third-quarter:
A&M: 11:04 - Kellen Mond 15-yard touchdown. Drive: 7 play, 75 yards. TOP: 3:56. Texas A&M 27, South Carolina 0
A&M: 6:55 - Kellen Mond 52-yard touchdown pass to Devon Achane. Drive: 1 play, 52 yards. TOP: 0:09. Texas A&M 34, South Carolina 0
Fourth-quarter:
A&M: 12:01 - Devon Achane 3-yard touchdown run. Drive: 15 plays, 80 yards. TOP: 8:02. Texas A&M 41, South Carolina 0
USC: 5:55 - Parker White 48-yard field goal. Drive: 13 plays, 43 yards. TOP: 6:06. Texas A&M 41, South Carolina 3
A&M: 1:02 - Haynes King 42-yard touchdown pass to Max Wright. Drive: 8 plays, 75 yards. TOP: 4:53. Texas A&M 48, South Carolina 3
Never miss the latest news from TexAgs!
Join our free email list