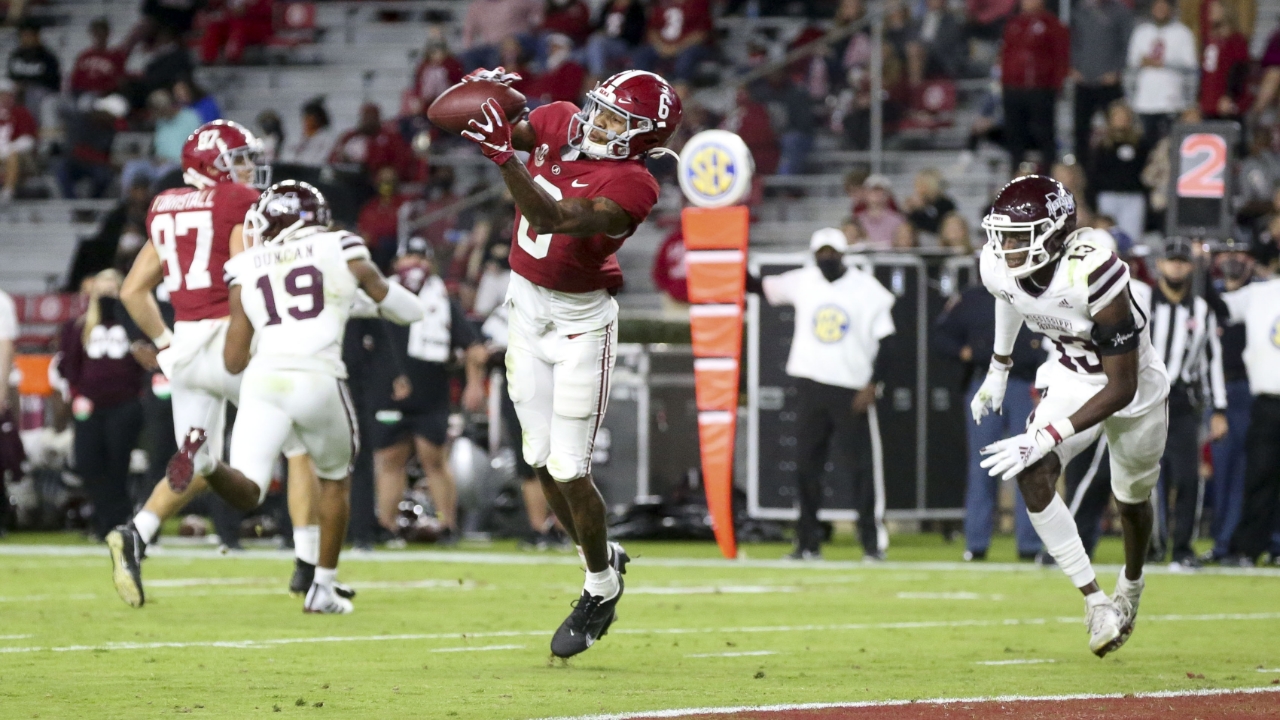 Photo by The Tuscaloosa News-USA TODAY Sports
Texas A&M Football
TexAgs All-SEC team of the week: Week Six
---
There were several lopsided outcomes in Southeastern Conference football last Saturday.
Alabama romped over Mississippi State. Auburn blew out LSU. Ole Miss bombed Vanderbilt, Florida routed Missouri, and Texas A&M controlled Arkansas.
Predictably, those victorious teams got some exceptional individual efforts, as seen in the All-SEC team of the week.
Offense
Quarterback: Matt Corral (Ole Miss)
Corral, a sophomore, was deadly accurate in the Rebels' win at Vanderbilt, going 31-of-34 for 412 yards and six touchdowns. He also rushed for 23 yards as Ole Miss piled up 641 yards and 35 first downs. His 91.2 completion percentage tied an SEC record (with Tennessee's Joshua Dobbs), and at one point, he completed 19 consecutive passes.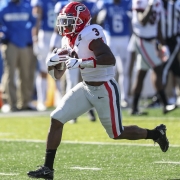 Katie Stratman-USA TODAY Sports
Running Back: Zamir White (Georgia)
Last week, we went with three running backs and only two receivers because a lot of backs showed off their talents. This week, it's one back and four receivers, which is in line with most SEC offenses anyway.
White, a sophomore, had the best game of his young career in Saturday's slog past Kentucky. He had 26 carries for 136 yards and a touchdown. He has a rushing touchdown in six consecutive games dating back to last season.
Wide Receivers: Treylon Burks (Arkansas), Elijah Moore (Ole Miss), DeVonta Smith (Alabama) and Kadarius Toney (Florida)
As Aggies fans well know, Burks had a big day in Arkansas' loss. The sophomore had seven catches for 117 yards and two touchdowns. Moore, a junior, benefited from Corral's accuracy, finishing with 14 receptions for 238 yards and three touchdowns in the win over Vandy. Moore leads the nation with 61 receptions. Smith, a senior, was electrifying in Alabama's victory over Mississippi State. He had 11 receptions for 203 yards and four touchdowns. He now has 32 career touchdown receptions, which now is the SEC record (the old mark was 31, by Alabama's Amari Cooper and Florida's Chris Doering). Toney, a senior, has become one of the most dangerous weapons in the SEC. He had six touches in Saturday's victory over Missouri and scored on three of them: an 18-yard reception, a 30-yard reception and a 16-yard run. He has 30 touches this season and has seven touchdowns.
Offensive Line: Alex Leatherwood (Alabama), Tashawn Manning (Auburn), Ben Brown (Ole Miss), Carson Green (Texas A&M) and Dan Moore (Texas A&M)
Their offenses all cruised and put up big numbers. A&M quarterback Kellen Mond's jersey was as clean after the game as it was before.
Defense
Defensive Line: EDGE Brenton Cox (Florida), EDGE Derick Hall (Auburn) and DT Devonte Wyatt (Georgia)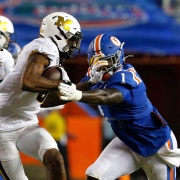 Gainesville Sun-USA TODAY Sports
Cox, a sophomore, benefited greatly from the return of UF DT Kyree Campbell, who had missed the first three games of the season. With the opposing offensive line having to finally pay some attention to the Gators' interior linemen, Cox had five tackles, a tackle for loss, a fumble recovery and three quarterback hurries in the rout of Mizzou. Hall, a sophomore who was a state finalist in Mississippi in the 200 meters as a 230-pound high school senior, had four tackles, two sacks and a forced fumble in Auburn's mauling of LSU. Wyatt, a senior, tied a career-high with seven tackles as Georgia held Kentucky to 229 total yards.
Linebackers: Will Anderson (Alabama), Jamin Davis (Kentucky), Lakia Henry (Ole Miss) and Buddy Johnson (Texas A&M)
Anderson, a true freshman who was one of four five-star recruits in Alabama's 2020 signing class, had five tackles, two tackles for loss and two quarterback hurries in the Tide's bludgeoning of Mississippi State. Davis and the rest of Kentucky's defense did a solid job against Georgia's offense, holding the Bulldogs to 14 points and 346 yards in a loss. Davis had 13 tackles, a forced fumble and a pass breakup. Henry, a senior, had seven tackles, two tackles for loss, a sack and a forced fumble in Ole Miss' win over Vanderbilt. Johnson, a senior from Dallas Kimball, continues to play at an extremely high level, finishing with 12 tackles, two tackles for loss and a sack in A&M's win over Arkansas. It was his fourth outing with double-digit tackles this season, and he only had two such games in his career entering the season.
Defensive Backs: S A.J. Finley (Ole Miss), CB Myles Jones (Texas A&M), S Richard LeCounte (Georgia) and S Malachi Moore (Alabama)
Finley, a sophomore, led Ole Miss with 12 tackles in its win against Vandy. He added a fumble recovery and an interception. Jones, a senior from Magnolia West, had seven tackles, a tackle for loss and two pass breakups in the Aggies' victory. LeCounte, a senior, had one of the best games in his career in the Bulldogs' win over Kentucky, finishing with 13 tackles, a fumble recovery and three pass breakups. Unfortunately for the All-America candidate, that performance may have come in his final college game. LeCounte was hit by two cars while riding his motorcycle a few hours after Georgia returned home from Lexington and is hospitalized in stable condition. Moore, another true freshman for the Tide, led Alabama with eight tackles in its easy win over Mississippi State; he added a tackle for loss and two pass breakups.
Specialists
Kicker: Chris Howard (Florida)
In his fourth year with the Gators, Howard, a walk-on, attempted the first two field goals of his career Saturday and made them both. He kicked because All-America candidate Evan McPherson missed the contest.
Punter: Zach Von Rosenberg (LSU)
He punted 47 times in 15 games last season. He has punted 22 times in five games this season, including seven attempts Saturday in the loss to Auburn. Von Rosenberg, a senior, averaged 48.9 yards per punt and dropped two inside the 20 against Auburn.
Returner: Trey Palmer (LSU)
Not much went right for LSU against Auburn, but Palmer, a sophomore wide receiver, again showed he is one of the most dangerous return men in the SEC. He had three kickoff returns for 85 yards, including a 33-yarder that he almost broke for a score.
Never miss the latest news from TexAgs!
Join our free email list