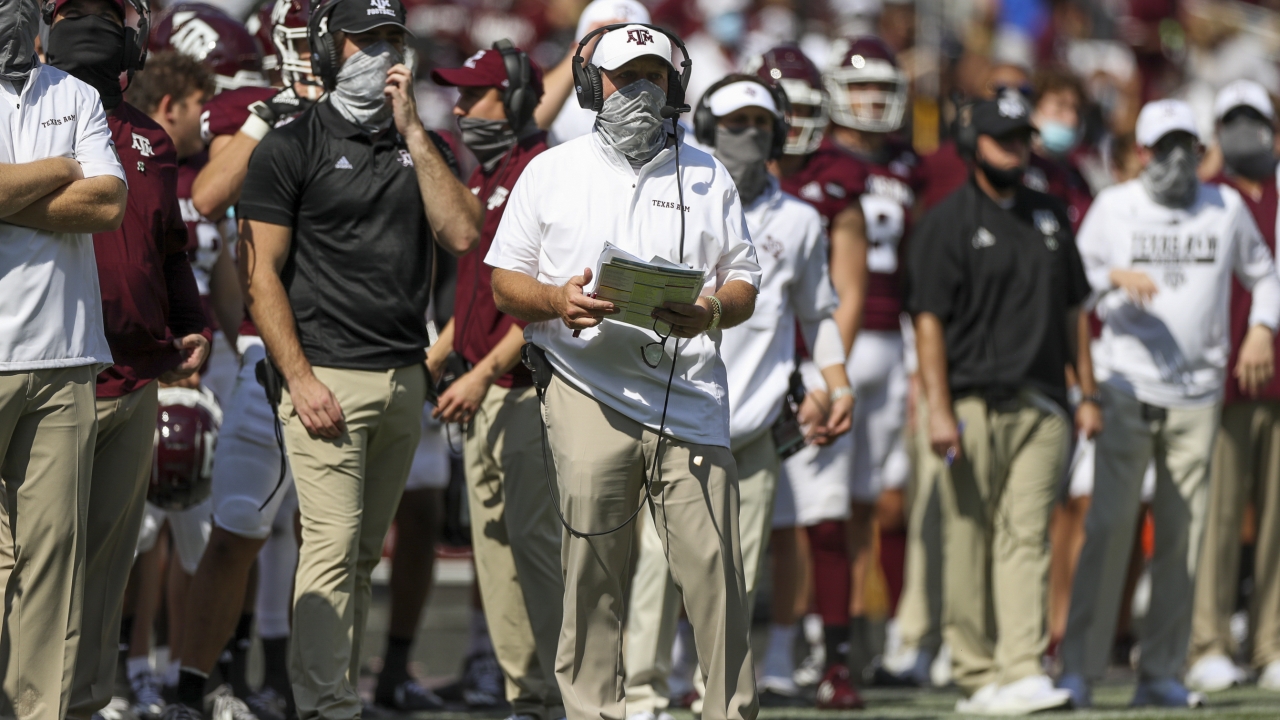 Photo by Craig Bisacre/Texas A&M Athletics
Texas A&M Football
Not satisfied: Fisher focused on improving, avoiding 'poison' during bye week
---
Texas A&M football coach Jimbo Fisher doesn't want the Aggies buying into people in the media or on social media telling them how great they are on their week off.
"[Outside praise is] all garbage. It's all poison," Fisher said. "Right now, we need to worry about next week and how we get better this week, and then get ready for Arkansas."
The Aggies are 3-1 as they head into their bye week. They're ranked No. 7 in the current AP Poll. They should be favored in each of the six remaining games on the schedule. Some are ready to anoint the Aggies as a true College Football Playoff contender.
However, Fisher isn't satisfied and insists there is still plenty of work to be done.
"We got to get better this week so we can go down this run and play this game one game at a time because that's kind of football team we are."
"We got to get better this week so we can go down this run and play this game one game at a time because that's kind of football team we are," Fisher said. "We've started to have some success because we've ignored what people say."
That doesn't mean that the Aggies haven't made their head coach proud through four weeks. Fisher even used the words "very proud" to describe his team's performance in Starkville on Saturday when A&M emerged victorious over Mississippi State, 28-14. However, he is still urging his team to improve to achieve their goals
"There's still tons of work to do in there," Fisher said. "They have the ability, but we got to get better at that position (wide receiver) — and every position — to go where we need to go."
While the Aggies won't play another game until Halloween night when Arkansas ventures into Kyle Field, this is no week off. Fisher and the A&M coaching staff will still be hard at work as they prepare for a stretch run that will be sure to challenge them. When asked specifically what he hopes to work on during this week, Fisher simply replied: "The team."
Mike Elko's defense impressed as they held Mike Leach's Air Raid offense to just 217 yards on Saturday, including minus-2 yards on the ground. However, that same unit allowed Florida's high powered offense to throw for 312 yards and amass 402 total yards the week prior. The Aggies are sure to face dangerous passing attacks (Ole Miss) in their final six games, so finding more consistency is the goal.
"It was very good when you can follow up a so-called big victory," Fisher said. "We're learning to play with some consistency, but still a lot of things to fix in all areas: offense, defense, special teams. We're nowhere close to the kind of team we need to be."
Texas A&M's offensive line has only allowed one sack all year, and the much-improved line is among the best in the league. Fisher still wasn't pleased with their performance against Mississippi State.
"I don't think anybody played well — any group," Fisher said. "I don't think any of them played poorly, but we could've played better in all facets of what we did."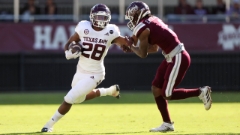 Craig Bisacre
Even Isaiah Spiller, who is second in the SEC in rushing, wasn't safe from some amount of criticism from his head coach.
"He's running well, but I think he's leaving yards out there, too," Fisher said. "Take 2-yard runs and make them 4-yard runs; 4-yard runs to 6-yard runs. That's what great backs do. The big ones come."
Fisher's critiques of his football team might seem insignificant, but it's imperative that the Aggies listen to him rather than those of us ready to shower them in praises. That's how the program will get where Fisher wants it to go.
Notes
• Jayden Peevy was named the SEC's defensive lineman of the week following a five tackle performance against Mississippi State that included a sack and a fumble recovery which he nearly returned for a touchdown. Fisher believes Peevy's play is a testament to the hard work Peevy put in during the offseason. "I expected Jayden to have a good year," Fisher said. "When you invest in something so much, man, it makes it hard to give up, and it's hard not to play hard when you get those opportunities."
• Defensive tackle Bobby Brown did not play on Saturday following a "freak" injury he suffered when teammate McKinnley Jackson bumped into him while the two were celebrating a sack during the Florida game. Fisher said he expects Brown to be fine and be ready for the Aggies' next game.
​​​​​​​• Sticking with the injury theme, Spiller was nicked late in A&M's win on Saturday, but Fisher expects the standout tailback to be okay. "He should be good to go," Fisher said.
Never miss the latest news from TexAgs!
Join our free email list
PRESENTED BY