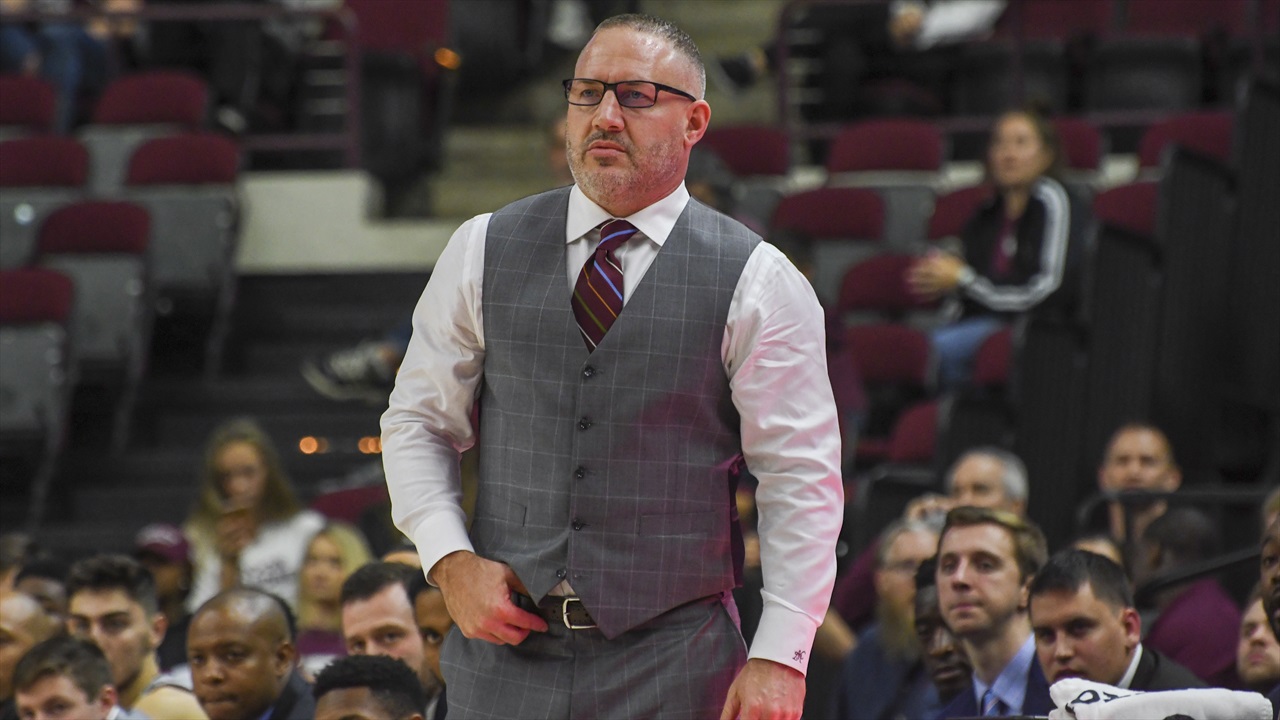 Photo by Lia Musgrave, TexAgs
Texas A&M Basketball
Buzz Williams provides an update on his squad as they get back to practice
---
Key notes from Buzz Williams interview
I'm trying to fight off old age as best I can, and that's why I've gotten back in better shape. I see it coming my way, and I'm trying to fight it off as best I can.

I could talk a long time about books. I'm always hesitant about recommending books because I have good relationships with some of the authors. I have been able to study and read over the last seven months.

One of the things I've learned and paid attention to more is that I've realized I've been looking at the wrong things a lot of the time. Even as a coach, I've had more time to study some of the things I thought affected winning. Does free throw percentage really matter compared to other things that go into winning a game? You can see the tangible things that correlated to winning in the last season. I think some of the things I thought correlated to winning in life prior to March don't really correlate.

I was an assistant coach for 13 years. I have been a head coach for 13 years. I have never had this much time off. My children know me much better now. My relationships with my kids and my wife have gotten much better. I haven't been a bad dad, but I haven't been a great dad. Some of this is maturation, experience, and what we're going through. I want to try and do a better job on the things that matter. I get too distracted by the things that don't really matter. I've just given away too much time, energy, and emotion to things, people, and situations that don't really matter.

I have learned so much from our basketball team. I don't know if I'll be a better tactical coach over the next 13 years, but I have learned more by speaking with and spending time with our guys. A lot of that has to do with social justice situations that I had no idea about. We have "Tough Tuesday Talks" now, and we bring in speakers and open it up. I am not the head coach on those Zooms. I am the learner, and we're all learning. The things that I've learned from our players about the climate and our country. I can say they've been some of the best teachers I've ever had in my life. I'm much more educated now. I do not think there is an answer. There are multiple answers. You have to run at these things and cannot turn a blind eye. When you do that, you prolong the problem and contribute to the problem. I am much more aware and have become much more empathetic. These kids are teaching me so I can understand how to be part of positive change.

Whether you speak on the virus or the category with social justice, these conversations have changed my lens. I try to preclude my spirituality from much of my public conversation, but I think that bad things can turn into good things. I'm trying to take what I'm learning to mold me so I can become better and be part of positive change. I understand that people may disagree with me. People might change their thoughts about me, but this is not about me. I am responsible for these kids and the families they come from. I am worried about doing what is right for them and their life. I'm responsible for doing right by my group.

We have been able to broach subjects that never would have been broached if it weren't for these wild, crazy and unprecedented times. The roots of these relationships are better and stronger because of what we're going through.

Our route and rhythm to how we prepare for a season has been altered. We actually had a meeting as a staff this morning to discuss what we have typically done and what we need to do over the next month to prepare for the season. We won't be close to any of the numbers of practices or boot camps. We are getting creative and taking from each of the facets to prepare us. We are way behind.

We have had two "Buzz Individuals." There will be a third one soon. The returning players are much more aware of what a "Buzz Individual" workout is and how to be successful in the program. There is more leadership this offseason because there is more awareness of the standard. Last year at this time, nobody even knew what a "Buzz Individual" was, but now they do. It's more fun to watch because they're able to see the progress over the last 365 days. I can see if I'm doing it right by what the returning players are saying to the younger kids. There is not one individual leader, but there are more positive conversations and leadership as a whole.

I remember Alex Caruso when he was a little boy, and he was a ball boy when I was here. Mr. Caruso was a good player in his own right, and most people don't realize that. When I was here as an assistant, there is a lot of things going on. Mr. Caruso was my go-to guy because he would tell me the truth and wouldn't exaggerate it. This May, I went to dinner with the Mr. & Mr.s Caruso, and that was the only time I've been out to dinner since I got here. He was always someone I could turn to.

I'm so happy for Alex, and I thought he was a key cog in what the Lakers wanted to do. He was very aware of his role, and he was a conduit to helping each of those players being better on the floor. He plays incredibly hard and has a high basketball IQ.
Never miss the latest news from TexAgs!
Join our free email list