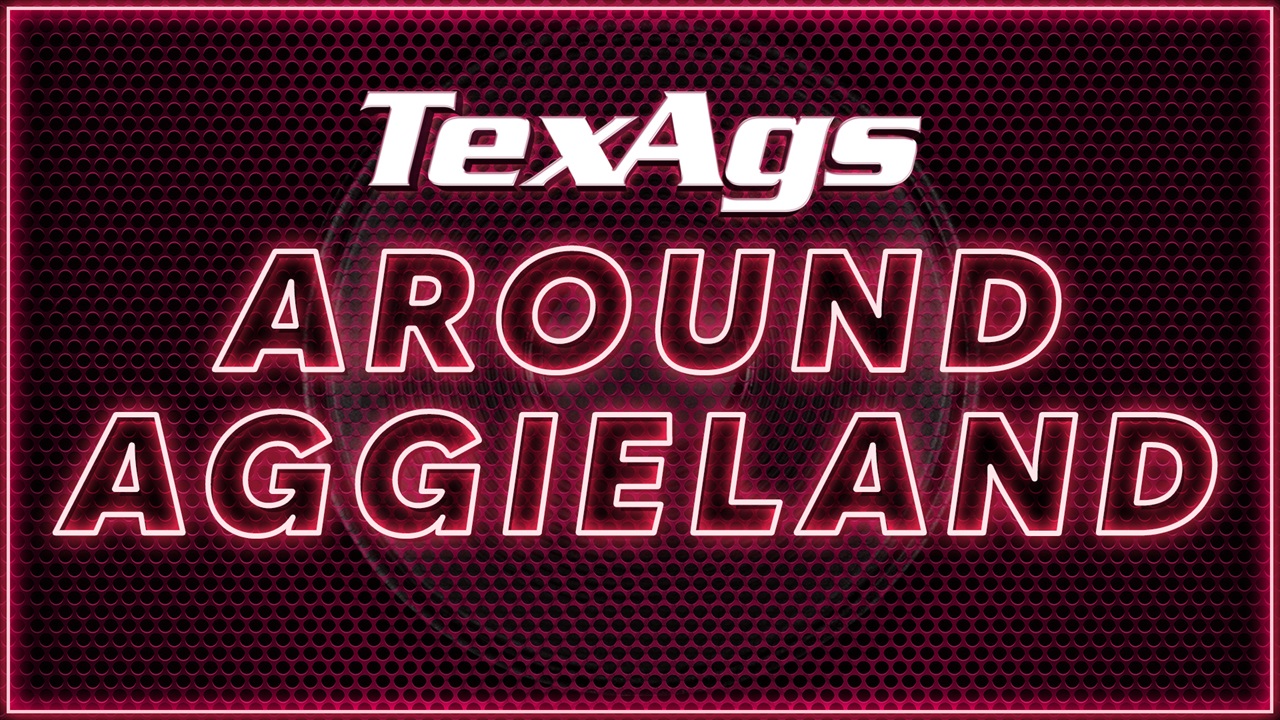 Texas A&M Football
Around Aggieland (9/25)
---
During Friday's edition of TexAgs Radio, the fish bowl's own Richard Zane joined to share updates from the latest in Aggie Athletics with updates from football, soccer and an update on our Aggies in professional sports.
---
Football
If you don't know by now, Texas A&M and Vanderbilt kicks off at 6:30 p.m. on Saturday. That game will be on the SEC Network alternate channel and streaming on ESPN.com. The Ags and 'Dores will be called by play-by-play man Lowell Galindo and color analyst Andre Ware. Texas A&M is currently a -30.5 favorite, and the over/under is currently at 46.5, according to ESPN's PickCenter
In other football television news, it was announced that everybody's favorite show, The Pulse, will return for its seventh season this fall, and will be a part of ESPNU's Thursday night program for a second consecutive year. The Emmy Award-winning program debuts locally on the CBS-affiliate each Wednesday at 6:30 p.m., which means the season premiere should be this Wednesday, September 30… However, the release sent out by A&M's athletic department said its 2020 debut is October 1, but it was unclear if that was just in reference to its ESPNU debut.
Soccer (1-0)
Goalkeeper Shantel Hutton was named the Southeastern Conference's defensive player of the week following the Aggies 3-0 shutout victory on the road against Ole Miss on Saturday evening. Hutton, a sophomore from Duluth, Ga., made six saves in the match as she recorded her first clean sheet of the season and the ninth clean sheet of her collegiate career.
On Tuesday, the United Soccer Coaches poll released its initial ranking of the 2020 season, and the Aggies came in at No. 5, the highest rank among all Southeastern Conference sides.
Texas A&M soccer's home opener was scheduled to be this Sunday against Auburn at Ellis Field. That match will NOT happen as a member of Texas A&M's team has tested positive for COVID-19, and the Aggies will now have to quarantine and adhere to the SEC's protocols before they can return to play. Coach G Guerrieri addressed the matter this week and said he believes the test was a false positive after the player later tested negative multiple times.
Auburn match will be rescheduled for a later date, and as it stands now, the Aggies' next contest will be October 4 against Arkansas in Fayetteville.

Baseball
Texas A&M baseball returned to practice at Olsen Field at Blue Bell Park on Monday, and Rob Childress, Bryce Miller and Bryce Blaum spoke to the media on Tuesday. Those interviews are up now for your viewing pleasure on TexAgs.com.
Aggie Ring Week
If you've listened to the show recently, you probably heard Association of Former Students vice president Kathryn Greenwade discuss their plan for ring distribution this year with the extra social distancing protocols they've instituted to keep everyone safe. Instead of one big ring day, they're having "Ring Week" in 2020.
The Association of Former Students passed out more than 4,800 Aggie Rings this week, so congratulations to all of the Aggies getting their little piece of gold this week.

Midnight Yell
It will look a little different this year as it will be held virtually for the first time ever. Yell leaders, the Fightin' Texas Aggie Band and the Parson's Mounted Cavalry will be allowed inside Kyle Field for Midnight Yell this week, but entrances will be changed to limit the number of people on the field.
The event will be live-streamed on all of Texas A&M University's official social media pages as well as on KAMU-TV.
The university hopes that they'll be able to hold an in-person Midnight Yell in Kyle Field later in the season.
Aggies in Pro Sports update
NBA
Western Conference Finals: Los Angeles Lakers (Alex Caruso) lead Denver Nuggets, 2-1.
Game Three on Tuesday night: Denver 114, Los Angeles 106

Caruso: 2 points, 1 rebound, 3 assists in 25 minutes

Game Four on Thursday night: Los Angeles 114, Denver 108

Caruso: 3 points, 1 rebound, 2 assists in 20 minutes

Game Five on Saturday: 8:00 p.m. tip on TNT
Eastern Conference Finals: Miami Heat lead Boston Celtics (Robert Williams), 3-1.
Game Four on Wednesday night: Miami 122, Boston 108

Williams: 4 points, 4 rebounds, 1 assist in 12 minutes

Game Five on Friday: 7:30 p.m. tip on ESPN
Game Six (if necessary) on Sunday: 6:30 p.m. tip on ESPN
NFL
Thursday Night Football: Miami 31, Jacksonville 13
Be sure to check out our Aggies in the NFL thread (Premium) for running updates throughout Sunday's Week Three action.
MLB Playoff Picture
AJ Minter, Atlanta - National League West division champions. Currently the #2 seed in the National League.
Brooks Raley, Houston - Houston's "magic number" is currently 1. If the Astros beat the Rangers just once over this weekend, they're in. If Houston cannot manage a victory in their final three, Seattle must sweep Oakland (4 games in three days) OR Anaheim must sweep Los Angeles to keep the Astros out of the postseason.
Tyler Naquin, Cleveland - Clinched a postseason spot on Tuesday night. Currently holding the 1st Wild Card spot (#7 seed in the American League).
Ross Stripling, Toronto - Clinched a postseason spot on Thursday night. Currently holding the 2nd Wild Card spot (#8 seed in the American League)
Never miss the latest news from TexAgs!
Join our free email list