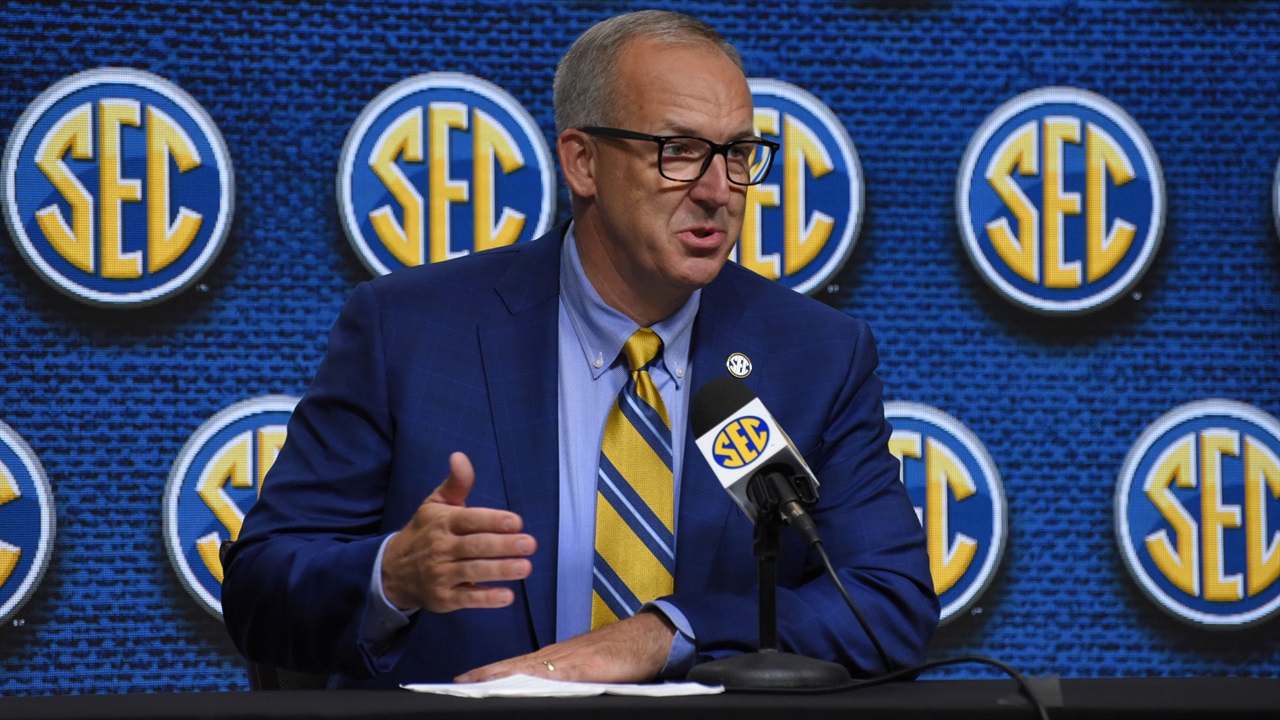 Photo by Lia Musgrave, TexAgs
Texas A&M Football
WATCH: Greg Sankey tells Dan Patrick SEC continues to hope, plan for season
---
On Tuesday morning, Southeastern Conference commissioner Greg Sankey joined the Dan Patrick Show as the college football world leaned over the precipice of dramatic change.
About 24 hours before Sankey joined the show, it was reported that the Big Ten was going to cancel all fall sports in 2020, including their college football slate, a report which came to fruition later Tuesday. Still, Sankey sounded a steady, unhurried tone.
"It is information for us," Sankey said of the Big Ten's looming cancelation. "Every day, we learn a little bit more. It is not simply going to be a guiding moment if another conference makes a decision, but a piece of information along this really, really interesting journey."
On Tuesday afternoon, the Big Ten conference made it official as it was announced they had canceled all sports, including football, for the fall of 2020 with the intention of playing in the spring of 2021. Soon after, the Pac-12 followed suit.
With all the uncertainty around the nation, Sankey continues to sing a positive tune and deliver an optimistic message to college football fans regarding the 2020 season.
"We have set a start date; I'd be encouraged by that if I were a college football fan," Sankey said. "We're still here today. On Sunday, it was all over if I read social media. We're still here, and we're going to keep working to see if we can move it along.
"What's been told to me by young men on our team is that they want an opportunity. They want a safe and healthy opportunity, but they want an opportunity to compete. If we can do that, then we will."
In contrast to the Big Ten and other conferences, the SEC has taken the strategy of delaying any possible decisions until they must be made as there is still time before college football kicks off this fall. On Friday, the SEC announced the additional two crossover games for each of their members.
"They [players] want a safe and healthy opportunity, but they want an opportunity to compete. If we can do that, then we will."
"I thought the world would be happy about the SEC finally playing ten conference games," Sankey said.
Now the SEC's task is creating and releasing a football schedule for the 2020 season, one that could possibly work around any COVID-19-related postponements once the season begins on Sept. 26.
"Placement and trying to configure a schedule with flow and to create some open weeks that might have value if you have to reschedule games," Sankey said. "The plan is to use Dec. 12 as a common open week before our championship game, which would be played on Dec. 19. That common open week in case we have to reschedule due to in-season disruption."
Patrick asked Sankey about whether or not the SEC would look to add new members for a one-off in 2020 after it was rumored that several members of the Big Ten were exploring the option, but it seems that a multitude of legal repercussions will keep that from happening.
He was also asked if the SEC could be the only conference playing should it come to that.
"I don't think that's the right direction," Sankey said. "Could we? Certainly. There is a difference between should you do something and can you do something in life.
"We're actually set up with our schedule and our own health protocols that we could, if that was the circumstance, operate on our own. I'm not sure that's the wisest direction."
Never miss the latest news from TexAgs!
Join our free email list